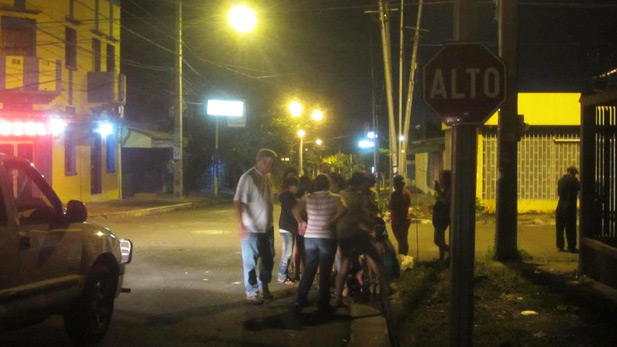 Streets of Tegucigalpa, capital of Honduras, located about three hours south from San Pedro Sula.

Breaking Chains Honduras
Story by Jude Joffe-Block
Fronteras Desk

Listen:
Government data says the Honduran city of San Pedro Sula is sending the greatest number of child migrants to the United States.
The city has one of the highest murder rates in the world.
Honduras native Veronica and her son were recently reunited.
On Veronica's dining room table there was a newspaper from Honduras. Headline after headline blared news about gang-related killings. Veronica pointed to one particularly shocking story.
"Aqui hay una mujer, es cuando estaba orando," she said in Spanish.
A woman murdered while praying in church.
Tens of thousands of families and unaccompanied kids have left Honduras for the U.S. in recent months. Veronica came from San Pedro Sula alone 18 years ago to earn money to send back to her seven children there. Today, she is 49. Here in Phoenix she sells herbal supplements and tamales and phones her kids everyday. Since she's undocumented, she is going by her by her middle name for this story.
In Spanish, she said she thinks President Barack Obama should be able to do something so that these immigrant children don't have to go back to Honduras.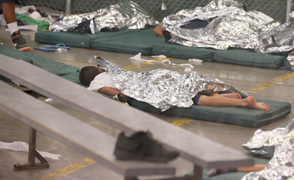 Inside the Nogales shelter in June 2014, children sleep on mattresses on the floor.

AP
She said deporting them would be like sending them back into fire.
This April, the issue became personal for Veronica, even though her own kids are young adults by now. She said her 22-year old son in San Pedro Sula was attacked by gang members and had to flee for his life. Veronica got a frantic call from her oldest daughter.
She said she told her daughter to get her son out, and send him here to the U.S. He came, and was stopped at the Texas border. He was detained, but asked to apply for asylum. Last month, he was released from immigration detention on a bond and took a bus to Phoenix. When Veronica picked him up at the Greyhound station, the two hadn't seen each other in person in 15 years.
Veronica said his face looked both happy and sad. They hugged and cried, she said.
Veronica's son wasn't sure if he wanted to be interviewed. In Honduras, he learned to keep his mouth shut.
"You can't say anything at all, because if you talk, you can be killed right away," Juan said. He's talking about the gangs that he said basically run San Pedro Sula.
He's scared to use his name, so we are calling him Juan. He and his friends preferred soccer to gangs. He had a job he liked in a factory. But the gangsters still kept trying to force him to join. Where Juan lives, the gangs have in place a well-organized extortion policy. It's called a war tax.
"Every week, you have to pay it. And if you don't, they keep charging you. And eventually if you don't pay they could kill you," he said.
Juan had to pay about $10 a week. It doesn't sound like much, but that's almost a day of work at the minimum wage. Still, Juan never wanted to leave Honduras.
"If I didn't move away, I was basically sure to be tortured and killed. I didn't have any choice but to leave my country," he said.
In addition to the gangs, Juan blames the police and government for forcing him into exile.
When asked about the more than 57,000 unaccompanied Central American children, who are mostly from Honduras, and their future if they're deported back:
"If they don't want these kids here, then they should send them somewhere else. But they can't send them home because that's basically ensures their death. I plead that they them somewhere, anywhere except Honduras," Juan said.
He said returning deportees are like marked men - in even more danger because the gangs now see them as disloyal.
Juan is applying for asylum here and hoping he won't be sent back. As Juan waits, he's getting to know Phoenix, and his own mother. Veronica sat down at the table beside him.
She asked Juan for his forgiveness for leaving him behind in Honduras so long.
Juan said there is always forgiveness for a mother.
But this reunion is bittersweet. When Juan came here, he left behind his own baby daughter in San Pedro Sula. So the pattern of family separation continues, as does the violence swallowing up their hometown.