Watch story on Metro Week:
Listen to story on Arizona Spotlight:
Mac Tippins will spend four to five months on duty at the Lemmon Rock Lookout searching for fires.
The first lookout on Lemmon Rock was built in 1902. Since then, the site has been used to watch for wildfires in the valleys surrounding Tucson and other lands as far away as the Little Dragoon Mountains near Willcox.
The current building on Lemmon Rock dates to 1936.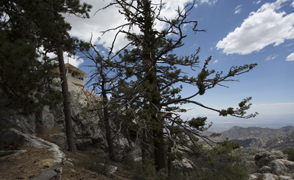 Nestled in the pines of Mt. Lemmon, the Lemmon Rock Lookout sits on an outcrop of rock from which much of the Tucson metro area is visible. (PHOTO: Santiago Bahti)
As this year's new fire lookout, Tippins will actively search for fires for a standard workweek, but also be on call any time he is in the tower, which also serves as his residence.
"I was in service on April 6, and I will stay up here in service until the end of fire season," Tippins said. "That will be defined by the monsoon, how long it lasts and how wet it is. Will it be Aug. 15, I don't know, will it be Sept. 1, I don't know."
Working as a fire lookout is a retirement job for Tippins. He spent his younger years as a military pilot and then an airline captain.
"I had a third-grade teacher who used to chide me for looking out the window," he said.
Along with looking out the windows of Lemmon Rock, Tippins' days also consist of using the tools of the trade: an Osborne fire finder, a compass, electronic communication devices and many maps: enough to easily cover the lookout's bed.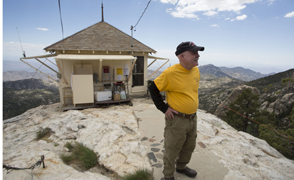 Mac Tippins standing outside the lookout tower. (PHOTO: Santiago Bahti)
"I put these maps out like this every morning. They're not all the maps in the lookout; there's still a lot more maps," he said.
If Tippins sees smoke, the first tool he goes to is the fire finder, which is an alidade, a compass-like tool that allows the user to find the direction - also called the azimuth - the fire is from the lookout tower.
"I determine the azimuth with the alidade, the fire finder, and now I'm going to use a basic compass rose here to apply that azimuth," he said.
Tippins applies the compass to the map, cross-referencing that with the terrain features he can see.
"This area, Mt. Lemmon, is very rich in terrain features. If you can read a map, you can pretty much determine distance, and once you have azimuth and distance, you've got the position," he said.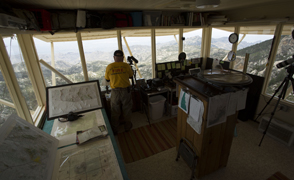 The lookout tower is a 15x15 space, the Osborne Fire Finder sits in the middle of the room. (PHOTO: Santiago Bahti)
The numerous maps with lots of small print means there's one more essential tool for Tippins.
"There's one other thing in a fire lookout that you can't have enough of, and that's reading glasses," he said.
Once he has the rough position of the fire, Tippins can now head to the dispatch radio and call in the smoke.
Once a fire crew is dispatched to the site of the smoke, Tippins will now start double checking his work, making sure his position is as exact as possible.
He'll also use Google Maps to convert the smoke's to coordinates. This will allow firefighters to use GPS to find the spot.
Once the crew is on the scene, Tippins keeps watch so he can relay new information to the fire crew.
"After I've given them an initial position and perhaps a refined position, then I have a responsibility to keep watching it, determine any changes in smoke characteristics, weather or fire characteristic, that type of thing," he said.
Getting the crew to the spot is a rewarding part of the job for Tippins.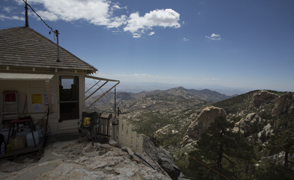 (PHOTO: Santiago Bahti)
"There's a whole lot of satisfaction in spotting a fire, spotting a smoke, and getting a crew on it. When that crew gets on it, they say two things, 'it's right where the lookout said it was, and it's a spot fire.' Less than one-tenth of an acre," he said.
That means he caught the fire, allowing the crew to stop it before it spreads and does more damage.
And there's a certain feeling Tippins gets when he knows he's protected the forest.
"It's a feeling that maybe I am giving back something in my later years. I'm not a spring chicken any more. I do like the outdoors, always have," he said.
Tippins is also a photographer. To look at some of his work, click on the video below: