(VIDEO: azpm)
One year since the Yarnell Hill Fire tore through the community south of Prescott, an outpouring of support in dealing with the aftermath has been overwhelming, many locals say.
The 8,400-acre blaze took the lives of 19 Granite Mountain Hotshots and destroyed nearly 130 houses and other structures.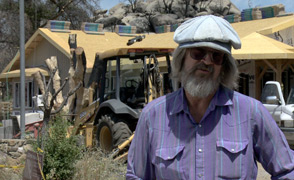 Yarnell resident Steve Steinfelt is now in the process of rebuilding his home on the same land. (PHOTO: AZPM Staff)
Yarnell resident Steve Steinfelt lost his home in the fire. On that day, he went from relieved to having to evacuate within two hours.
On June 30, he recalled, Steinfelt watched from atop a hill behind his home as flames headed away from the town. But then the wind turned, and the fire moved toward Yarnell.
He, his wife and others had about a half-hour to depart.
"I saw the firemen coming out and they were coming out in a hurry with trucks and everything, so I walked back up on the hill...and I could see the flames coming," he said on Friday's broadcast of Arizona Week. "The whole horizon was covered with flames, and I could see that it was coming really fast."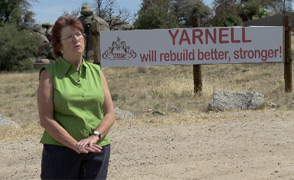 Frances Lechner is a member of the Yarnell Hill Recovery Group. (PHOTO: AZPM Staff)
Steinfelt and his wife are now in the process of rebuilding their home on the same land. Like many residents there, they were underinsured. But thanks to an infusion of community and governmental aid, the Steinfelts and others have been able to slowly recover - as far as possessions go.
The Yarnell Hill Recovery Group emerged to help locals like Steinfelt get back on their feet.
"It has been an amazing weaving of love, gratitude and hard work," said Frances Lechner, a member of the recovery group. "Our commitment was, 'We want to help our community rebuild.'"
Through gathering donations themselves or pointing people in the right direction, they've been successful in getting many back under a roof, she said.
"Within two weeks of the fire there were 17 or 18 motorhomes donated to the church, so we were able to put people in houses," she said. "There are a couple of people here who loaned their houses..."
Steinfelt found out his home was gone after seeing a photo of his property on the Internet. He said he saw it coming.
"No one had been able to tell us whether our house had burnt, we were 90 percent sure it had, in fact, I had already filed the insurance claim based on the fact that were so sure it would be gone," he explained.
But he was hoping to see some of the walls still standing or at least a skeleton.
The sight of everything turned to ashes shocked him.
"We were not expecting it to look so bad," he said. "There was nothing."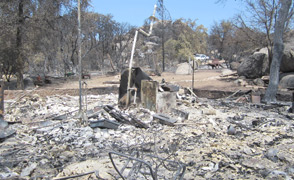 "We were not expecting it to look so bad," said Steve Steinfelt at the sight of his home turned to ashes in the blaze. (PHOTO: AZPM Staff)
The grief of many has also turned to anger, and for the past year there has been an unquenchable thirst to know why firefighters trained to deal with these types of wildfires could not come out from battling it alive.
This week, the families of 12 Hotshots filed a wrongful death lawsuit, alleging public agencies were negligent in handling the wildfire. Yarnell property owners have also sued the state.
Steinfelt said he's not angry, but sad for the 19 men who perished. He said he thinks of the community and what it's gone through.
"I can't point a finger, there is no one to point (a) finger at," he said. "People make decisions based on what they know at the time..."
Both he and Lechner are eager to see Yarnell come out of this tragedy and thrive.
"I think we are an amazing mosaic, we are not through the grieving process by any means, we don't confuse rebuilding with healing," Lechner said. "In the wake of this fire, we had to do whatever we could. There has been a huge outpouring of people to help."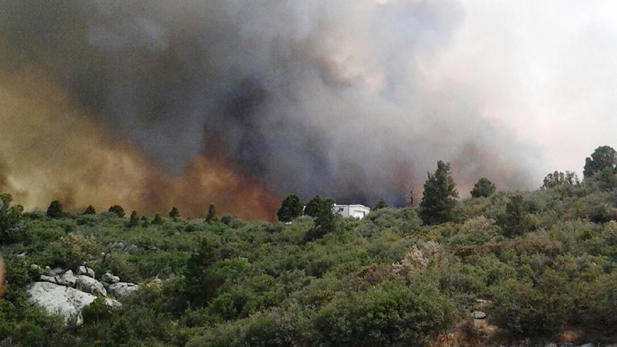 (PHOTO: Incident Information System website)