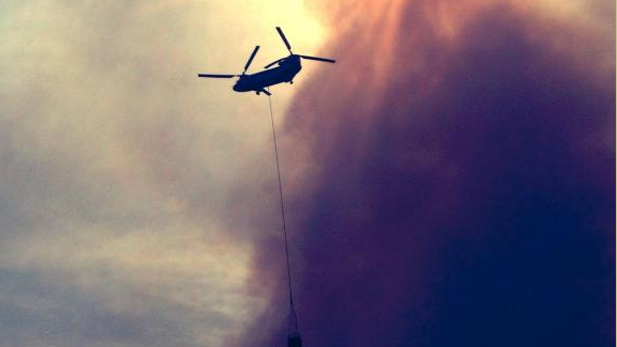 Firefighting helicopter above the Slide Fire in northern Arizona's Oak Creek Canyon. (PHOTO: U.S. Forest Service)
Listen:
A wildfire that has consumed 7,500 acres in Oak Creek Canyon south of Flagstaff has slowed just short of the city, officials said Friday.
"Crews made good progress overnight conducting burnout operations along the north and east flanks of the fire," the federal government's wildfire reporting website said Friday morning.
Two hundred residents of Flagstaff neighhborhoods have been evacuated, and another 3,000 were on standby. Many of them attended a meeting Thursday evening for a report from Forest Service officials on the human-caused fire.
The Slide Fire, which broke out Tuesday, was reported 5 percent contained, with a fire line protecting Flagstaff neighborhoods. Officials said deliberate burns of fuel planned for Friday to stop the fire will cause the acreage to increase, "but is essential to firefighter safety in extreme canyon terrain."
At Thursday's meeting, resident Ana Novak, who said she has already left her home in Kachina Village before any evacuation notice, questioned forest officials on why they haven't shut down the area.
"People ignore rules all the time, and when they come out, they're going to be camping in the forest," Novak said. "They don't realize it's our backyard, literally our backyard."
Coconino National Forest acting Supervisor Scott Russell said his staff is monitoring the forest, which he said hasn't reached the fuel trigger for a closure. He said closing the forest would have economic impacts on loggers and others who work there.