(VIDEO: azpm)
On June 12, 2011, a fire started burning within the Coronado National Forest, eventually spreading to about 29,000 acres in the Huachuca Mountains, according to the U.S. National Park Service.
Michael Zehr, a U.S. veteran, was out of town with his family. Upon his return, he heard news of the blaze, and shortly after received a phone call saying they needed to evacuate. He's one of the many people who lost their homes and possessions in the so-called Monument Fire.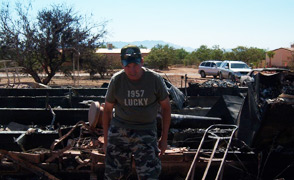 Michael Zehr where his home once stood. (PHOTO: Courtesy of Michael Zehr)
"I was more worried about my wife...our son was living with us at the time, and I was more worried about our safety than I was (for) personal property. You have a lot of emotions going through," Zehr said during Friday's broadcast of Arizona Week.
The family moved in with Zehr's parents-in-law while the evacuation remained in place.
One evening, their son was listening to an online frequency, and heard news that some homes in the area had burned down.
"They were talking about somebody who had a handicapped ramp, and we had just had one installed...and then they were talking about the next door neighbor has a pool, so I knew that had to be our house...nothing really prepares you for it," he said.
The magnitude of the fire was something the Hereford and Sierra Vista communities hadn't experienced before, said Bill Hess, reporter at the Sierra Vista Herald. It was one of the most devastating disasters, he added.
"When we got down there, we could see the flames, we could see the smoke growing and increasing," he said. "We lost homes, lost businesses, about 70 structures...It was wide-spread, about 3,000 acres. We have had other big fires but they were more up...upper levels of the Huachuca Mountains, where there aren't many homes, but this one impacted...it started right in the border area...in the Coronado National Monument, and came right on up and just flowed."
"When a fire like that happens, it is not just a building burning down, and people fleeing their homes, there are other things happening...you have to tell those people's stories," Hess added.
The fire burned for more than 10 days, he said.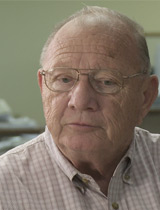 Bill Hess, reporter at the Sierra Vista Herald. (PHOTO: AZPM Staff)
Shelters were set up for people who lost their homes, and even pets - dogs, cats and horses, he described.
Hess also remembered the outpour of support he witnessed from residents of neighboring areas, bringing food, clothing, and even opening their homes to those affected for temporary shelter.
Zehr also remembered that camaraderie.
"Friendships grew out of that," he said. "It's brought our community closer together."
When it was time to plan for a new home, Zehr and his family started from scratch in the same land. He said they've lived there since 1998, and hope the same thing won't happen twice.
He said he tries not to worry every fire season.
"I was thankful nobody got hurt or killed," he said. "It was a blessing from God because we lost our home but we get a do over."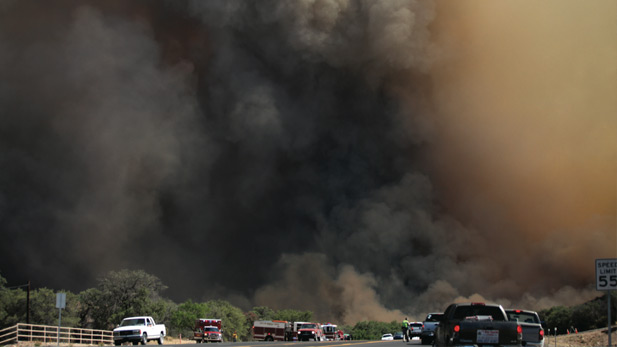 (PHOTO: Mark Levy, Sierra Vista Herald/Bisbee Daily Review)