Listen:
Dr. Rainer Gruessner, the suspended chairman of the Department of Surgery at the University of Arizona's College of Medicine, has filed a notice of claim against his employers.
The claim requests payment of $18.96 million in future earnings, legal fees and compensation for damage to the surgeon's reputation. The document, which his lawyers submitted to the Arizona Board of Regents on March 14, said Gruessner will drop his claims against the university if he is fully reinstated to his job.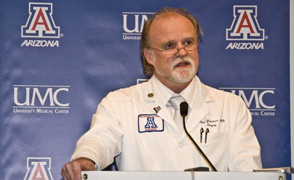 Dr. Rainer Gruessner, suspended chairman of the Department of Surgery at the UA's College of Medicine, has filed a $18.96 million claim against the UA.

UA News
It's the latest development in a months-long clash between Gruessner and his employers, which the claim alleges began when the surgeon reported concerns about the leadership of the former dean of the College of Medicine, Steven Goldschmid.
Upon hearing of his complaints, the dean called Gruessner in July 2013 to demand he step down from his position, "citing a 'record of poor performance,'" according the notice of claim.
Gruessner, a transplant surgeon who joined the UA in 2007, refused to resign but was placed on administrative leave with pay in September after an accusation was made that he either altered or ordered others to alter liver transplant records.
The surgeon has continually denied any wrongdoing, In November he filed a request for a preliminary injunction against his employers in Pima County Superior Court asking for his job back. Earlier this month Judge Carmine Cornelio dismissed Gruessner's case against the UA on the grounds that he remains an employee of the university. In the same ruling, Cornelio ordered University Physicians Healthcare (UPH), a private entity that staffs the UA Medical Center with physicians from the UA, to conduct an independent hearing in which Gruessner can argue his case.
Those proceedings are now underway, says Gruessner's attorney Kraig Marton.
"We are excited to finally be able to prove to a fair and unbiased panel that Dr. Gruessner did nothing wrong, because he did nothing wrong."
"Dr. Gruessner wants his job back. He wants to be able to continue to provide badly needed transplants to the citizens of Arizona and elsewhere and he wants to protect his reputation, which has so far been falsely tarnished. We hope and expect to get his job back," says Marton.
Officials from the University of Arizona Medical Center would not comment on the case, citing the ongoing legal proceedings.
The university has 60 days to respond to Gruessner's claim or the surgeon will file a lawsuit.