Nineteen firefighters were killed Sunday afternoon when a fast-moving wildfire near Prescott took a sudden turn and swept through the area.
The fire, on state government land in Yavapai County 85 miles northwest of Phoenix near the town of Yarnell, caught the firefighters as they were forced to deploy their shelters, forestry officials said.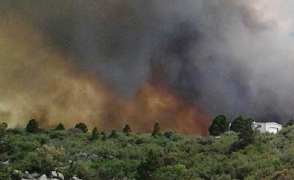 The Yarnell Hill Fire burning in northeastern Arizona. (PHOTO: Incident Information System website)
"Nineteen firefighters were killed in what was probably the worst thing to happen in wildland history here in Arizona," Prescott Fire Chief Dan Fraijo said at a Sunday evening press briefing.
"We are in grief," Fraijo said, his voice breaking.
The 19 killed were members of the Granite Mountain Hotshot crew that was sent in early to try to quell the fire. The Granite Mountain crew is made up of personnel from the city of Prescott Fire Department, Fraijo said.
The blaze was reported at 200 acres Sunday morning, at 800 acres around 2 p.m. Sunday and within an hour had grown to 2,000 acres as the wind kicked up, officials said.
At least 200 homes and other structures were burned and others were threatened in Yarnell and Peeples Valley. Officials said several homes in the community of Glenisle also burned. He said no injuries or deaths were reported from that area.
Earlier Sunday, the wildfire prompted evacuations of 50 homes in several communities. Later Sunday afternoon, the Yavapai County Sheriff's Office expanded the evacuations.
The fire was reported to have no containment lines around it. About 200 firefighters were fighting the wildfire, which has also forced the closure of parts of state Route 89.
Gov. Jan Brewer's office issued a statement from her, saying, "This is as dark a day as I can remember, with Arizona suffering the truly unimaginable loss of 19 wildland firefighters.
"It may be days or longer before an investigation reveals how this tragedy occurred, but the essence we already know in our hearts: fighting fires is dangerous work. The risk is well-known to the brave men and women who don their gear and do battle against forest and flame."
Brewer said she will travel to Yarnell Monday morning to comfort the families of the dead firefighters and survey the damage. She said more state resources will be deployed, even if it means a special legislative session to make the appropriation.
"It's a tragic, tragic loss. This will be very, very painful for a long time," state House Speaker Andy Tobin, a Yavapai County resident, told KPNX-TV.
The National Fire Protection website lists the last wildland fire to kill more firefighters as the 1933 Griffith Park fire of Los Angeles, which killed 29.
Meanwhile, the Coronado National Forest reported that lightning started a fire about 6 p.m. Sunday on Mount Lemmon northeast of Tucson in an area burned 10 years ago by the 85,000-acre Aspen Fire. The blaze has been named the Prison Fire and was burning near Gordon Hirabayashi Day site.
Six other wildfires were reported burning in the state, including the week-old Doce Fire near Prescott, which has topped 6,700 acres but was mostly contained by Sunday, according to the federal government's Incident Information System website.