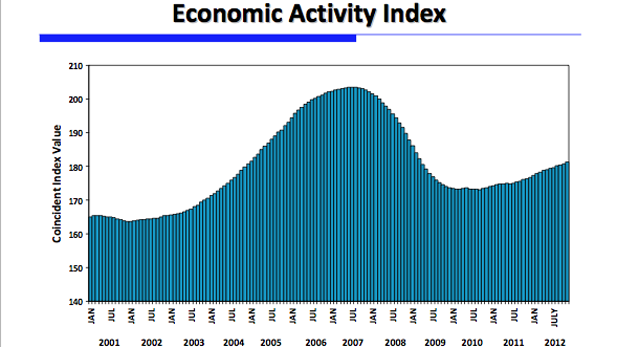 AZ Joint Legislative Budget Committee
Arizona state tax revenues continued their modest increases in December, up 2 percent from the same month one year earlier, the state's Joint Legislative Budget Committee reported Friday.
In its Monthly Fiscal Highlights report, the JLBC said state revenues at the midway point of the fiscal year were $32.3 million above the budget forecast. That represents about 0.4 percent of the total state budget of $8.5 billion.
The report said sales tax revenues for December were up 5.1 percent from the previous year, a reflection of November retail sales.
The state's Economic Activity Index, a tool that combines state employment, average hours worked in manufacturing, the unemployment rate and wage and salary disbursements, was at 180, the highest it has been since April 2009, the JLBC reported.
"Year-over-year, the Arizona index is 2.8 percent above last year, which is the 19th highest growth rate in the country," the JLBC report said. "While this is a significant improvement, Arizona's index is still 10.9 percent below its peak, which occurred in August 2007."
The Legislature uses the JLBC's reports and analysis to help structure the state budget and make economic projections as much as two years ahead. Republicans who control both houses of the Legislature have said the state's slow economic recovery is reason to be cautious in budgeting.
Rep. John Kavanagh, R-Fountain Hills, chair of the House Appropriations Committee, said Thursday he projects that the state will be able to add $200 million to the budget in the new fiscal year.
When combined with the $152 million in legally required increases in state funding for the next year, that will mean a 5 percent state spending increase, Kavanagh said, which he called "reasonable and prudent in these tough times, because the recovery is very slow."
Read the JLBC Monthly Fiscal Highlights report here

View at Google Docs

|

Download File