State general fund revenues in January fell slightly below the baseline forecast but remained ahead of last year's totals, the Arizona Joint Legislative Budget Committee reported Wednesday.
The report is closely watched by legislators as they begin work on the state budget for fiscal 2013-14 and by economists for signs of continuing recovery or a slowdown.
January revenues were 4.0 percent ahead of the previous year's collections, the JLBC's Monthly Fiscal Highlights report said. But they were 0.1 percent below the January baseline forecast from the committee's panel of economists.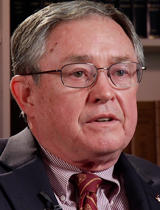 State Sen. John McComish, R-Ahwatukee. (PHOTO: AZPM)
The report said sales tax collections, making up nearly half of state general fund revenues, totaled $449.7 million, rising 3.3 percent from the previous January. That reflected December holiday sales. The January forecast was for $452.9 million in sales tax revenues.
Republicans who control the Legislature have said they are worried about the slow economic recovery's effect on revenues, and they have cautioned against adding a lot to the state budget. Specifically, they have questioned Gov. Jan Brewer's budget office forecast that revenues will be higher than the legislative forecast.
"She has a little more in revenue projections than what we do for next (fiscal) year," Senate Majority Leader John McComish said in an interview with Arizona Public Media last week. " ... I think that the differences -- I won't say can be easily bridged, but they can be bridged."
Brewer has suggested a budget of $8.9 billion, which would be an increase of about 3.5 percent from the current state budget.
The JLBC report also included a look at the "coincident index" of economic indicators, showing Arizona's index 2.6 percent higher than last year, 19th best in the country. But it said the state's index is 10.9 percent below its peak in August 2007.
Read the legislative fiscal report here

View at Google Docs

|

Download File