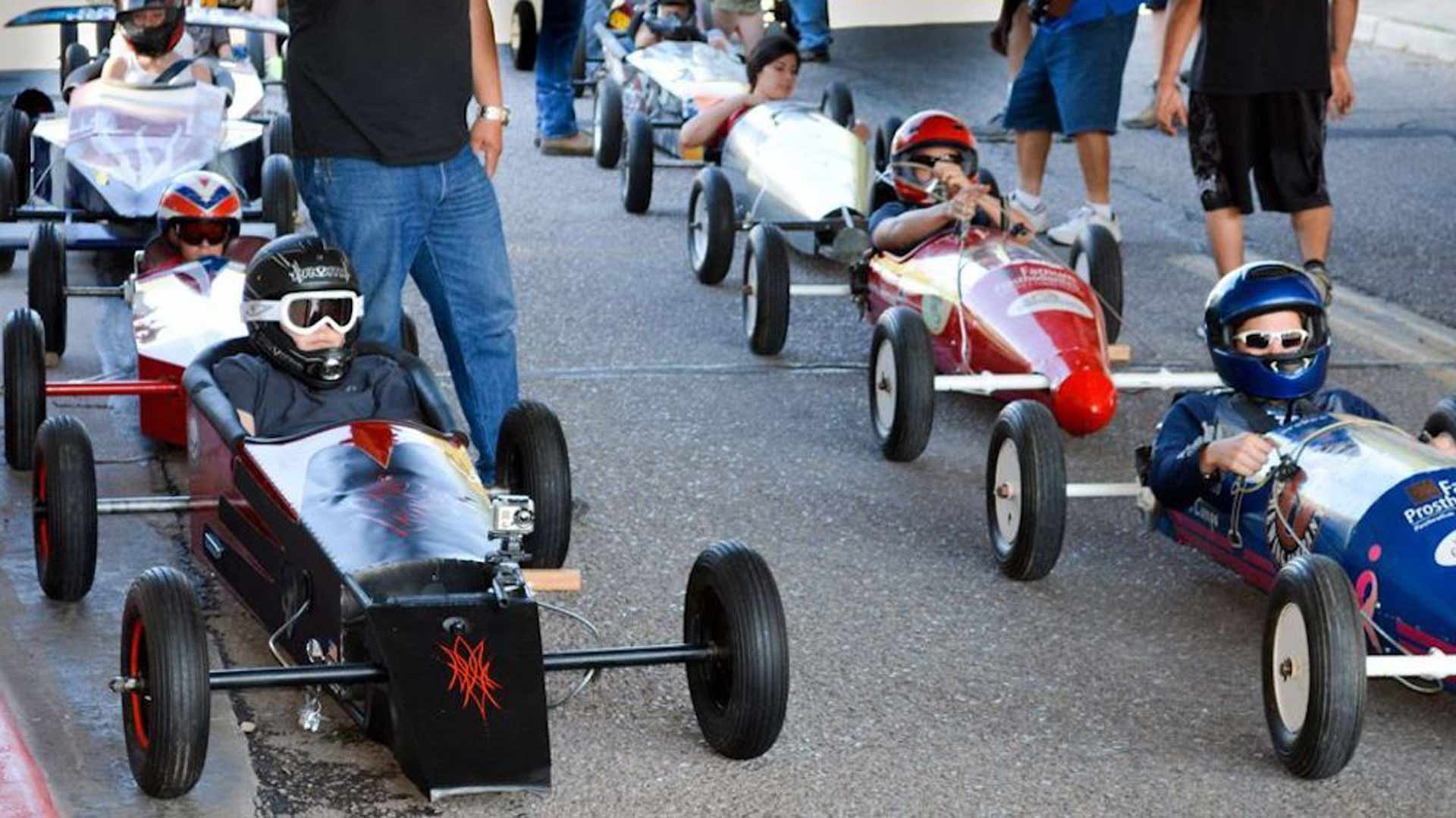 Racers prepare for the Bisbee Coaster Race.
City of Bisbee via Cronkite News
Fourth of July plans often involve barbecues, fireworks, or baseball games. But in a small town near the southern border of Arizona, an event takes place that is unfamiliar to many Arizonans: the Bisbee Coaster Races.
The celebration featuring soap box derby-like cars typically attracts thousands. The community's residents and families from all over the state flock south to witness one of the more unique events of the year.
"It's homecoming. After Phelps Dodge Corporation closed down here, everybody scattered with the winds," former Bisbee Mayor W.J. "Jack" Porter said about the mining company that shut down in the mid-seventies. "And they still come back for the Fourth of July. It's homecoming to come back for the Fourth."
A rich history
The Cochise County community is known for its unique history. Bisbee became a mining town for copper, silver, and gold during the late 1800s, but it was also known as a town for hard living with its saloons and the red light district of Brewery Gulch.
As time went on, immigrants started rolling in from all over the world. By 1900, nearly 6,000 people had found their way there.
Bisbee features the oldest baseball field in America, Warren Ballpark. It hosts the annual "Copper City Classic Vintage Baseball Tournament," where teams from Arizona to Colorado play 1800s-style baseball. Bisbee also has Arizona's oldest continuously run bar, St. Elmo, and continuously run hotel, the Copper Queen.
"There's a very strong sense of family and community there, and that was one of the things that was really kind of nice about the Fourth of July celebration, was that it was really kind of a homecoming for a lot of people," said Pete Fullerton, former organizer of the Fourth of July coaster race. "People that had grown up and moved away would come back and reconnect with their family ties."
For more than a century, Bisbee has celebrated the Fourth of July with parades, sporting events, picnics, and fireworks. In the town's early days, the Fourth of July festivities helped integrate immigrants into American culture.
"As much as we love the coaster race, it is only one expression of our celebration, our community, selves, and country," Bisbee resident Pete Campbell said. "It is a celebration that exemplifies synergy, whether you want to call it, the whole exceeding the sum of the parts."
Before television and radio, speeches were a popular form of entertainment at events. At the original Fourth of July celebration, a woman with a prominent background would read the Declaration of Independence.
Since Bisbee was a mining town, popular contests included drilling and mucking (shoveling rocks into mining cars). More than 10,000 people watched as four teams of drillers competed against each other for a prize of $500. In 1902, that was equivalent to five months of wages for a miner.
The main event
The driller and mucker contests still take place today, but the annual coaster race is the highlight of the weekend. Racers spend thousands of dollars to build their own soapbox derby-style cars to race from Tombstone Canyon into downtown Bisbee.
A team effort is necessary for the coaster race to run successfully. The town uses police officers, firefighters, EMTs, and Arizona Rangers to ensure a safe race. Every street entering Tombstone Canyon and Main Street is closed during the race. The town also has to block driveways so cars do not enter the road.
Without the help from all departments, the race cannot take place. After the 2020 and 2021 Fourth of July celebrations were canceled due to the ongoing pandemic, the 2022 event returned, but the coaster race part was called off because of department shortages.
This year, all the pieces are in place and the race is a go. The town of Bisbee and its residents are eager for its return.
"It's a blast going down there … certainly really looking forward to it. You kind of only get one chance to do it, so you want to make the most of it," former competitor Grant Fullerton said. "It probably goes above some of the racers' heads a little bit, but maybe some of the people watching might be excited to see things returning to a bit more of a state of normalcy, rather than what we've kind of had in general over the last several years."
The race begins at Tombstone Canyon at Highway 80 and ends at the bottom of Main Street. The competitors go down one at a time and are judged on their speed. The road is steep and windy with numerous twists and turns, but nothing that a kid couldn't handle.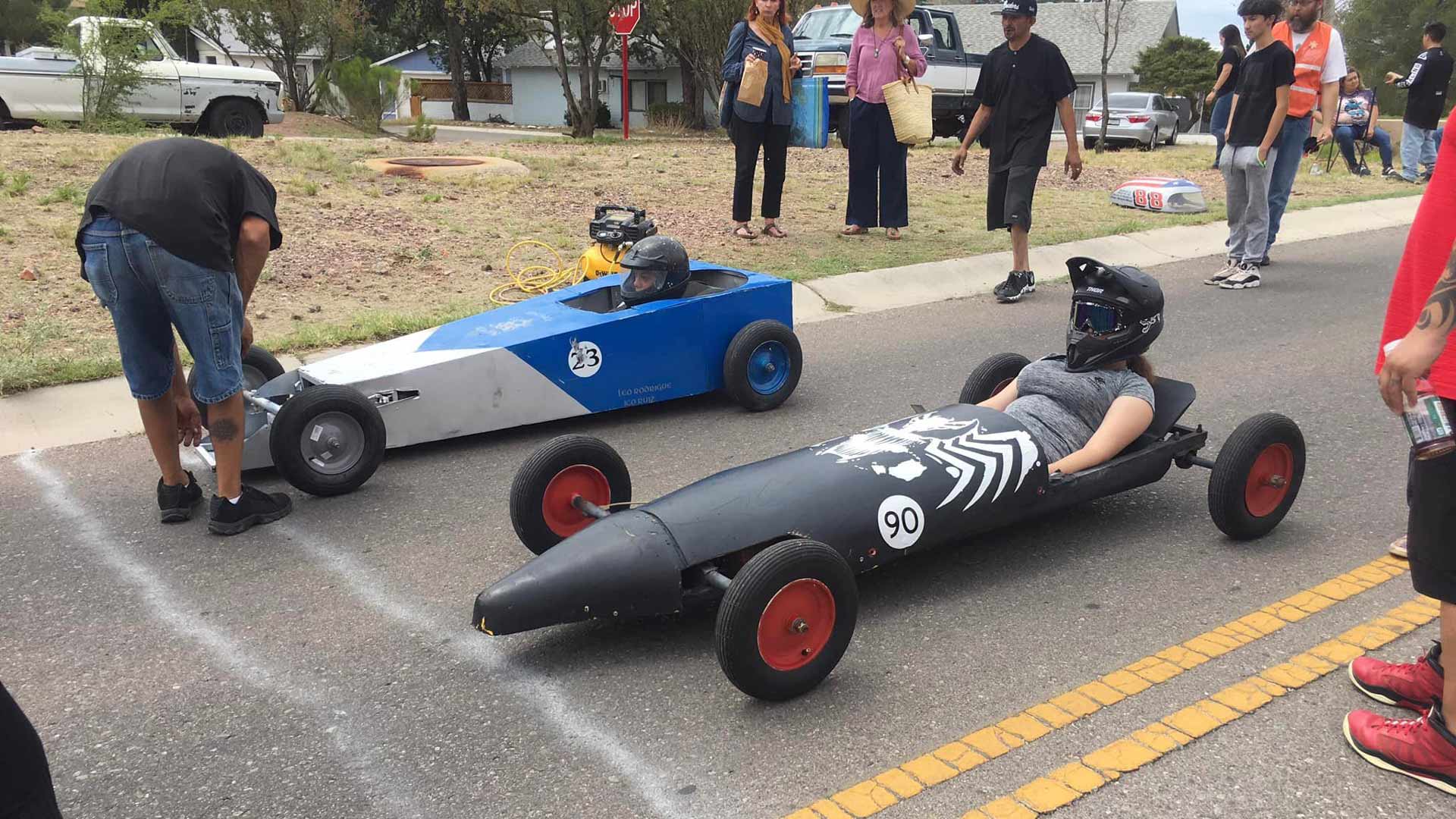 Creativity is king in building the perfect coaster for Bisbee's annual race.
City of Bisbee via Cronkite News
"I will say that it was not particularly challenging to get from the top of the course to the bottom," former racer Nigel Fullerton said. "There weren't any areas where you're like, 'I'm going (lose) it here,' you know, 'really pay attention, or I'm going to go off the course …' It was very accessible so the younger drivers, or like the junior division or someone who maybe was not particularly confident, would not have an issue getting down safely."
Organizers of the race limit the weight of the junior coasters to 300 pounds, and 350 pounds for the senior division. The coasters typically reach 40-42 mph throughout the race. Before tragedy struck in 1980, there were no regulations on how fast the coasters could go.
"The speeds are not as high as they once were. In about 2007, 2008, we were hitting about 50, but in the mid-nineties, they were hitting 65 and 70," Porter said. "It was unlimited. No limit on the weights, no limit on the tires, and there wasn't a limit on the brakes either."
A dark time
Adults were allowed to participate up until 1980 when a coaster weighing between 700 and 800 pounds spun out of control and went into a crowd on Main Street. As a driver crossed the finish line, only his right brakes worked and he veered into spectators, killing two and injuring several others.
That canceled the race from 1980 to 1993, and when the race was revamped, it was decided that only kids would be allowed to participate. Since 1993, the race has been split into two divisions, with the junior division ranging from ages 9 through 12, and the senior division including ages 13 through 16. Though it varies every year, the divisions each hold roughly 15-25 drivers.
Discussions about safety are always at the forefront. A few weeks before the race, mandatory practice rundowns take place. Safety inspections, weigh-ins, and brake checks are all performed on the cars. Drivers test their cars down the Warren Cutoff Road in Warren, and from there, organizers are able to assess the drivers' capabilities.
Soon after, a trial run on the actual course helps familiarize the racers with the course. They are encouraged to also take a bike ride down the canyon and make mental notes of where manhole covers are.
"(Safety precautions) have always been a concern as the race has progressed through the years," Pete Fullerton said. "We would have some incidents where we would look at a situation that may have happened, analyze what happened, and see if there was something that we could do to tweak the rules or the training so that we could address that situation and minimize the risk of that happening again.
"So as things went along, we would continually tweak the rules and specifications so that we could make sure that we had a safe race going on."
A lot goes into building the coasters, as drivers are required to build their own in order to compete in the race. Constructing a coaster demands creativity, ingenuity, and attention to detail.
"These coasters are quite a bit more robust than your average soap-box derby car," former Bisbee resident Grant Fullerton said. "Probably one of the most important things is going to be running resistance and friction, making sure you've got the smoothest spinning bearings that you can, just so that you're going be scrubbing off the least amount of speed as possible. Since you don't have a motor to keep up with that, you're just going by gravity, so you want to be able to conserve as much of that energy."
In the end, the hard work pays off. The time it takes to build a coaster and the ability to race it down Tombstone Canyon generates a sense of pride and satisfaction
"Whether I ended up in first or in sixth, it was just kind of a blast to be a part of it," former participant Grant Fullerton said. "Obviously, getting some hardware at the end is a nice reward. You get some bragging rights, especially if you're competing against some of your friends. So yeah, it's obviously really exciting to win."
For former racer Nigel Fullerton, winning the race in his final year of eligibility was a great experience. It was the atmosphere, however, that he remembers most.
"I'd always participated and I often placed. I mean, certainly, you're trying to win, like that's society, but like I never felt regret prior to that. … It was always a really good experience overall," he said. "That just felt like the right crescendo to it. I won on this last year, and I can kind of go out on that note and move on. So it was a really nice kind of end cap to my experience in participation in the coaster race as a participant."
Racers will begin lining up their derby cars early Tuesday morning The race will begin at 8 a.m., kicking off the 2023 Fourth of July celebration.
As racers cross the finish line, they receive a loud welcome from spectators.
"It's pretty empty up at the top, other than the volunteers. … When you get around to the more populated part at the track, right towards the end, the sidewalks are completely filled with people and everyone's cheering," Grant Fullerton said. "That's really cool, and that was quite an experience and something that I hadn't had before.
"Just getting down to the bottom, seeing a huge crowd of people and you know that everybody is looking at you and they are cheering for you and applauding you and all of that. So that was a really cool experience as a young kid."
An experience that started more than 100 years ago.