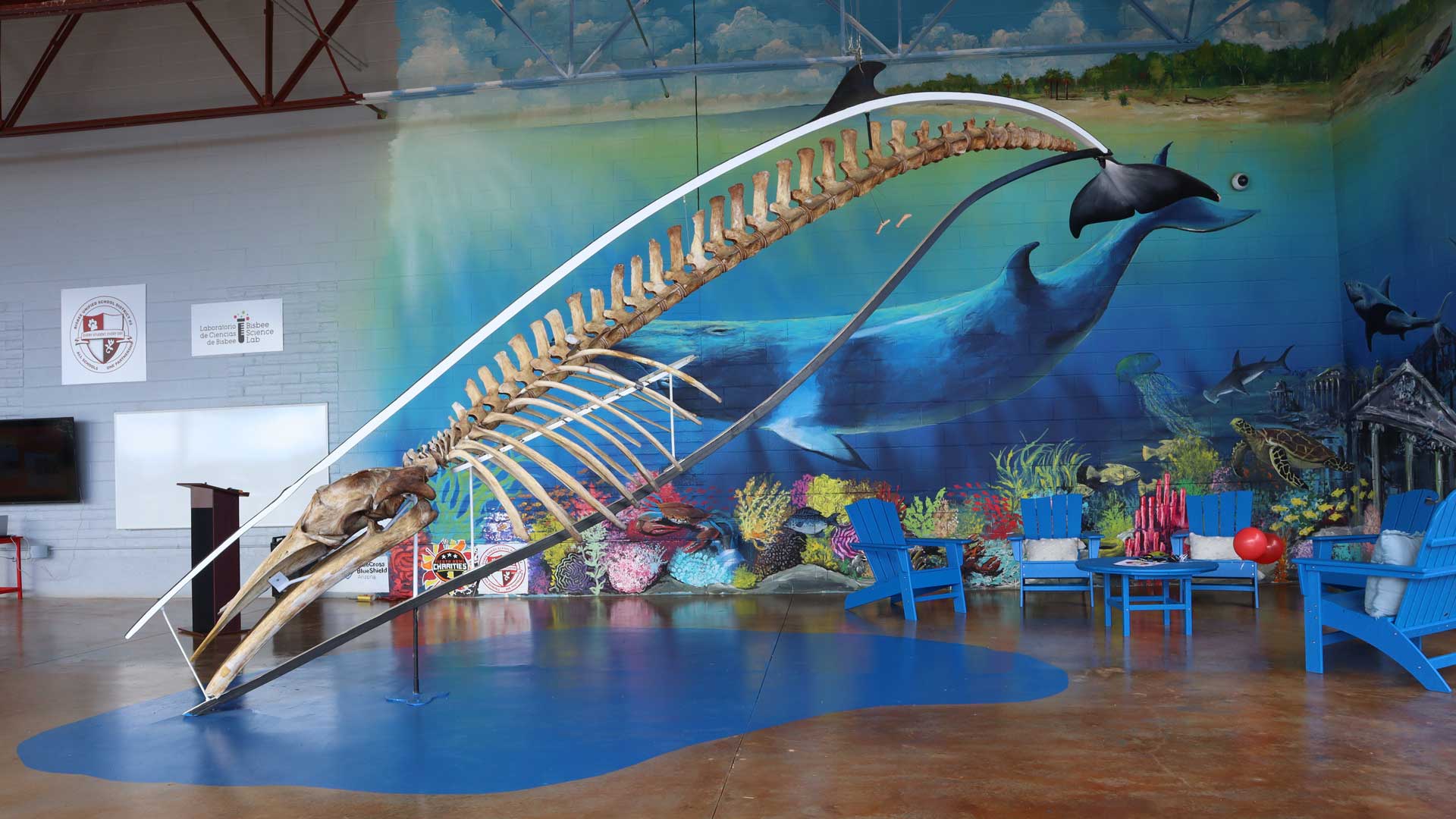 A Minke whale skeleton and mural at the Bisbee Science Center.
"It was clear to me that the lack of informal stem opportunities in this region really hindered the scientific literacy development of kids."
Those are the words of Etta Kralovec, Board Chairman and Co-Executive Director of the Bisbee Science Lab, which is a nonprofit organization that's been providing science workshops and resources for K-12 students across Cochise County since its formation in 2018.
The Bisbee Science Lab, which is located in a decommissioned middle school off of Melody Ln, received a $50,000 grant from the Fiesta Bowl Charity — which in turn — has renovated the lab's outdoor learning space and given it a bit of a glow up.
"At the school, there's a huge outdoor pavilion that was basically unused, and we set it up during COVID as an outdoor learning space, very funky, but there was a lot of internet there and kids could come to that outdoor space, and do their schoolwork," said Kralovec. "So, they funded the redesign of that space."
The outdoor learning space features a pavilion with a mountain view, which now has several tables for projects, floor markings for outdoor games, a flatscreen TV, and an aquatic mural that backdrops the lab's life-size Minke whale skeleton.
Kralovec said that the focus of the lab, and the redesign of the pavilion, was sustainability and functionality.
"We're really focused on sustainability," Kralovec said. "We have a 16,000-gallon water tank there to do irrigation with, they did a mural and we got all sustainable recycled furniture for the space. So sustainability was really a big focus for us in the redesign of that space."
"We offer science cafés and usually we have them in, you know, restaurants and bars around town," Kralovec continued. "But we really are excited to have our cafes out at our space and having a big TV allows us to have speakers who can use it for their PowerPoint presentations."
Brenda Puga, the Manager of Community Relations Nonprofit Partnerships at Fiesta Bowl, said that the reason they selected the Bisbee Science Lab for the $50,000 award was because of the organization's mission and wide reach.
"We partnered on this project with Blue Cross Blue Shield Arizona, and we presented to them a few partners, and Bisbee Science Lab just really stuck out because the space is utilized for so many different functions," said Puga. "It's really a multi-purpose space. And in addition to that, it was just a chance to really put something in Bisbee — and all of the partners that it also works with— and give back to the community here."
"One of the things that we make sure is that we are always aligning with our three pillars at Fiesta Bowl Charities, which is youth, sports, and education," Puga added. "And we thought that this partner was really great and hitting all of those. We really are so excited to see them use the space for things like Science Friday."
Kralovec said that these upgrades will further enhance the programming the lab is able to provide, like their backyard project which aims to refresh the eight acres of land behind the pavilion. She said that the lab was also awarded a grant from A For Arizona for that project.
"Just having a welcoming outdoor space gives us an opportunity to have a lot more programming on site than we've been able to have before," said Kralovec. "The renovation of the outdoor space really gives us an opportunity to now, more fully engage the community in a much more comfortable space to move forward with the backyard design project."