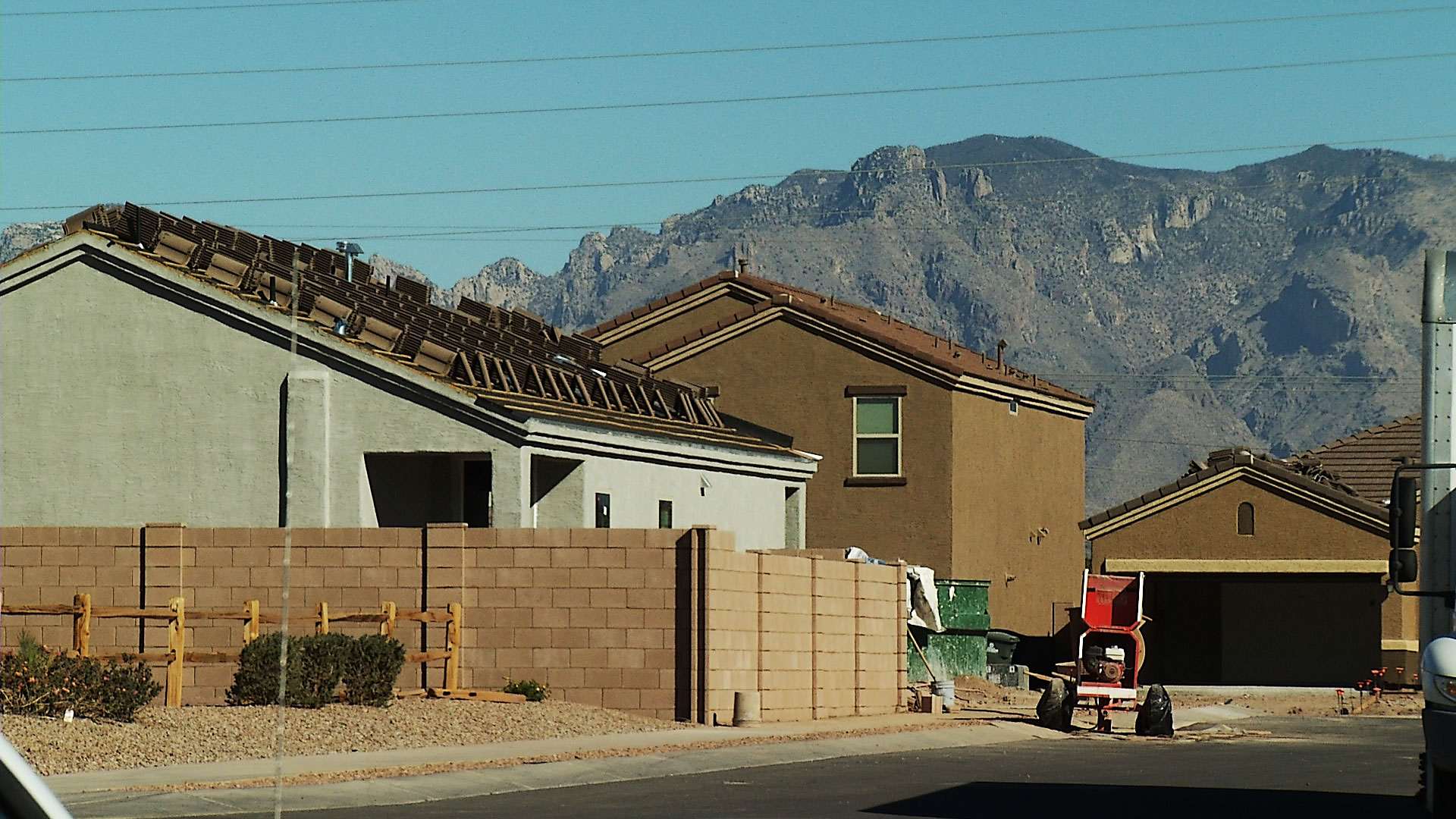 A housing subdivision under construction in Tucson off Silverbell Road. December 2020.
Robert Lindberg/AZPM Staff
Many Arizona families have relied on rental assistance from the federal government to stay in their homes through the pandemic.
A nonprofit found that across the country, allocation of those funds is moving slowly. It also found that among states and municipalities that report their progress, Arizona is lagging behind the national average, while Pima County well outpaces it.
The National Low Income Housing Coalition, a nonprofit organization focused on housing equity, is tracking the success of pandemic rental assistance programs across the country. It says that nationally, programs have only approved or paid 30% of the $25 billion dollars allocated for this purpose in the December 2020 relief package.
In Arizona, that number is 7%.
"There definitely needs to be more work done. It's worrisome about how slow the funds are getting out the door, and there's a lot of work that can be done," said Rebecca Yae, a senior research analyst at the National Low Income Housing Coalition.
The state program's dashboard says of the over 6,000 applications it has received, only 2,700 have been approved. Yae said that could point to a program delay in processing applications.
A spokesperson for the Department of Economic Security said in an email that, "the department remains current in its processing of applications."
Some of Arizona's most populous counties—Maricopa, Pima and Yuma counties—opted to run their own programs, separate from the state. That means that the state program is focused on rural areas.
Pima County in particular leads nationwide in getting these federal funds to renters in need. The National Low Income Housing Coalition reports that Pima County has approved or paid nearly 80% of its share of the funds.
Jennie Grabel is the director of marketing and communications for the Community Investment Corporation, which partnered with the City of Tucson and Pima County to distribute emergency rental assistance. She said the program distributes about $1 million dollars in assistance every week.
"So we've been able to get rental assistance dollars out in our community at a really efficient and effective rate," Grabel said.
She also said that her team expects to have approved and paid 100% of the currently available funds by mid-October and is applying for more funds to keep the program going after that.
She credited the Pima County program's success to an efficient use of technology and strong outreach, with a large focus on targeting Spanish-speaking residents.
The Urban Institute found in a recent study that more than half of renters nationwide haven't heard of the national Emergency Rental Assistance Program. It also reported that only 40% of landlords were aware of the program.
Grabel said Pima County has already had over 20,000 requests for assistance. Still, she says the U.S. Supreme Court's decision to end the Centers for Disease Control and Prevention's eviction moratorium last month created a lot of fear among renters who have struggled to make rent since the pandemic began.
"So, I think we're gonna see even more applications coming our way moving forward," Grabel said.
She said that also plays into the quickly tightening housing market in Tucson and across the country.
"There's really a huge shortage in affordable housing," Grabel said. "So there's not a lot of places for people to go if they are evicted from their current living situation."
The assistance includes up to twelve months of back rent and three months of future rent for qualifying tenants.
Grabel said her highest concern at the moment is that landlords are aware the funds are available and are willing to work with her team to keep as many Pima County residents in their homes as possible.