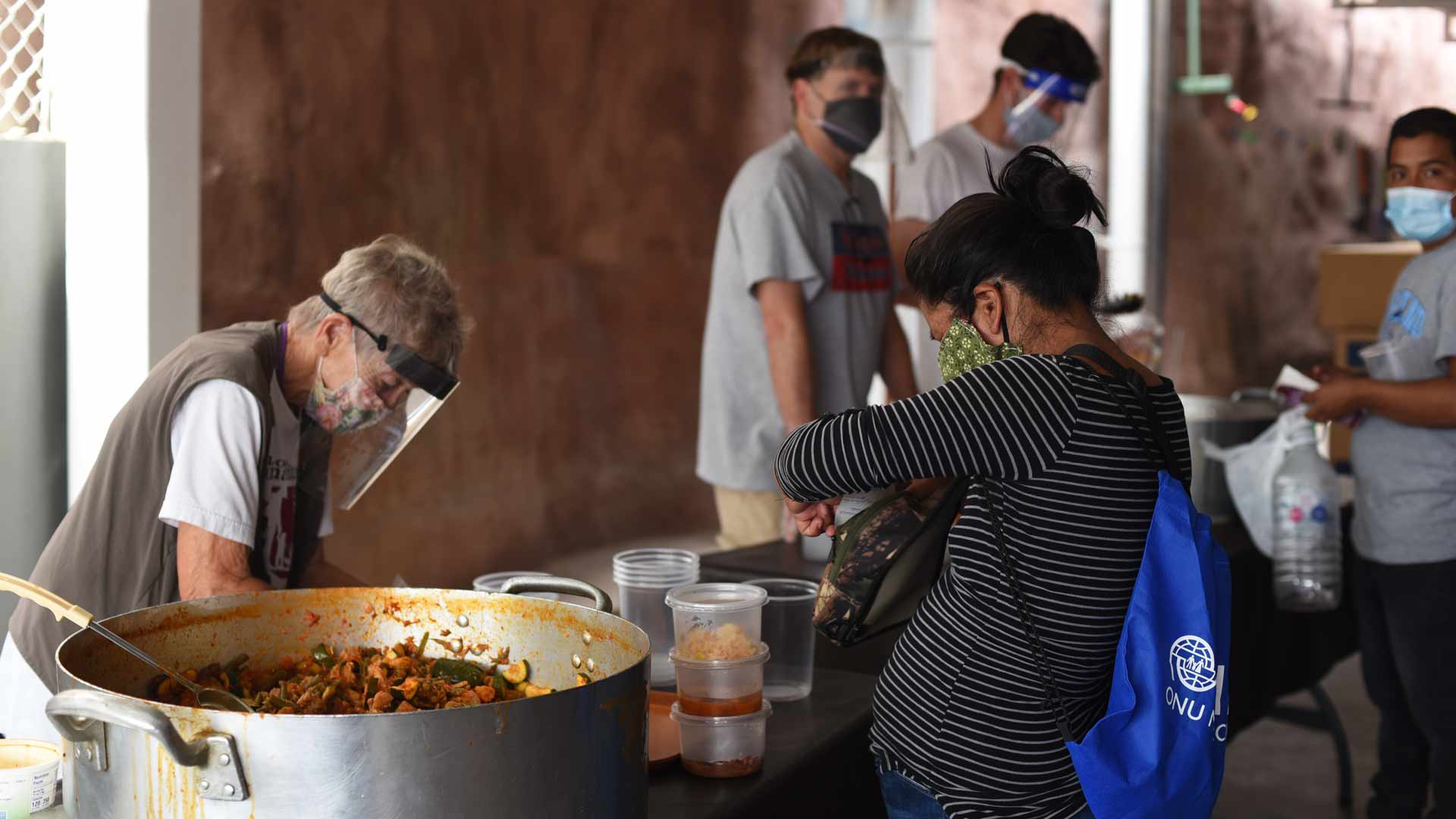 A migrant receives a serving of breakfast at the Kino Border Initiative in Nogales, Sonora. The faith-based shelter offers food, showers and other services, and also partners with legal aid groups to offer case assistance.
Alisa Reznick/AZPM
One June day at a migrant shelter called the Kino Border Initiative in Nogales, Sonora, an air conditioning unit worked hard against the muggy morning as about a dozen families filed in and took their seats on metal folding chairs set up in a circle.
Chelsea Sachau with the legal aid group Florence Immigrant and Refugee Rights Project addressed them in Spanish.
"My name is Chelsea, I'm an attorney licensed in the United States," she said.
Sachau and other lawyers make the trip from Arizona almost every day to give this presentation. It's a sort of crash course in U.S. immigration policy. She explains different types of asylum, things like persecution over one's religion, gender identity or political beliefs, and what to expect from immigration officers.
But she starts by telling them that right now, the border is closed.
"For more than a year, the border for asylum has been closed under the regulation Title 42," she said.
The Centers for Disease Control and Prevention protocol was enacted under Trump during the pandemic. It allows border officers to send migrants back into Mexico on public health grounds.
Unaccompanied children and some families are no longer subject to the order under President Biden. But border officers have still turned away more than 750,000 people under the protocol since last October, according to data from Customs and Border Protection, including more than 560,000 this year alone.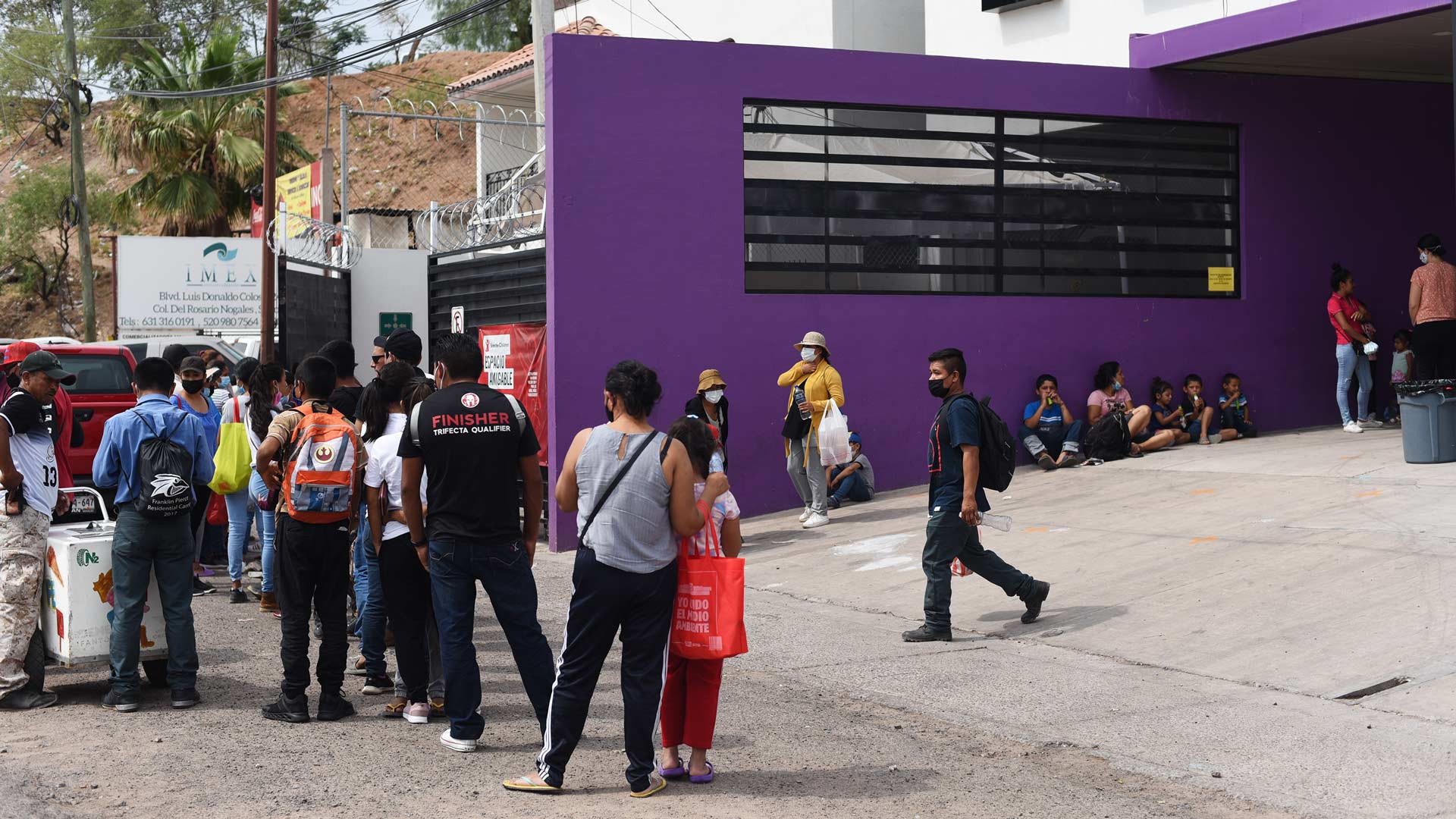 VIEW LARGER Families stand in line to receive food at the Kino Border Initiative in Nogales, Sonora. The shelter receives a few hundred people each morning.

Alisa Reznick/AZPM
The Biden administration is facing growing pressure from immigrant rights advocates to end the policy completely. Critics argue it's made applying for asylum all but impossible. That hasn't happened yet, but in May, the Department of Homeland Security quietly announced a new exemption program that asked a consortium of humanitarian groups to identify the most vulnerable migrants and recommend them for processing in the U.S.
Alex Miller, another lawyer with the Florence Project, is helping make recommendations in Nogales.
"Migrants who are forced to wait have been extorted, kidnapped, raped, all sorts of suffering, just by the fact of being a migrant in this space," she said. "So when we talk about referring particularly vulnerable migrants, we know the reality is that that is all asylum seekers."
Since Title 42 took effect last March, the advocacy group Human Rights First has documented more than 3,000 cases of violent assaults against migrants across the border.
DHS says immigration officers review recommendations on a case by case basis. Miller says that makes it hard for advocates to know who will actually end up making it to the U.S.
The consortium is made up of binational groups already working along the border. Migrants recommended are given a COVID test in Mexico and escorted to the port to be processed by DHS. The agency has the final say.
Miller says the asylum class in Nogales is often the first and last time families get to hear how immigration law actually works.
"We've seen people increasingly ready to wait, to wait for their chance to seek asylum at the port, instead of making dangerous journeys through the desert," she said.
But that wait is getting longer. Nogales is the only port in Arizona where processing is happening. Miller's group has made hundreds of recommendations so far, and the list is backed up until September.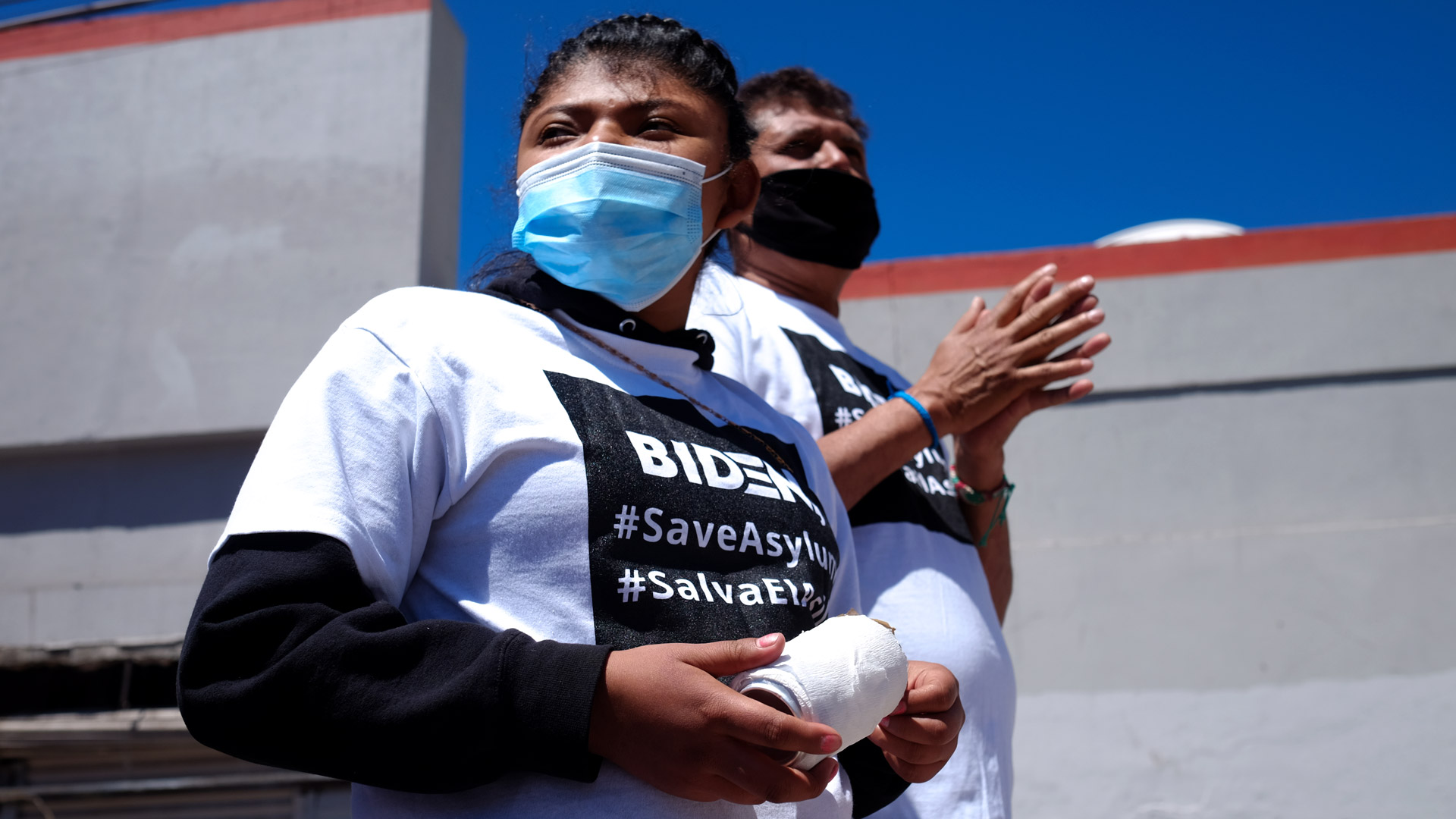 Dozens of migrants walked through downtown Nogales asking President Joe Biden to restore the asylum system and begin processing.
Alisa Reznick/AZPM
Raymundo Tamayo is the country director for the International Rescue Committee in Mexico, one of the core groups part of the humanitarian consortium. He says his organization is taking part to get as many people processed as possible. Still, he says people are still being left behind, and the only way to stop that, is to end Title 42 for good.
"This is something that definitely want to see lifted, we want to see that individuals have access to the right of asylum because there are a number of very very critical cases," he said.
That's a case Yessica hopes to make for her and her 13-year-old son. They came to Nogales from the state of Mexico in May. She's petite with short brown hair that curls around her ears. We're not using her real name because she's worried it could affect her asylum case. She teared up while talking about the journey here.
"The truth is we are applying for asylum because, well, life is very hard," she said in Spanish. "We have had many people threaten us. In fact, they tried to rape my son many times."
Yessica says she left to protect him. But she doesn't want to try to cross through the desert because she's worried how it would affect him. That's why, like a lot of people here, she's waiting for a chance to walk through the port.
This is part one of a two-part special report looking at asylum amid the pandemic-era border protocol, Title 42.
This story has been updated to accurately reflect the number of Title 42 removals that have occurred so far this fiscal year.