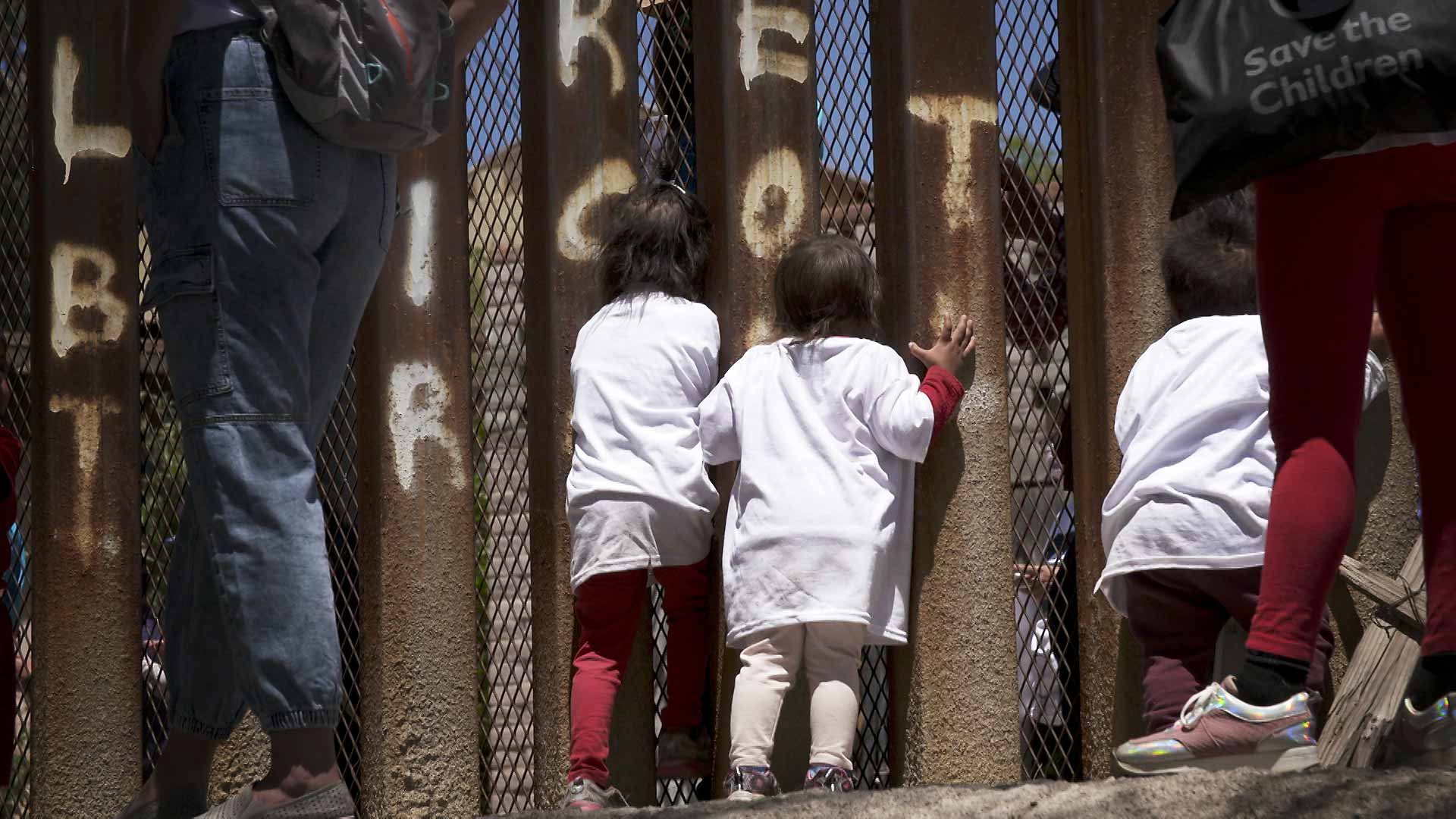 Children peer through the border fence in Nogales, Sonora during a march led by migrants on April 30, 2021 who wanted to call attention to immigration policies in the United States that have prevented them from entering the country while they seek political asylum.
Nate Huffman/AZPM Staff
A group of humanitarian organizations tasked with helping to decide which migrants are able to enter the U.S. to claim asylum is now working in Arizona.
This month the Associated Press reported that the Biden administration is working with six Mexico-based aid groups called the consortium, and asking them to identify the most vulnerable migrants for asylum processing. The program began in El Paso and is now underway in Nogales, Sonora.
The Biden administration is still using Title 42, the pandemic-era policy enacted under former President Trump, to immediately return most migrants back to Mexico. But under the new consortium program, a few hundred people a day will be able to bypass the pandemic policy.
Joanna Williams with advocacy group Kino Border Initiative is coordinating with local consortium affiliates to make referrals in Nogales. She said migrants there have spent months organizing marches and other events asking President Joe Biden to restore the asylum system.

"It's that kind of political pressure that has pushed the Biden administration to open this tiny window, it's certainly not a door, and it's not a restoration of legal access," she said.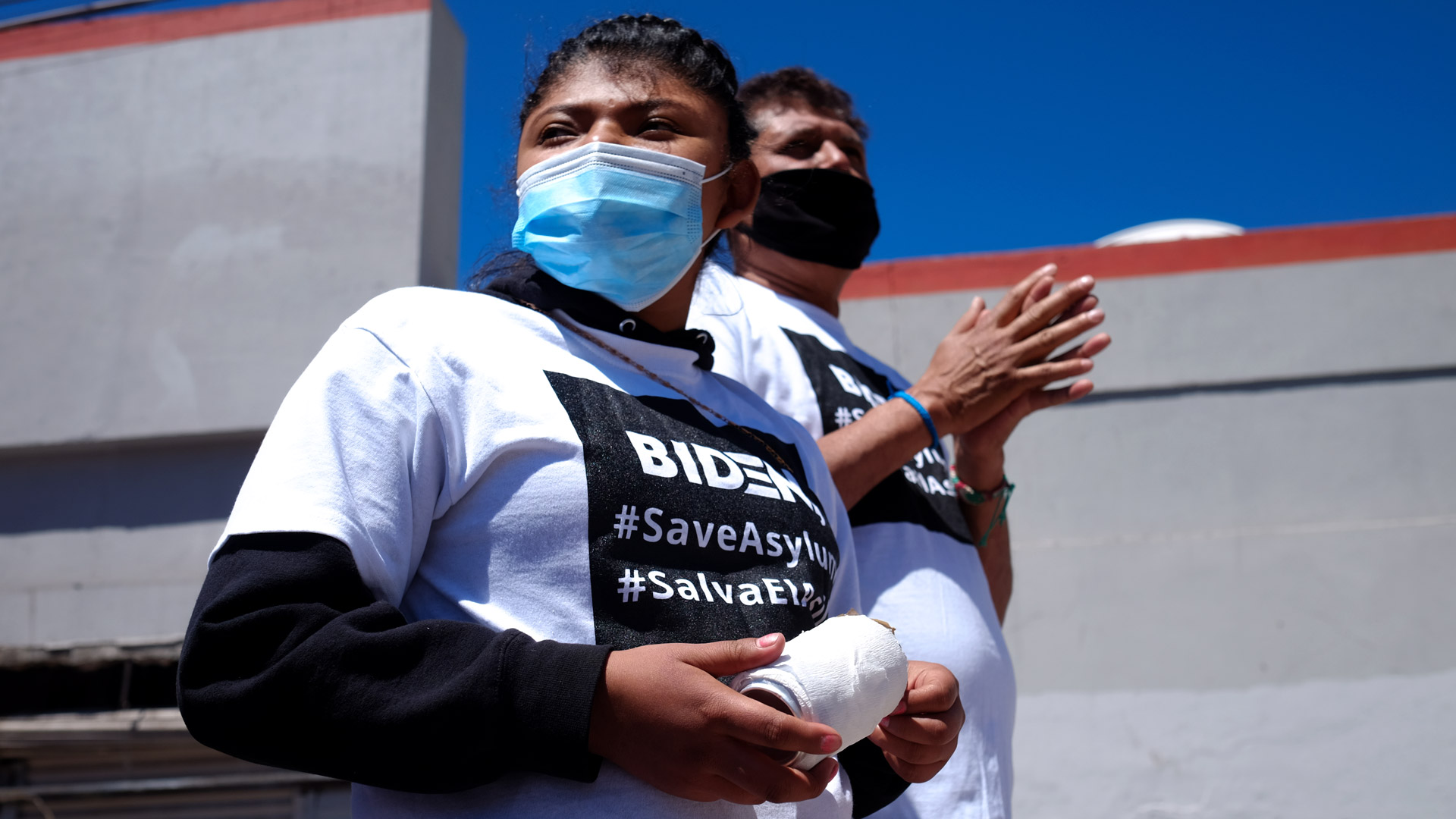 Dozens of migrants walked through downtown Nogales asking President Joe Biden to restore the asylum system and begin processing.
Alisa Reznick/AZPM
Williams said groups in Nogales expect to recommend a few dozen people a day for processing, but isn't sure yet how many will be accepted. Nearly 650,000 people have been expelled under Title 42 across the southwest border since October of last year. While the Biden administration has stopped using the policy to return unaccompanied children, it still applies it to most single adults and some families.
The consortium program is the second Title 42 exemption system so far, a similar initiative run by the ACLU has made hundreds of recommendations since taking effect in March. Alex Miller, a lawyer with the legal aid group Florence Immigrant and Refugee Rights Project, is making referrals in Nogales as part of both programs.
"We stand firmly that Title 42 should not be in place, that there's no justification for denying asylum seekers access to protection,"she said. "But kind of being held over a barrel, we see this as a short-term way to get as many people to safety as possible."
Miller estimated her group has already made 110 referrals through the consortium in Arizona. She said while it's a step forward, asylum isn't safe until Title 42 is no longer in effect.
"Though we're able to make referrals in certain cases, it's completely unfair to have an asylum system where access to asylum is dependent completely on your access to a legal services organization," she said.
After they're recommended for the program, migrants are required to get a COVID-19 test in Mexico before crossing. In an email, a DHS spokesperson said migrants identified by the consortium will be assessed on a case-by-case basis. Those who are cleared for entry are met across the border and transported to Tucson by personnel from Casa Alitas, a migrant shelter operated by Catholic Community Services.
"Many of them coming across with medical concerns, with a vulnerable family member who needs additional support, or have just experienced a depth of trauma that requires immediate assistance," said Teresa Cavendish, director of operations at Casa Alitas. "Simply abandoning them on the streets of Nogales as they walk in is not something the consortium intends or something the service providers in Arizona will accept."
Cavendish said Casa Alitas is hosting some 80-120 people a day, all of whom have access to a COVID-19 vaccine once in their care.