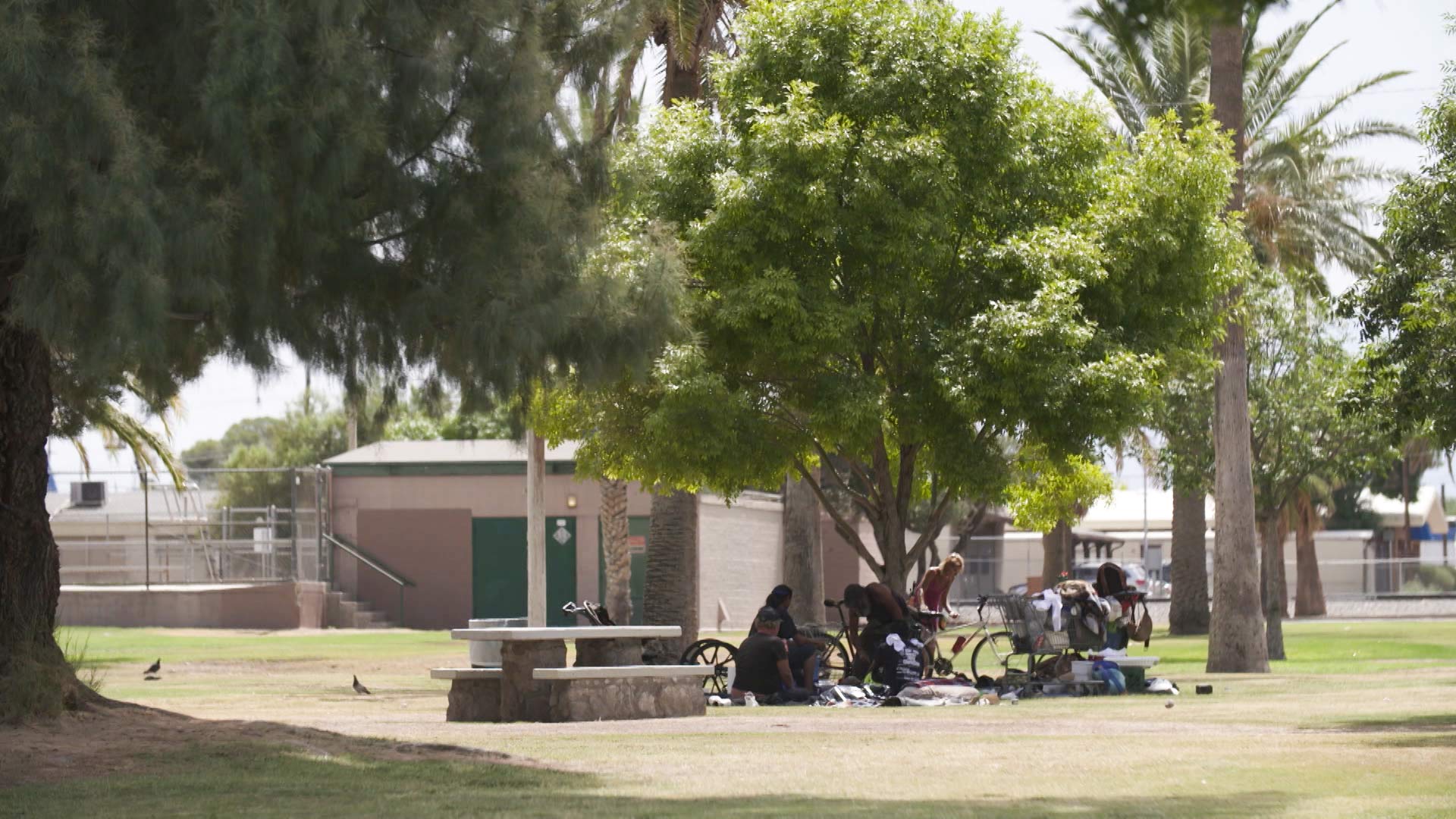 Advocates warn of a looming crisis as Arizona nears the expiration of an order protecting renters from eviction.
AZPM
Thursday, July 16 update: Gov. Doug Ducey announced an extension to Oct. 31 of the moratorium on evictions.
---
At least 700 households in Pima County have been evicted in the last month and a half and are facing — or already experiencing — homelessness. With one week until Gov. Doug Ducey's order postponing the enforcement of evictions expires, housing advocates warn thousands more renters could be forced out of their homes.
Protections for renters are slated to disappear as a resurgent pandemic hobbles the country's economic recovery. The governor has indicated he plans to let the order expire even as a monthslong backlog for rental assistance hinders the state's $5 million housing aid fund.
The additional $600 in weekly jobless benefits provided in the federal CARES Act will disappear on July 25 — three days after the governor's eviction order expires — cutting over 600,000 Arizonans' weekly unemployment check from $840 to $240. A ban on evictions in rentals with federally backed mortgages will also expire that day.
"Our decision-makers are about to make a rapidly deteriorating financial situation in this country even worse if we start having waves and waves of people becoming unhoused," said Stacy Butler, director of the Innovation for Justice Program at the University of Arizona James E. Rogers College of Law.
While the number of renters at risk of eviction is debated, Pima County Justice Courts data from June reveal evictions have been — and will likely continue to be — far more prevalent in neighborhoods home to more people of color. Black, Latino and Indigenous people are more likely to be renters and more likely to work in industries negatively impacted by the pandemic, according to the Economic Policy Institute.
"Low-income communities tend to be minority communities, and we weren't providing for them and taking care of them before all of this happened," said Butler. "They are incurring COVID-19 at higher rates, they're incurring debt at higher rates and they are becoming unhoused at higher rates."
Source: Pima County Justice Courts, U.S. Census Bureau [Map not displaying? Click here]
Evictions are certain, but how many is debated
Estimates for how many renters are at risk of eviction vary. A study by the Aspen Institute, a Washington, D.C.-based think tank, estimated over 500,000 renters in Arizona would be at risk of eviction by the end of September. That model assumes a renter unemployment rate between 20% and 30%. The state jobless rate in June was 10%, according to the most recent numbers from the Arizona Commerce Authority.
Using the Aspen Institute's model, the Innovation for Justice Program predicts 35,000 renters in Pima County will be at risk. The center's Cost of Eviction calculator estimates the evictions could cost taxpayers over $200 million to pay for shelter, medical care and other services.
Another analysis by international consulting firm Stout Risius Ross estimated as many as 365,000 renters could face eviction by the end of the year.
An informal survey conducted by the Arizona Multihousing Association offers a different picture. Between 1% and 3% of renters in the state are not able to pay rent, or have stopped communicating with their landlord, according to the survey of over 100,000 rental units.
"In an ideal situation, we don't want to see any evictions," said Courtney Gilstrap LeVinus, CEO of the association which represents over 2,000 rental property owners comprising over half the rental housing in the state. "We're in the business of renting homes, we're not in the business of evicting, and we want the rental units to be full."
Gov. Ducey for his part pointed to the association's estimate when asked about his eviction order at a press conference last week.
But property owner and tenant advocates agree that the state's Rental Eviction Prevention Assistance Fund needs fixes. Following the fund's establishment at the end of March, a surge of requests has left applicants waiting months for help.
Gilstrap LeVinus said the program's problems have kept needed cash from getting to both renters and landlords.
"It's unacceptable that it has taken so long," she said. "We can't continue to ask rental housing owners to bear this burden. These are individuals. They're very small businesses. They're paying their mortgage, they're paying their property tax, they're paying their local taxes. They're paying their insurance."
A spokesperson for Ducey said his office has worked with the state Department of Housing to speed up the processing of applications. The department has simplified the criteria for eligibility, improved its website and is working on building out capacity to handle applications.
Renter protections successful, but many still struggle
At the onset of the pandemic, Pima County Justice Courts delayed so-called "failure to pay" evictions until June 1, citing coronavirus concerns, though landlords were still free to file. Pima County courts evicted 600 people in June, though court data likely undercount the number of people who lose their homes because many evictions are settled informally, with no filing in court.
The governor's eviction order prevents an eviction from being enforced until July 22 if the tenant had to quarantine or lost income due to the coronavirus pandemic, as long as they communicated that to their landlord.
Experts say the governor's order, along with the CARES Act protections, have likely kept eviction rates down compared to last year. Tucson was already one of the top evicting cities in the country, according to Princeton's Eviction Lab.
The courts have ruled in favor of the landlord more than 99% of the time since cases resumed, which is only slightly more frequent than under normal circumstances, according to Pima County Justice Precinct 9 Constable Joe Ferguson.
"When the plaintiff shows up, they're arguing against the lawyer who has done hundreds, if not thousands of evictions before that day. They know the law and, generally speaking, tenants don't have a lot of training in Arizona Tenant Act law," he said.
Ferguson said the courts are anticipating hearing many more eviction cases in August and September when the CARES Act protections vanish.
Tucson resident Destiny Bennett is hoping she won't be one of them.
Bennett, 23, fell behind on her rent in June after missing work while in quarantine for two weeks because a family member tested positive for COVID-19. She incurred a $75 late fee, and then $5 late fees every day after.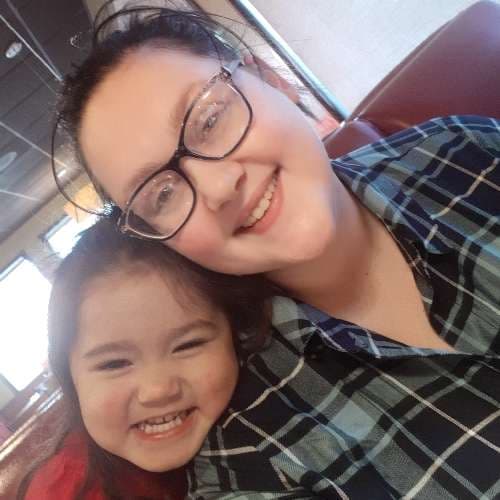 VIEW LARGER Tucson resident Destiny Bennett with her 3-year-old daughter.

Courtesy of Destiny Bennett
When her landlord threatened her with eviction, she tried to get rental assistance from the state, churches and nonprofits, but wasn't able to get through to anyone. She was eventually able to set up a payment plan with her landlord.
"I'm also working to pay off July's rent. And now, August rent is coming in quick. So it just seems like as soon as I get on top of what I owe, it hits again and I have to start all over again."
Despite a recent flat tire, Bennett says she will keep delivering food for DoorDash so she can keep her daughter off the streets.
"I can't just sit here and do nothing because I do have to keep this apartment for my 3-year-old or else I have literally nowhere to go," she said.