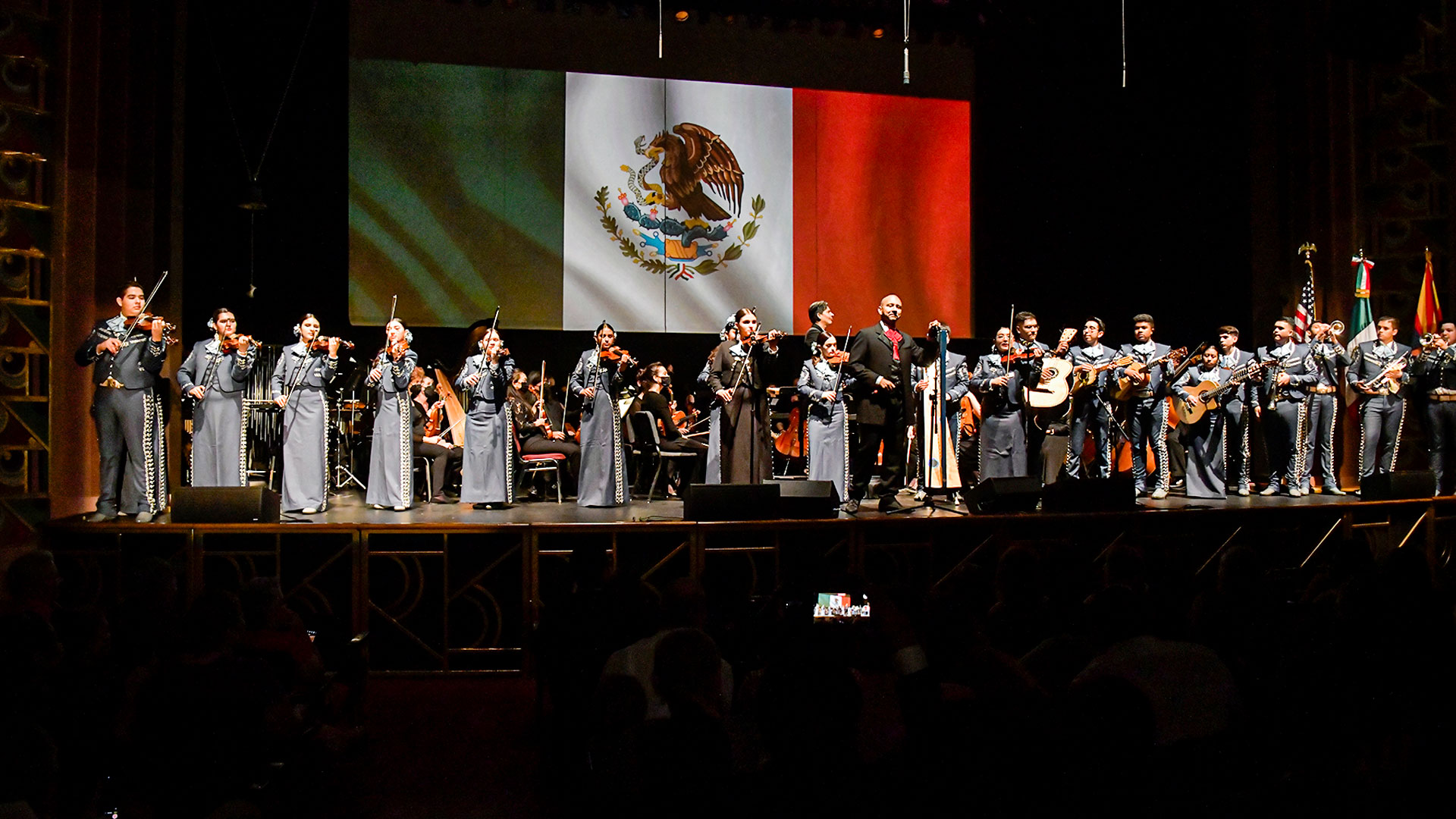 Mariachi Aztlán de Pueblo High School perform with vocalist and the Tucson Symphony Orchestra for the annual Mexican Independence Day concert on Thursday, Sep. 15, 2022 at the Fox Theatre in Tucson. The event is hosted by the Consulate of Mexico and Tucson-Mexico Sister Cities.
Jes Ruvalcaba/Tucson Unified School Distrct
The Tucson Symphony Orchestra marked Mexican Independence Day with an evening of traditional dancing, vocal soloists and music from Mariachi Aztlán de Pueblo High School.
The hosts of the event, the consulate of Mexico and Tucson-Mexico Sister Cities, allowed the orchestra artistic direction of the performance.
When José Luis Gomez, the director of the Tucson Symphony Orchestra, saw this opportunity, he made it a point to feature work from young musicians like 16-year-old composer Sol Silvina from Hermosillo, Mexico and Mariachi Aztlán.
"You have an opportunity to show that there's a young talent out there that needs to be showcased," Gomez said.
Music is a cornerstone for many cultures and is a way for people to reconnect. Mariachi has served as a path to sharing the stories of struggles, victories and joys of the Mexican people.
In the case of Mariachi Aztlán, the concert was an opportunity to celebrate and share with others the importance of this music and to serve as a way to fight the stigmas that are often shared.
"[People think] that it's simple music, that it's ballroom music, that it's out of tune," said John Contreras, director of Mariachi Aztlán. "Then they see a group of students that are well dressed, well rehearsed, getting up there to play with a symphony orchestra. They are not just going to play on their own, but they're going to play along with some of Arizona's best musicians… and I think that opens a lot of people's eyes."
For many students, mariachi has turned into a family affair. With uncles, cousins, brothers and sisters playing, it serves as a way for students to connect with their past and continue their heritage into the future.
Pueblo High School sophomore Jiselle Ladriere says her father and sisters were her influence. Now, it has turned into a sense of cultural pride for her.
"The feeling that it gives me and just the sense of culture, I feel like it's a really big part of my ethnicity," Ladriere said. "It's where I come from; it's who I am; It's what I know."
Contreras has seen this pride transform students in different ways, but especially when they put on their uniform — the charro.
"It's kind of like the Superman suit, right?" Contreras shared. "They take on a different aura. You know, they kind of stand a little straighter. They walk with more purpose."
Opportunities to perform with groups such as the Tucson Symphony Orchestra give students a way to experience mariachi in ways they have never seen before. Laudreair hopes that this new experience serves as a way for people to learn about her Mexican heritage and to embrace it.
"It's a part of our everyday lives and for them to like it so much gives us pride in what we do," Ladriere says. "That's why we do it, to show people what our culture is and it makes us feel proud. It makes me feel proud."
The concert was filled with tears and calls of "otra" for more music as attendees were engulfed with tunes that reminded them of their childhood. El Grito de Independencia — the Independence Cry — ended the evening solidifying the beginning of Mexico's Independence Day.
Mariachi Aztlán will take its talents to the national stage in Washington D.C. next year by representing Arizona in the Fourth of July parade. The group will be fundraising for the trip throughout the year and have started a GoFundMe to help mitigate the costs.
But for now, they will continue doing what they know best — performing.