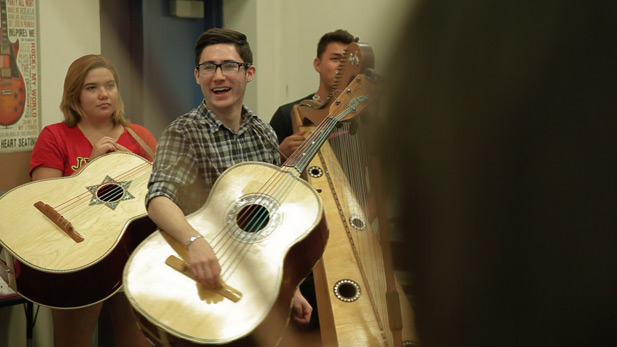 Courtesy of Mariachi Aztlán
Listen:
Mariachi is an important part of the culture at Pueblo Magnet High School, says John Contreras, music educator and director of Mariachi Aztlán - the school's advanced performing group.

Students accepted in Mariachi Aztlán must maintain a high level of academic achievement in order to remain in the group, Contreras said. Also, they are required to commit to a rigorous rehearsal schedule that takes up much of their free time.
Jared Young is a junior and plays the guitarrón, and he said he transferred to Pueblo in order to join Mariachi Aztlán.
"The role of (the guitarrón) is to keep the tempo, the time of the song and the feeling of it," Young said. "It complements everything, to help you feel the piece… the music."
Gabriela Miranda is a senior and currently plays the guitarra de golpe, a five-string instrument that is slightly smaller than the common Spanish guitar. "It's part of the rhythm section," she said. "Like the guitar and the vihuela we keep the rhythm together."
Miranda said playing mariachi music has helped her overcome her shyness and she now feels comfortable playing and singing in front of large audiences.
"In class too… I'm not as shy but I still get a little nervous," she said.
Young said he's looking forward to performing this school year and he hopes he can find another mariachi when he graduates from high school and goes to college.

"I really like playing… it's an excellent feeling," he said.

Mariachi Aztlán alumni will perform this weekend as part of Los Changuitos Feos 50th anniversary celebration.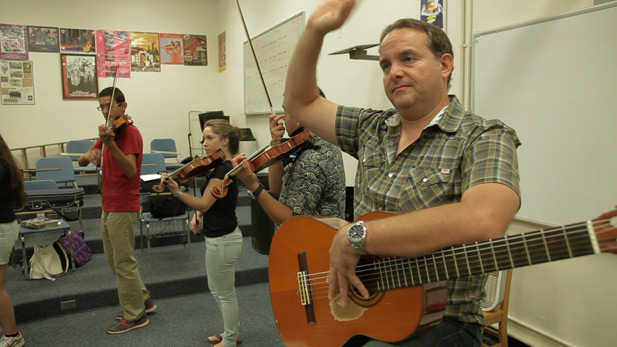 Courtesy of Mariachi Aztlán