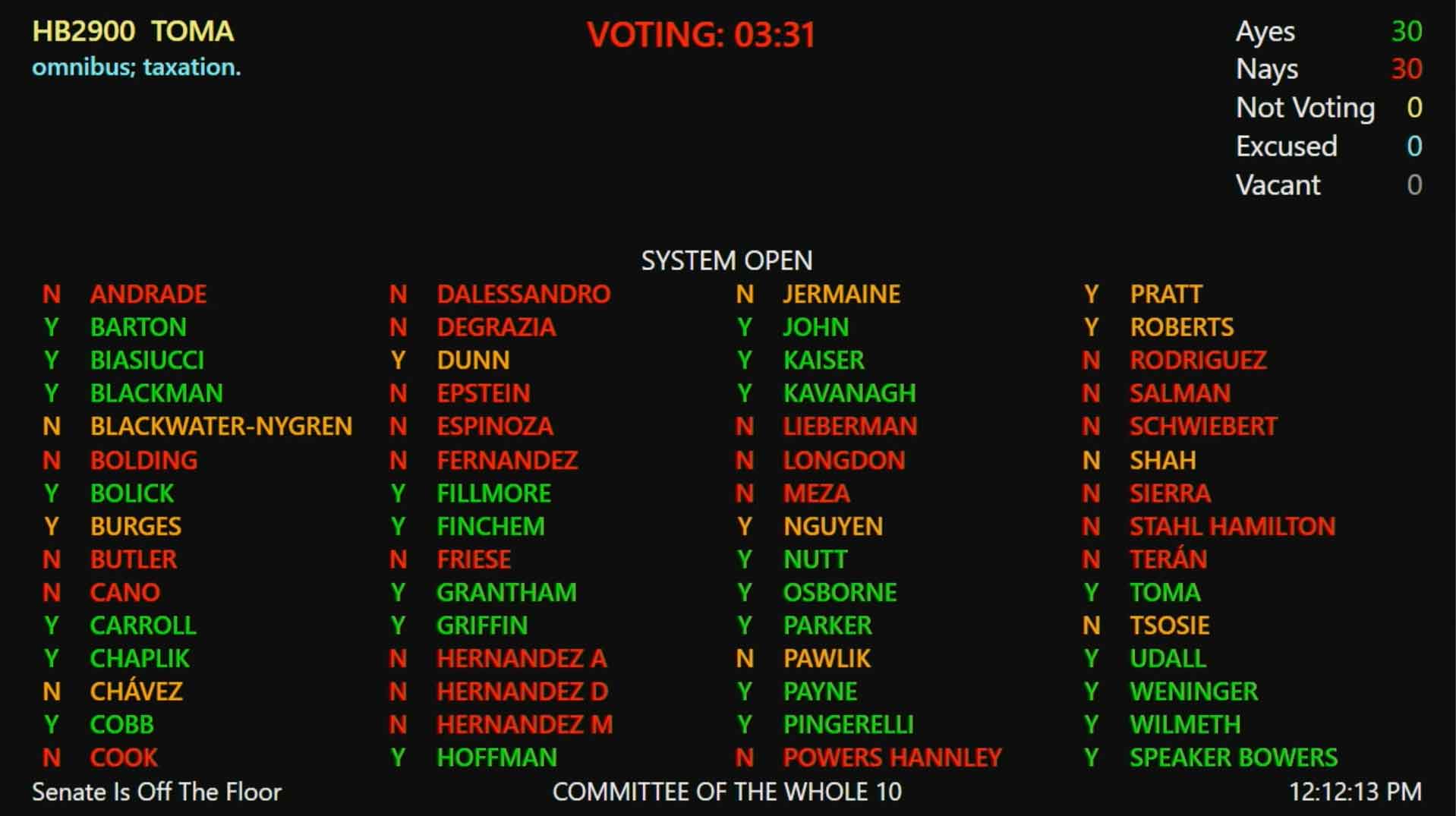 The tie vote in the Arizona House defeated a proposal to put a flat tax in place. June 7, 2021
Arizona Legislature web feed
Republicans in the Arizona House of Representatives hoped to pass a budget Monday, but a single member of their party scuttled the deal.
Rep. David Cook crossed the aisle to join with Democrats in opposing two measures his fellow Republicans wanted to include the proposed flat tax.
Republicans hold only a one-seat majority in the House.
Cooks no votes meant that the proposals died on 30-30 tie votes. Republicans tried parliamentary moves to pass the flat tax but those attempts also died on tied votes.
Cook began his objections to the proposals pointing out that rank and file members of the legislature, Republican and Democrats, had not seen the proposal before the debate began.
"I have checked with two members of my Republican caucus they have not seen this amendment; I have not seen this amendment, this is Monday morning and I cannot support this amendment or any bill without adequate time to review such information for the voters of my district," Cook said on the floor of the House.
Cook has opposed previous budgets during his time in the legislature and in recent days has been the subject of public pressure to side with his fellow Republicans and pass the budget bills.
The flat tax, proposed by Governor Doug Ducey, is seen as a tax cut. Cook said it is not the cut that is the problem but how it is accomplished with the flat tax.
"The proposal before us, takes over $700 million and instead of paying off more of our debt for the state, it would have a taxpayer savings for the future of about $130 million a year ongoing," Cook said.
He said that the state still owes $450 million in debts incurred during the recession.
After the two defeats, House leaders put votes on the rest of the budget bills on hold until Thursday. The Senate will also return to the state capitol on that day to see if they can pass a budget.