By Will Stone, KJZZ
Listen:
As Congress hashes out how to address the drought across the West, one Arizona senator wants to ensure his state doesn't lose out.
By 2017, Arizona will have voluntarily left almost 350,000 acre feet of its water in Lake Mead. It's part of a collaborative effort among the Southwest states that depend on the Colorado River to prevent cutbacks in water deliveries, a decision based on the reservoir level in Mead.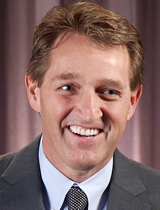 U.S. Sen. Jeff Flake, R-Ariz. (PHOTO: AZPM)
But Republican Sen. Jeff Flake wants to make clear that does not mean this water is up for grabs, either, and he would like to prohibit the secretary of the interior from redirecting any of Arizona's water to some other state.
"Now without these assurances, obviously such preventative measures don't make sense," Flake said on Thursday at a drought hearing, held by the U.S. Senate Committee on Energy and Natural Resources.
"It would be like having a savings account and seeing your neighbor be able just to reach and grab money from it," said Flake.
In response, Deputy Secretary of the Interior Michael Connor said he doesn't foresee a situation in which the agency would make such decisions without consulting states first.
Right now, there a handful of drought bills specific to states like California and Alaska circulating around Congress. Flake said he intends to include provisions related to Arizona in upcoming legislation that will address drought across the West.
Along with safeguarding Arizona's water in the Colorado River system, those will address forest restoration, efficiency upgrades in water storage and water sucking invasive species in the state's rivers and streams.