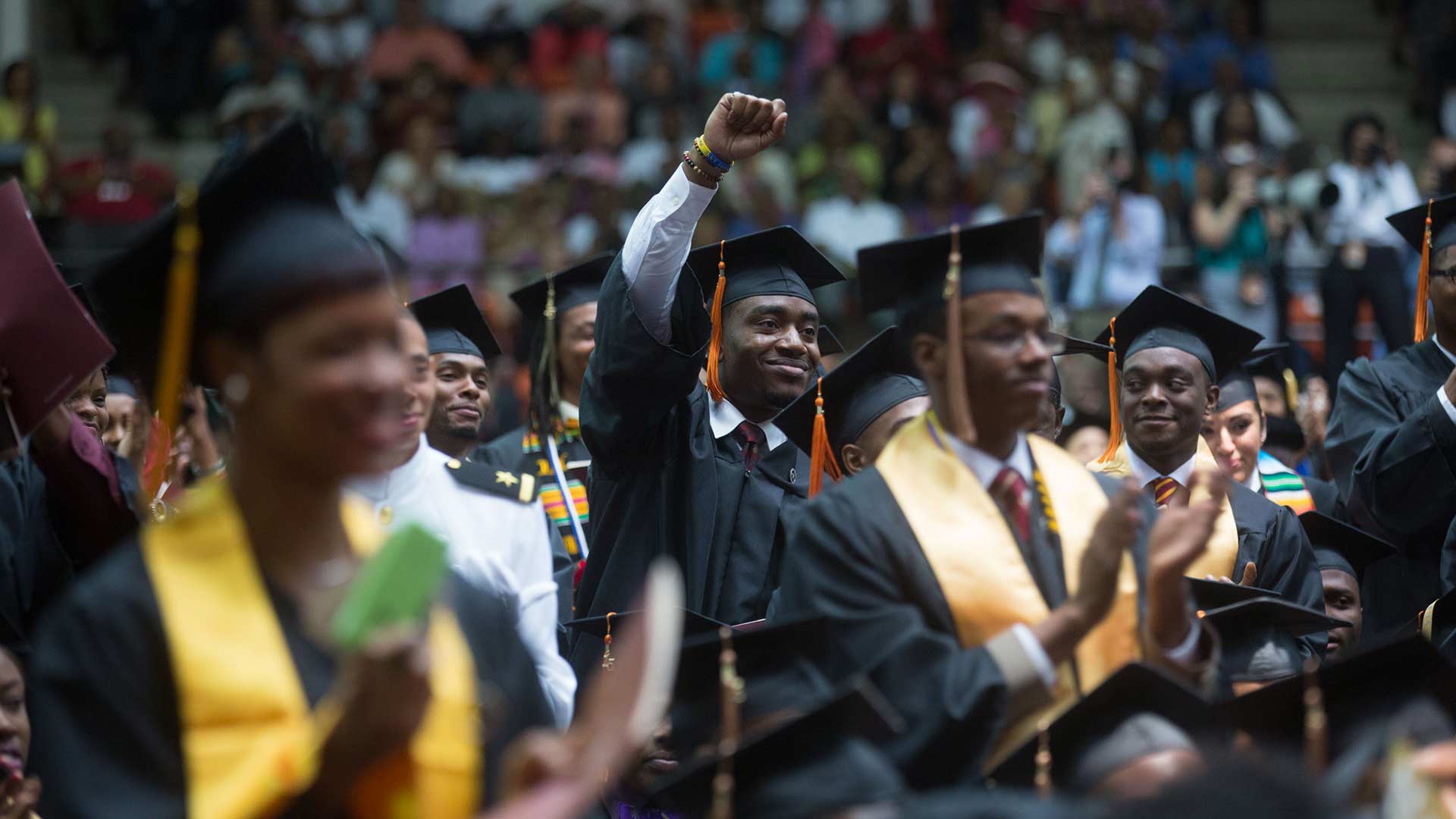 Students listen to then-First Lady Michelle Obama's remarks for the Tuskegee University commencement ceremony in Tuskegee, Alabama, May 9, 2015.
Chuck Kennedy/White House
Tucson Unified School District was set to host a fundraising breakfast Friday to raise money to take students on a tour of northeastern historically black colleges and universities, or HBCUs.
The tour is designed to introduce students to campus life and instill a sense of value in higher education.
Richard Langford is a Student Success Specialist at TUSD. He says visiting historically black institutions allows students to see positive representations of themselves.
"There's not a lot of African-Americans in Tucson. So, when we go on the tour, they see other African-Americans that are doing positive things. You know, engineering, medicine, politics."
He says the tour, which has been conducted since 1990, has had a consequential impact on past attendees.
"Most of our kids may not go to an HBCU, but 100 percent of the kids that have gone on the tour the last five years have gone on to college."
Debra Jackson, an African-American student specialist at TUSD, says HBCUs may offer psychological and social liberation for some students.
"Often times, we feel that we don't belong, we don't fit. We're searching for something and this may be the opportunity for them to find themselves," she says.
Jackson saw the effect the tour had on her own son.
"As we returned, he couldn't talk about anything else. He questioned whether he fed into into traditional schools [and] whether or not he should go to college. And when we came back, it confirmed he wanted to be a part of a historically black college."
Jackson's son currently attends Central Arizona College and plans to transfer next school year Morehouse College or Lincoln University.
Jimmy Hart is the director of African American Services for TUSD. He attended Tucson High School before graduating from the historically black Langston University in Oklahoma. He says Tucson students getting the opportunity to attend an HBCU elsewhere doesn't necessarily mean brain drain for the city.
"There's those who may leave and stay gone, but there's also those who go away and come back with degrees and are enriched."
The tour is open to all TUSD students.
In addition to historically black institutions, the students will visit other universities including NYU and Columbia. They'll also get an opportunity to visit historically significant landmarks.
The breakfast will be held at Armory Park Center on January 18 at 7:30 a.m. For more information, contact Jeffrey Sawyer at (520) 609-7943.