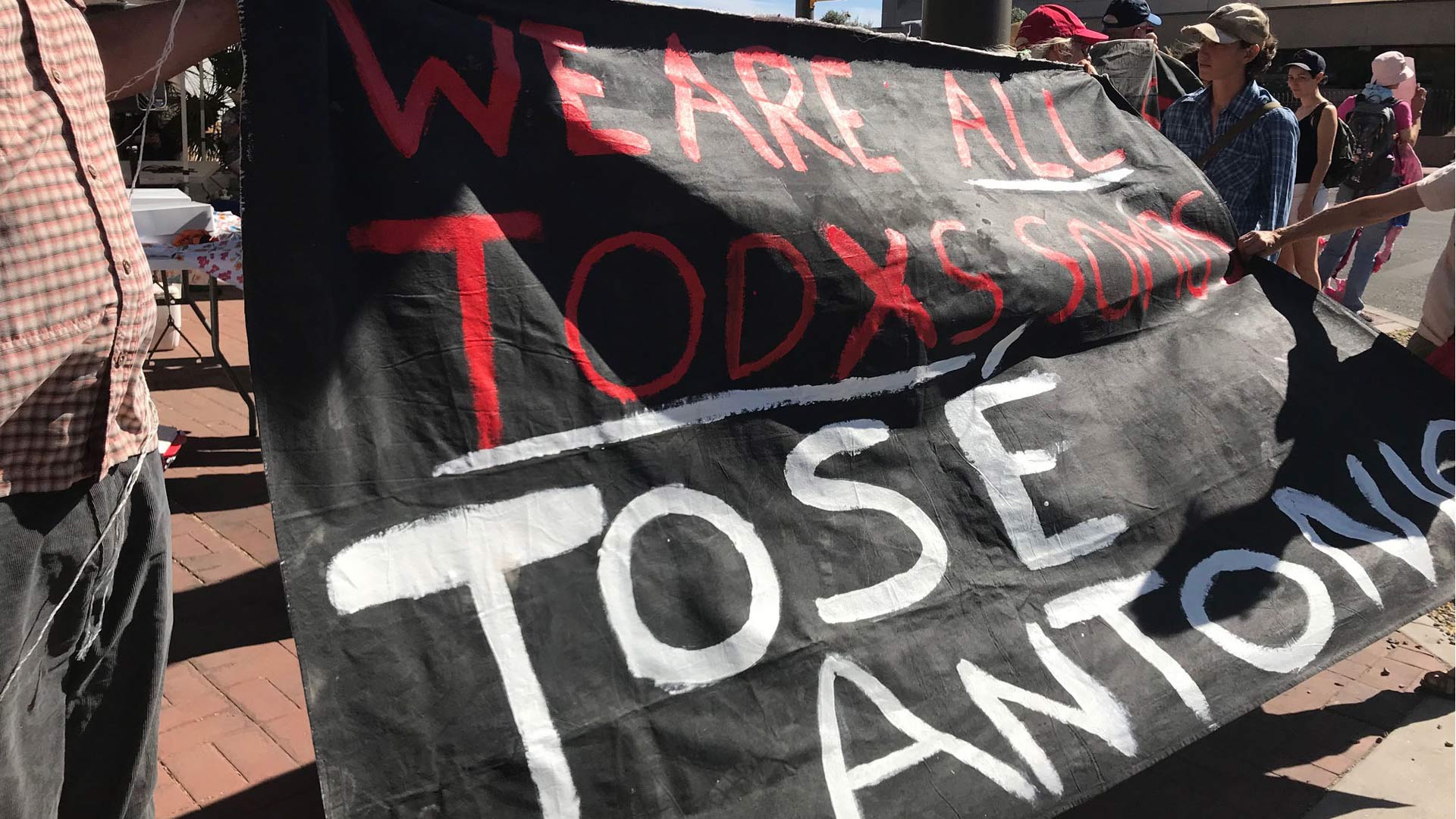 Protesters gather outside the U.S. District Courthouse in Tucson after federal prosecutors announce they will seek a second trial of manslaughter charges against U.S. Border Patrol Agent Lonnie Swartz. Swartz was acquitted on second-degree murder charges in the death of Jose Antonio Elena Rodriguez, a Mexican citizen.
Nancy Montoya, AZPM
The U.S. Attorney's office will re-try a Border Patrol agent for manslaughter in the cross-border shooting death of a 16-year-old Mexican citizen.

Last month a jury found agent Lonnie Swartz not guilty of second degree murder, and dead-locked on the lesser charges of voluntary and involuntary manslaughter. The U.S. Attorney's office said Friday it will refile the manslaughter charges.
Outside the federal courthouse, at least 10 immigrant and human rights groups gathered to protest the Border Patrol. The group of protesters criticized the National Border Patrol Union for supporting and paying all legal costs to defend Swartz.

Richard Bowen is with the Border Patrol Victims Network.
"They know no abuse, no matter how egregious that they will not defend," Bowen said.
The president of that union is Brandon Judd, and he said his organization is paying the legal costs for Swartz.

"He was acquitted by a jury of his peers and to see all of this rhetoric saying that Lonnie Swartz is a bad guy – there is no proof of that," Judd said.
The manslaughter re-trial is scheduled for Oct. 23.

The shooting death of 16-year-old Jose Elena Rodriguez has sparked protests on both sides of the border. In October of 2012, Swartz fired 15 shoots through the international border fence, sticking Rodriguez 10 times in the back of his neck and back.

The agent said he was in fear for his life, because Rodriquez was throwing rocks across the fence at him and other agents, as two other men were trying to climb the fence to get back to Mexico.
During the trial, prosecutors said the two men who were climbing the fence were part of a drug operation.
After a three-week trial this year, a jury found Swartz not guilty of second degree murder, saying they believed he acted in accordance with Border Patrol policy and in keeping with his training.
Swartz has left the state and was not at today's hearing.

Family of Jose Elena Rodriguez was at the courthouse when prosecutors announced they would pursue a second trial.
Taid Elena, Rodrigeuz' grandmother, said: "We are happy the murderer of my grandson will have to face another jury", "We know there will be justice for my grandson."