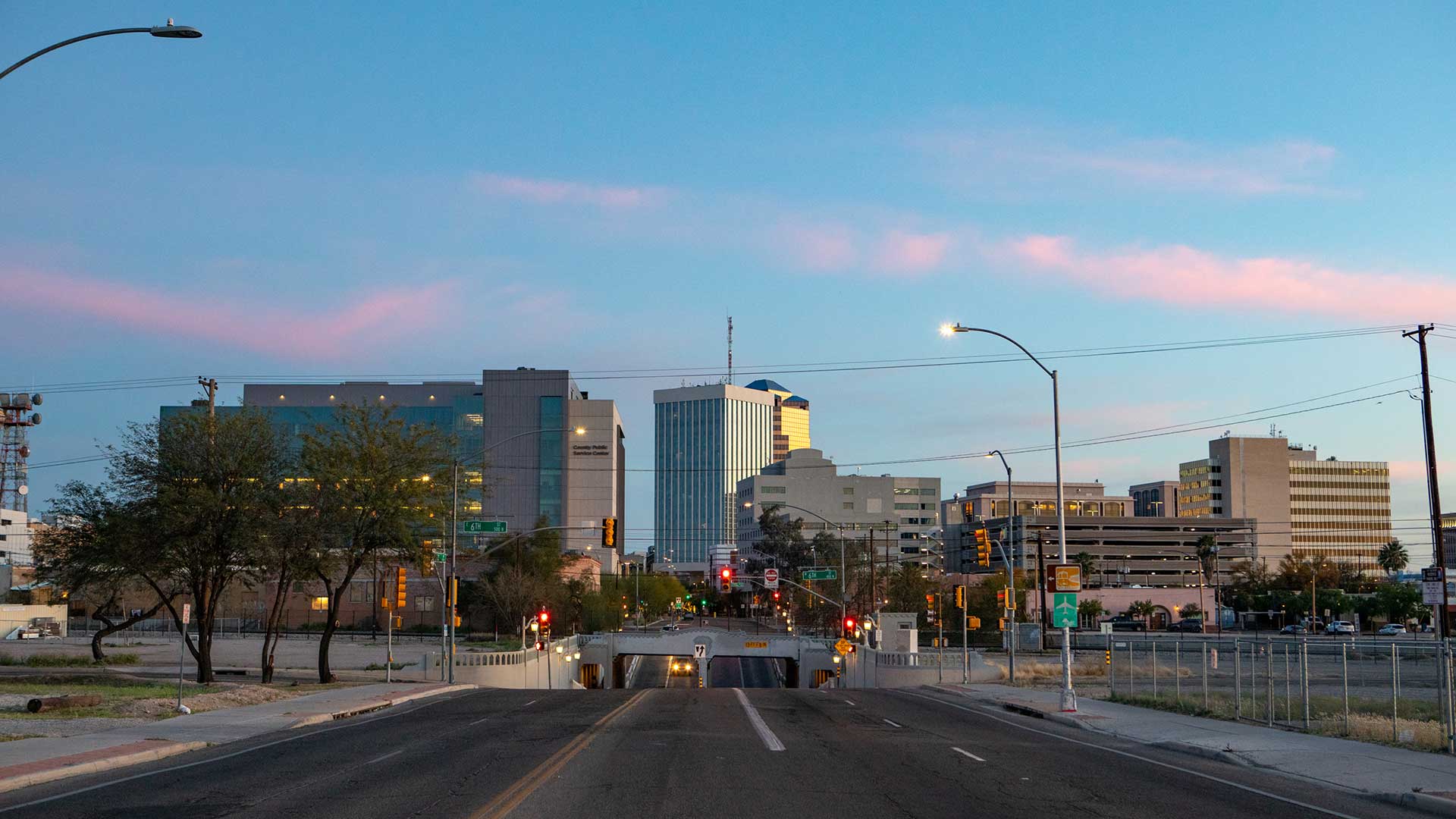 A view of downtown Tucson from Stone Avenue, March 30.
Andrew Brown/AZPM
As downtown sales tax revenue plummets, economic development district Rio Nuevo is tightening its belt and delaying projects.
Rio Nuevo is expecting a nearly 40% decrease in income in fiscal year 2021, according to the budget approved by the board Tuesday. Those estimates are tentative due to the uncertainty around how long the pandemic will last and what impact the current and potential future surges in confirmed cases will have on economic activity.
Despite the economic outlook, board chair Fletcher McCusker said the district is remaining "bullish on the future of downtown Tucson." A number of big ticket projects are already in the works, including a 20-story tower at 75 East Broadway Boulevard, a $75 million renovation of the Tucson Convention Center and a $72 million apartment project on the Santa Cruz River.
But the $10 million budget adopted Tuesday defers several projects. Among them, funding to help Rocco's Little Chicago Pizzeria and Lerua's Mexican restaurant reopen in a newly renovated historic plaza on Broadway Boulevard. A plan to redevelop a former Volvo dealership on Broadway has likely been shelved.
With the prospect of public gatherings not returning until 2021, the board also canceled over $2 million earmarked for advertising events like El Tour de Tucson and the Tucson Jazz Festival.
"Unless something changes, I'm not sure we want to be a participant in a large crowd," said McCusker.
Rio Nuevo is funded by a portion of sales taxes from businesses within its district, which includes downtown Tucson, the Mercado district west of I-10, and the stretch of Broadway Boulevard known as the Sunshine Mile. It is charged by the Arizona Legislature with investing that revenue in economic development, such as making deals to lure companies downtown or helping fund events.
Retail shops and restaurants in the district are suffering a significant decline in revenue due to the coronavirus pandemic. Venues like the Rialto Theatre and the Fox Theatre sit dark, eliminating the concerts and other events that normally draw patrons downtown.
The situation is expected to worsen after rising coronavirus cases led Gov. Doug Ducey to change course and close some businesses and limit gatherings.
The Hotel Congress has reached "a breaking point," according to a Facebook post Tuesday, and will close temporarily. Downtown Kitchen + Cocktails, the restaurant owned by acclaimed Tucson chef Janos Wilder, closed last week after being open for just two weeks.