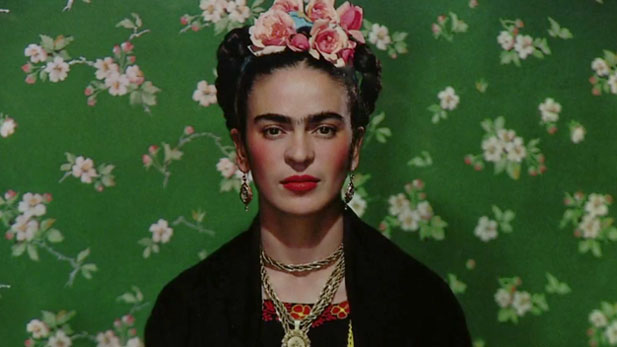 Artist Frida Kahlo.
A new exhibition at the Tucson Museum of Art showcases a collection of photographic portraits of the acclaimed artist Frida Kahlo.
Anne Seiferle-Valencia, curator of Latin American Art at the Tucson Museum of Art, says the exhibit of portraits by Nickolas Muray is a unique opportunity to gain insight into the dramatic backdrop of Frida Kahlo's artistic inspiration.

"What I see in the photographs is that there is almost a collaborative effort taking place," Seiferle-Valencia says. "Frida Kahlo is presenting her persona, Muray has posed her very elegantly and sort of cut out everything else so that it's just her -- just her face, her costume. They were such close friends and lovers that his way of photographing her was just partly how he saw her as a person."

Seiferle-Valencia says Muray and Kahlo had a love affair that spanned 10 years and took place while Kahlo was married to famed muralist Diego Rivera.
The evolution of a relationship is visible in the sizeble collection of photographs taken by Muray, as well as the triangulation that takes place among three working artists, the curator says.

This exhibition presents an intimate look at Frida Kahlo, Mexicos most prolific and well-known female artist, through the photographic lens of her long time lover and friend, Nickolas Muray (pronounced: moor-EYE) . Well known for the bright colors, dynamic symbolism, and indigenous imagery employed in her art, almost half of Kahlos works were self portraits, which were often unflinching portrayals of the physically and psychologically painful experiences that shaped her life. This exhibition includes an extensive array of portraits of Frida Kahlo, not painted by the artist herself, but as they were captured by Nickolas Muray, an intimate friend with whom she shared a close friendship. Approximately fifty color and black-and-white photographic portraits taken of Frida Kahlo comprise this exhibition. The photographs, dating from 1937 to 1941, explore Muray's unique perspective; in the 1930s and 1940s he was Frida Kahlos friend, lover and confidant. Muray's photographs bring to light Kahlo's deep interest in her Mexican heritage, her life and the people significant to her. (VIDEO: AZPM)