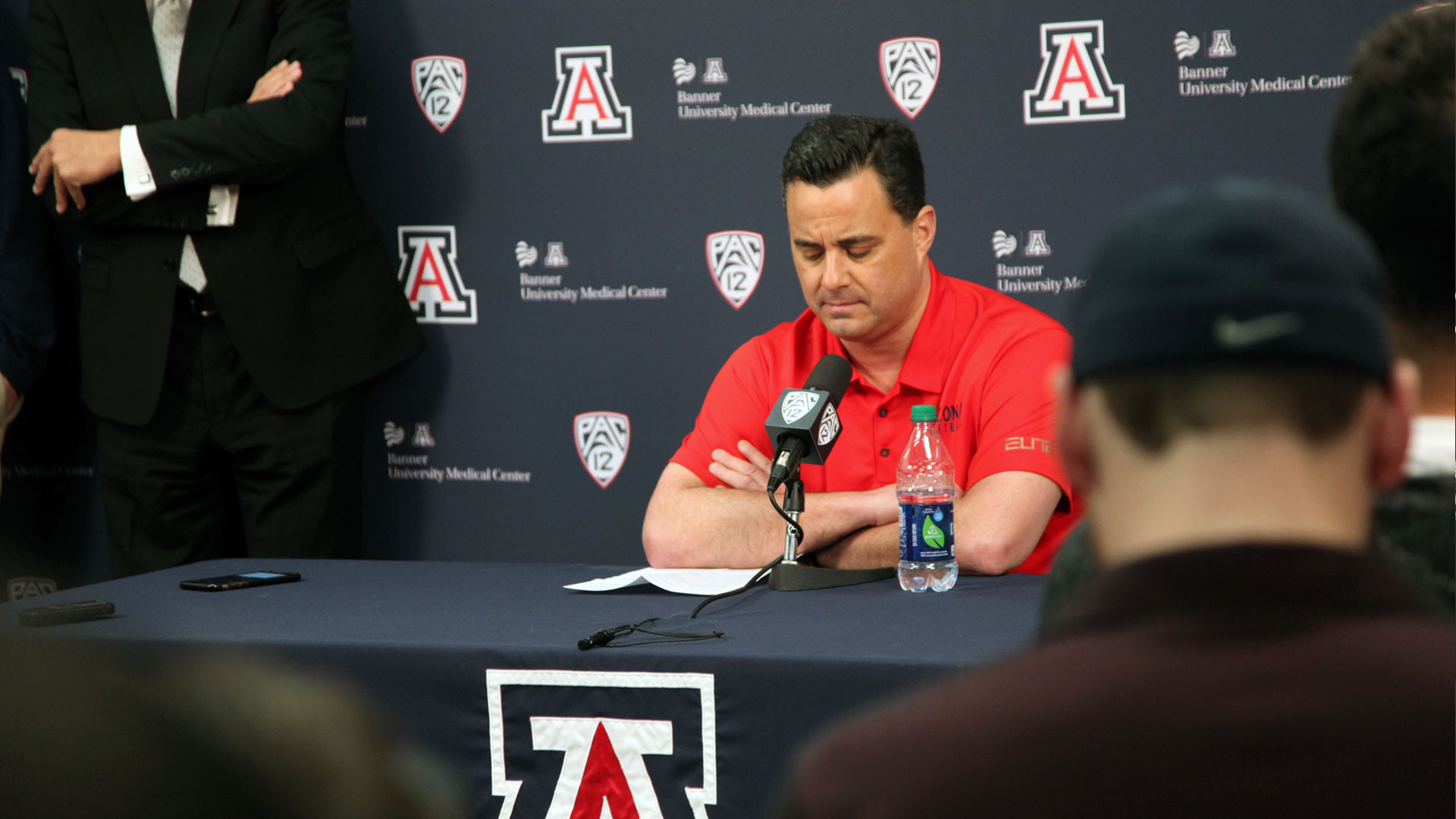 UA basketball coach Sean Miller speaks at a press conference, Thursday, March 1, 2018.
AC Swedbergh, AZPM
The University of Arizona announced Wednesday morning, that Sean Miller is no longer the men's head basketball coach.
"After taking the many factors involved into account, we simply believe that we need a fresh start, and now is the time," said UA Athletic Director Dave Heeke in a statement released by the university.
In recent years the men's basketball program has come under national scrutiny. In 2017, then assistant coach Emanual "Book" Richardson was arrested after a federal investigation. He was charged with taking bribes to pay student-athletes he wanted to recruit. He was one of 10 people arrested and served three months on those charges.
The NCAA then opened an investigation and last fall issued a Notice of Allegations to the university. The violations include a lack of institutional control in the men's basketball and swimming programs.
Arizona's men's basketball coach Sean Miller faces allegations of multiple NCAA rules violations, including failing to monitor two assistant coaches and allowing them to accept cash bribes and arrange for fraudulent academic transcripts for players, according to the documents. The university took its case to the Independent Accountability Resolution Process but has not received an answer.
During a news conference in March, UA President Robert Robbins said "We're eager to move forward and get the final chapter of this now, almost four-year saga over. But Coach Miller is our coach."
On Wednesday, Robbins took a different tone.
"It has become clear that our men's basketball program – and our University – needs to write a new chapter in our history, and that begins with a change in leadership," said Robbins in a written statement.
The Arizona Board of Regents supports the university's move.
"We stand behind President Robbins and his decision to lead the University of Arizona's men's basketball program in a new direction," said ABOR Chair Larry E. Penley in a statement on Twitter.
The university said it will honor the terms of Miller's existing contract, which was due to expire next year.

Heeke said during an afternoon news conference that UA will use a search firm to help it find the new men's basketball head coach.
"We need an outstanding leader, a person who can come in a high-level basketball coach that understands how to run a program of success in this day in age of basketball. But you know we need a person that can lead the program with great integrity. That's what this athletic program is about," Heeke told reports.
Miller leaves the Wildcats after compiling a 302-109 record, including seven NCAA tournament appearances over 12 years.
Associate head coach Jack Murphy will serve as interim head coach as a national search is conducted.