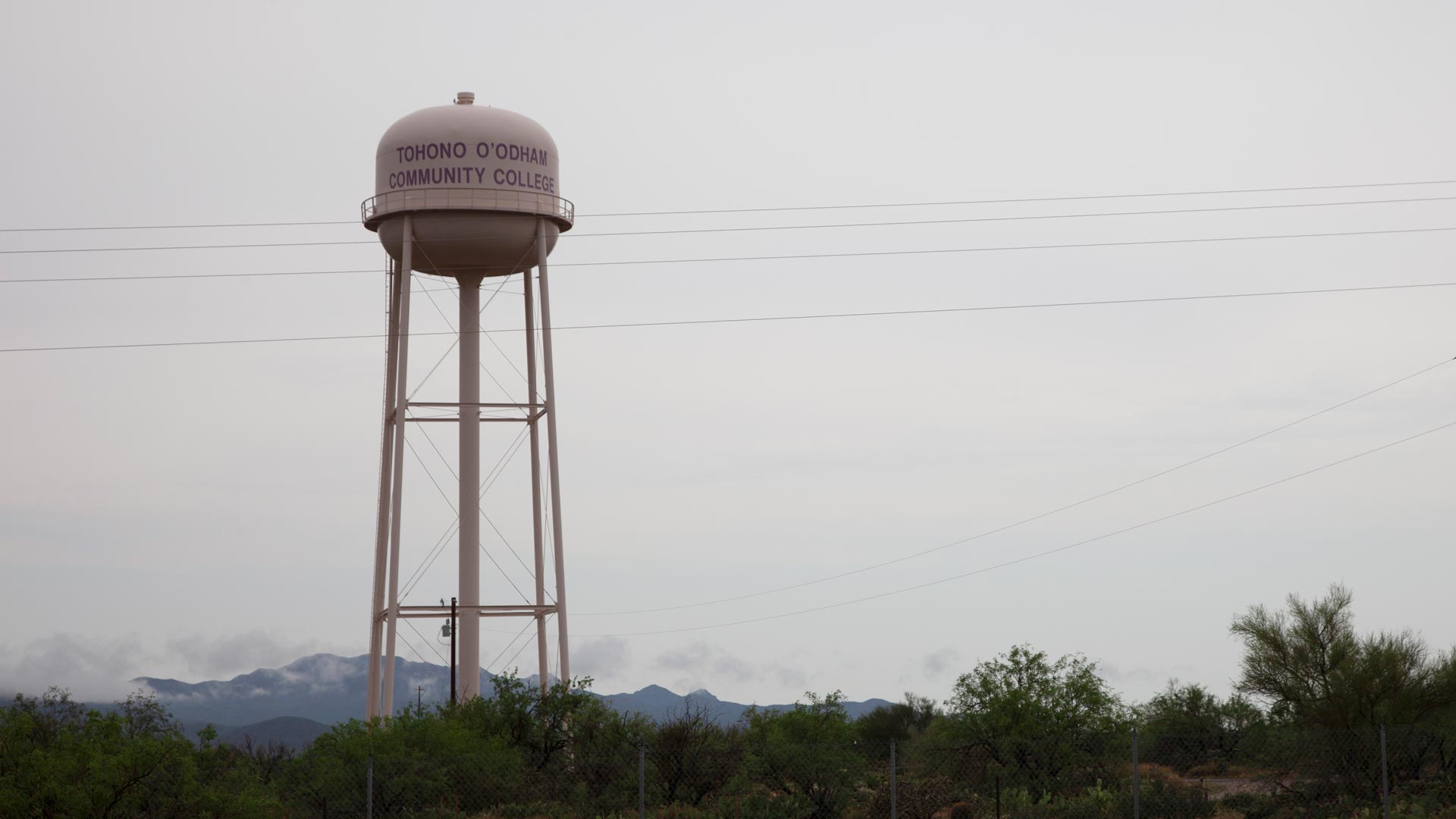 Water tower at the Tohono O'odham Community College
Emma Gibson / AZPM
Soon after the pandemic started, Indigenous students at Tohono O'odham Community College have had a rare opportunity: free tuition.
Next week that deal may become permanent.
When COVID-19 gained footing in the U.S., TOCC went all online and had about 470 students. A few months later in June 2020, it started offering members of U.S. federally recognized tribes free tuition.
TOCC President Paul Robertson said now the school has about 800 students who are mostly Tohono O'odham.
"The free tuition started off as a notion that students having a little more money in their pockets would be better able to negotiate the rigors of doing academic work at the same time they're probably taking care of their families at home," Robertson said.
It will continue to offer free tuition for the Spring 2022 semester.
Robertson said they'll be asking the community college's board on Oct. 14 to approve free tuition for tribal members indefinitely, and he said he's hopeful it'll pass.
TOCC's free tuition program for Indigenous students applies to in-person and online classes, and to students attending courses both part- and full-time. Robertson said about 5% of the student body is non-Native, and they pay $34.25 per credit.
He said the rest come from 50 to 60 tribal nations, but the majority are Tohono O'odham who live within the Tohono O'odham Nation.
"We have several people from Canada who are Natives, and we'd like to see more from Mexico where the Tohono O'odham Nation — many of their relatives are living down there in Mexico, especially in Sonora," Robertson said.
He said TOCC has used funding from the Tohono O'odham Nation and federal sources, like Title III which funds programs for English language learners, to afford the project.
Robertson said TOCC data shows student retention has increased, but it's unclear if that is due to the free tuition or online classes.
In Fall 2015, he said TOCC had 211 students, mostly O'odham.
"That's simply not a satisfactory number to run a small college that serves a big area like this," Robertson said of the Tohono O'odham Nation, which is the approximately the size of the state of Connecticut. "We needed to do something."
That's when TOCC cut tuition costs in half and enrollment did increase by almost 100 students. Free tuition was their next step to increasing enrollment.
He said he supports President Joe Biden's Build Back Better agenda, which proposes two years of free community college. It also strives to make tribal colleges and universities more affordable for low- and middle-income students.