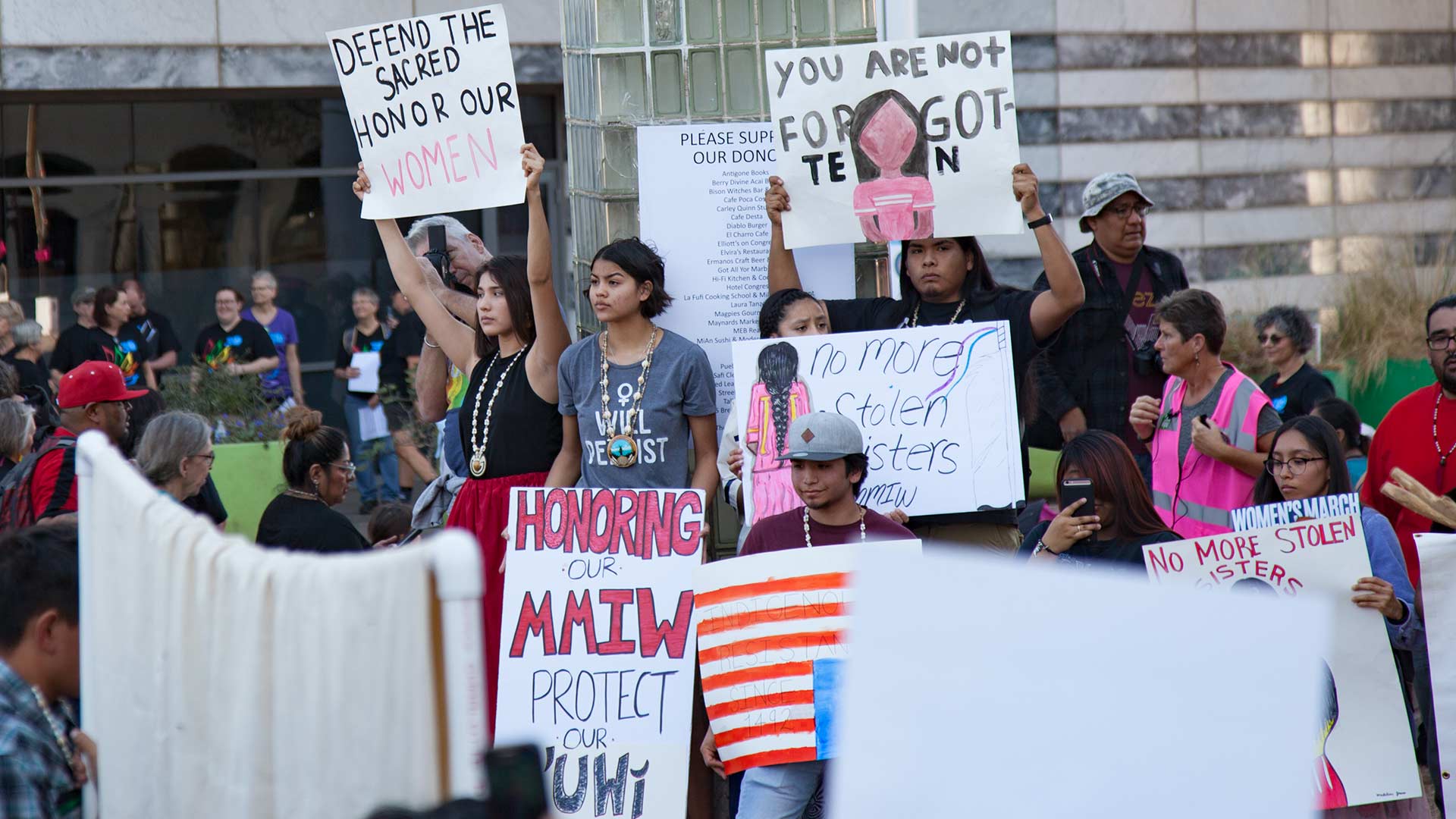 Demonstrators at the 2019 Tucson Women's March carry signs reading "MMIW" ("missing and murdered Indigenous women") and "no more stolen sisters."
Nick O'Gara/AZPM
Gila River Indian Community Police Department is now home to one of seven new national cold case offices investigating missing and murdering Indigenous peoples.
The office, which will be staffed by two Bureau of Indian Affairs Office of Justice Services agents opened Thursday, and it's the first to be "tribally housed," according to a BIA press release. The new office in the Phoenix metro area is connected to Operation Lady Justice, a national task force set up by President Donald Trump in November 2019 via an executive order to improve investigations of missing and murdered Indigenous peoples.
"The Gila River Indian Community is pleased to house the new cold case office for the western region," said Gila River Indian Community Governor Stephen R. Lewis in the press release. "This is a positive first step in reinforcing the trust relationship between the federal government and tribal nations and addressing this longstanding issue in Indian Country."
Operation Lady Justice is trying to collect data across different jurisdictions — including tribal, state and federal — while establishing more efficient ways to investigate missing or murder cases concerning Indigenous peoples.
The Centers for Disease Control and Prevention reported that murder is the third-highest cause of death among Indigenous women. Arizona has the third-highest number of missing or murdered women and girls in urban areas in the U.S., according to a report by the Urban Indian Health Institute.
Arizona established a similar task force to the one at the national level in 2019 in the hopes of answering why so many people were being killed or going missing.
Other cold case offices have been established in Bloomington, Minnesota; Rapid City, South Dakota; Billings, Montana; and Albuquerque, New Mexico. There will soon be offices in Anchorage, Alaska, and Nashville, Tennessee.