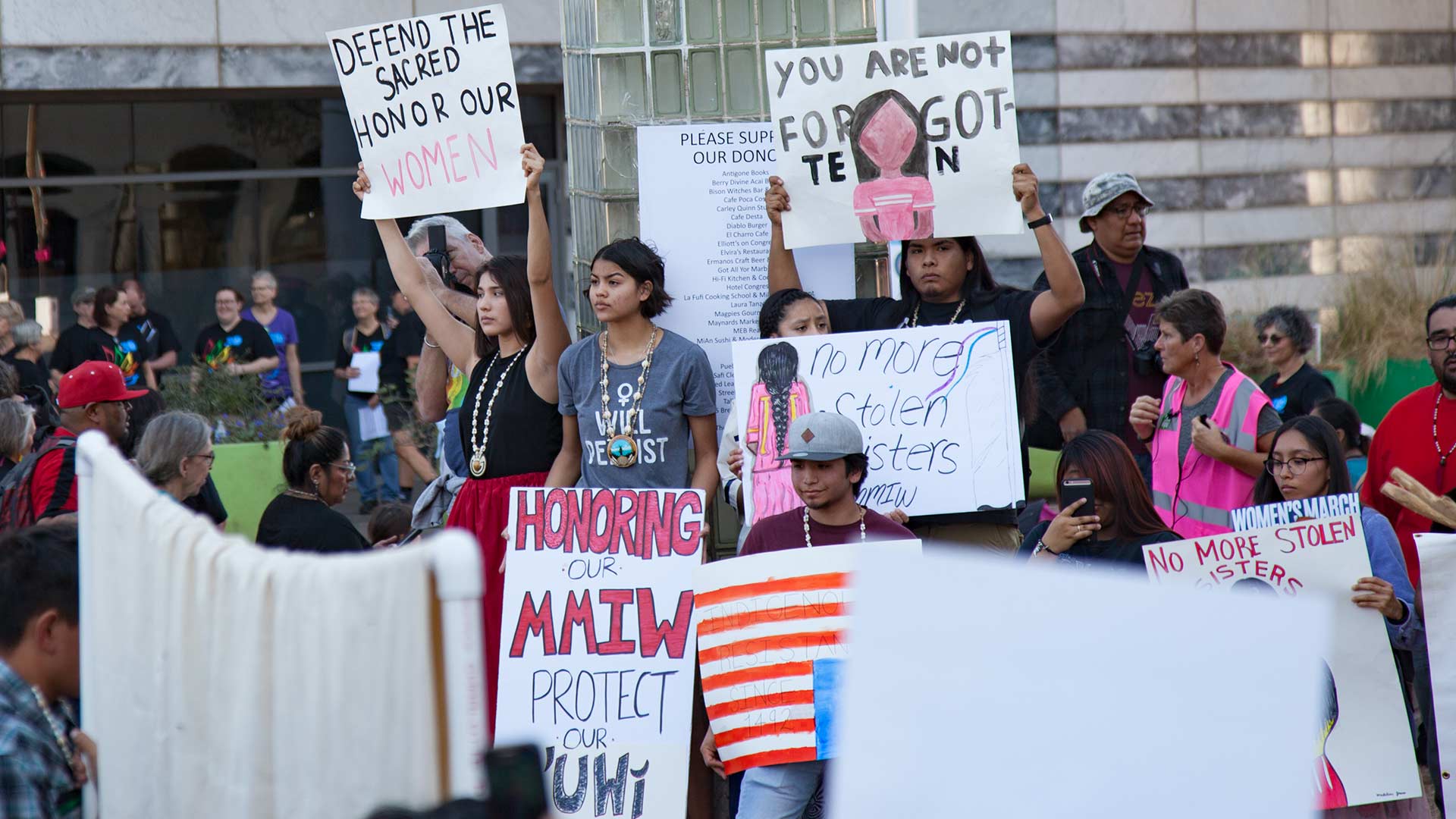 Demonstrators at the 2019 Tucson Women's March carry signs reading "MMIW" ("missing and murdered Indigenous women") and "no more stolen sisters."
Nick O'Gara/AZPM
Arizona is joining a handful of states that enacted laws to jumpstart the collection of data on missing or murdered Indigenous women. One woman started collecting these stories of these women and girls long before Arizona enacted the law.
Over the last two years, more and more state lawmakers started discussing missing or murdered Indigenous women. In 2016 a Tohono O'odham woman named April Ignacio began to wonder how many women and girls from her tribe were affected by this violence.
When she asked officials within her tribal government, nobody knew the answer, so she started talking to the families of the women and girls she knew had gone missing or been killed.
These conversations turned into an unofficial list of female Tohono O'odham tribal members who were affected by this violence.
"My daughter is 21 years old and I still tell her, 'Don't let anybody take you.' This is the reality of being a Native woman," said Ignacio. "You, unknowing, are arming yourself and your children from a very, very small age, because you see it in your community, and nobody is talking about it."
Arizona, New Mexico, and Washington are three of the states that enacted laws addressing the problem. Arizona's law will create a study committee, with advocates, and state, county and tribal officials who will request data on these cases from all law enforcement agencies in the state.
Those three are also among the 10 states with the highest numbers of missing or murdered Indigenous women and girls in urban areas, according to a report by the Urban Indian Health Institute.
The report identified 54 cases in Tucson, Phoenix, Flagstaff and Tempe.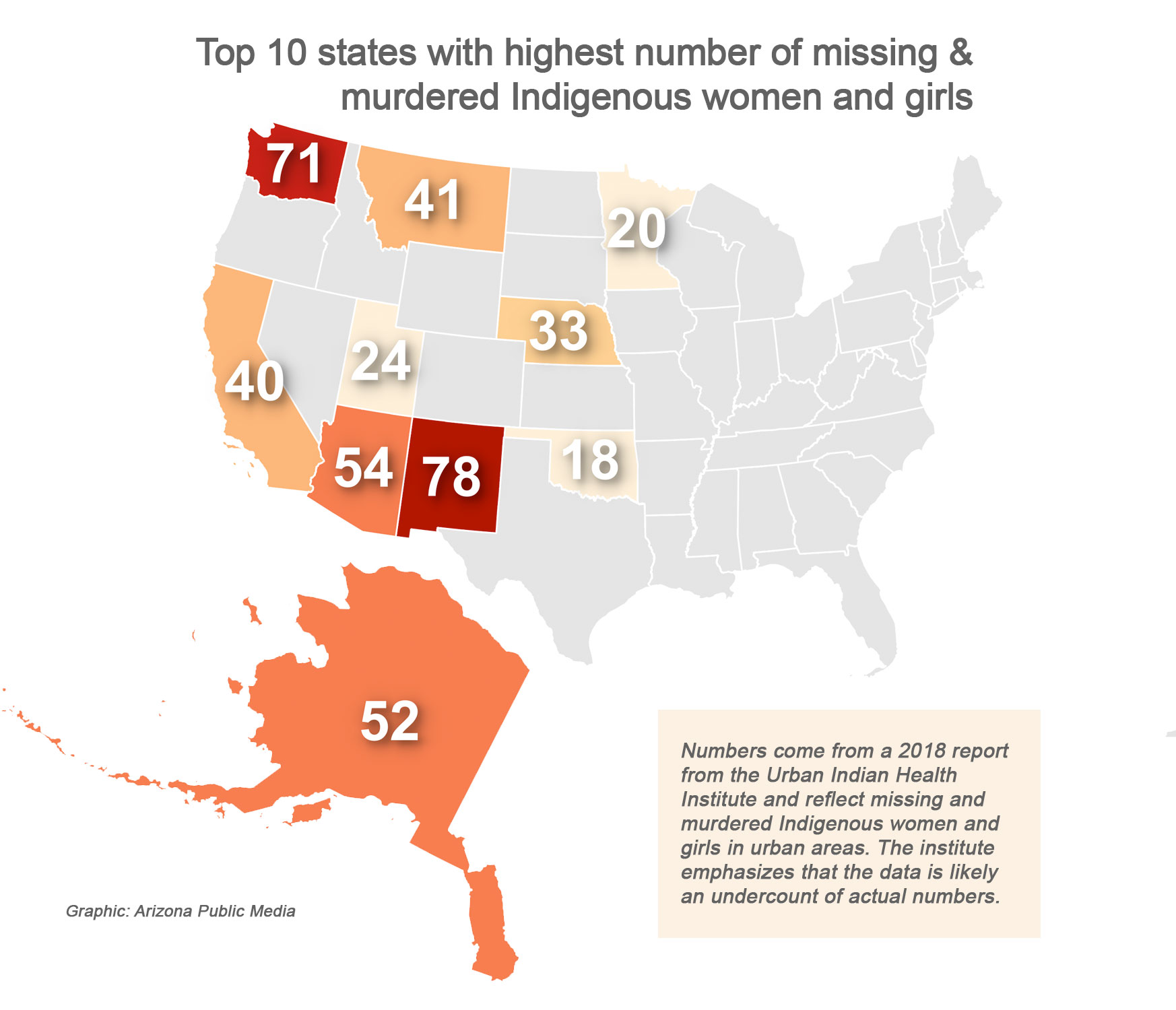 VIEW LARGER Source: Urban Indian Health Institute. (http://www.uihi.org/wp-content/uploads/2018/11/Missing-and-Murdered-Indigenous-Women-and-Girls-Report.pdf)
The report states that the earliest case it identified was in 1943, but 80% of the cases cited were from 2000 to 2018.
The Centers for Disease Control and Prevention reported that murder is the third-highest cause of death among Native American women.
"And I think understanding and knowing that Native Americans make up 1% of the entire population of the United States. And then you know the rate of violence that has happened to the women in your community, and there's no one with answers," said Ignacio.
Four out of five Indigenous women experience some form of violence in their lifetime, according to the National Institute of Justice — in Arizona, that's a little over 200,000 Indigenous women.
"I have identified 33 women and girls, but that's not all of them," said Ignacio.
Right now, she's researching the stories of three more people.
She said she never intended her work to be research, she calls them a "collection of stories" on the women she wanted to honor.
"This collection of data that impacts so many people in the most vulnerable population — less than one percent of the population of the United States is Native Americans — and not having this data is telling that population that they do not exist," said Ignacio.
The law's sponsor, State Rep. Jennifer Jermaine, said the new law tells Indigenous peoples that Arizona is listening. Jermaine said people told her they're enthusiastic the state legislature responded to a tribal issue.
"I'm really excited to start getting to work. We'll be able to start working after the first of the fiscal year," said Jermaine.
Jermaine said in July the study committee will be requesting data from all law enforcement agencies in the state, and hopefully, standardizing what information these agencies collect during their investigations.
It will also review policies already in place that address this issue.
"We really do want to make this a comprehensive, all-inclusive study of what is happening at this particular moment in time in the state of Arizona, so that we can then make recommendations on how to move forward," said Jermaine.
State Rep. Arlando Teller said the data will give lawmakers a more accurate count of the problem in Arizona.
"This situation is going to shine a light on a situation that has been plaguing our communities in border towns, in metro Arizona, and along the freeways. Once we get the full number of missing women and children that will allow us to come out with a plan," said Teller.
The National Crime Information Center reported there were almost 5,712 cases nationally in 2016, but only 116 were recorded by the Department of Justice that year.
Ignacio said the new law is a great starting point.
"So we have this collection of data and then what? Is the state of Arizona going put money towards it? Are we going to take a step back in the way that we raise our sons?" said Ignacio. "If you really want to impress me, you'll throw some money behind it. You'll throw some resources behind it."
Jermaine said she hopes the study committee will standardize the information law enforcement agencies collect during their investigations.
In 2020 the committee will write a report for Gov. Doug Ducey outlining ways the state can reduce violence against Indigenous women and girls.
"The laws need to be changed, and we need to navigate through that. The only way we're going to be able to navigate through that is through this comprehensive study," said Ignacio. "That's why it's exciting, because it means for some families, there will be justice."