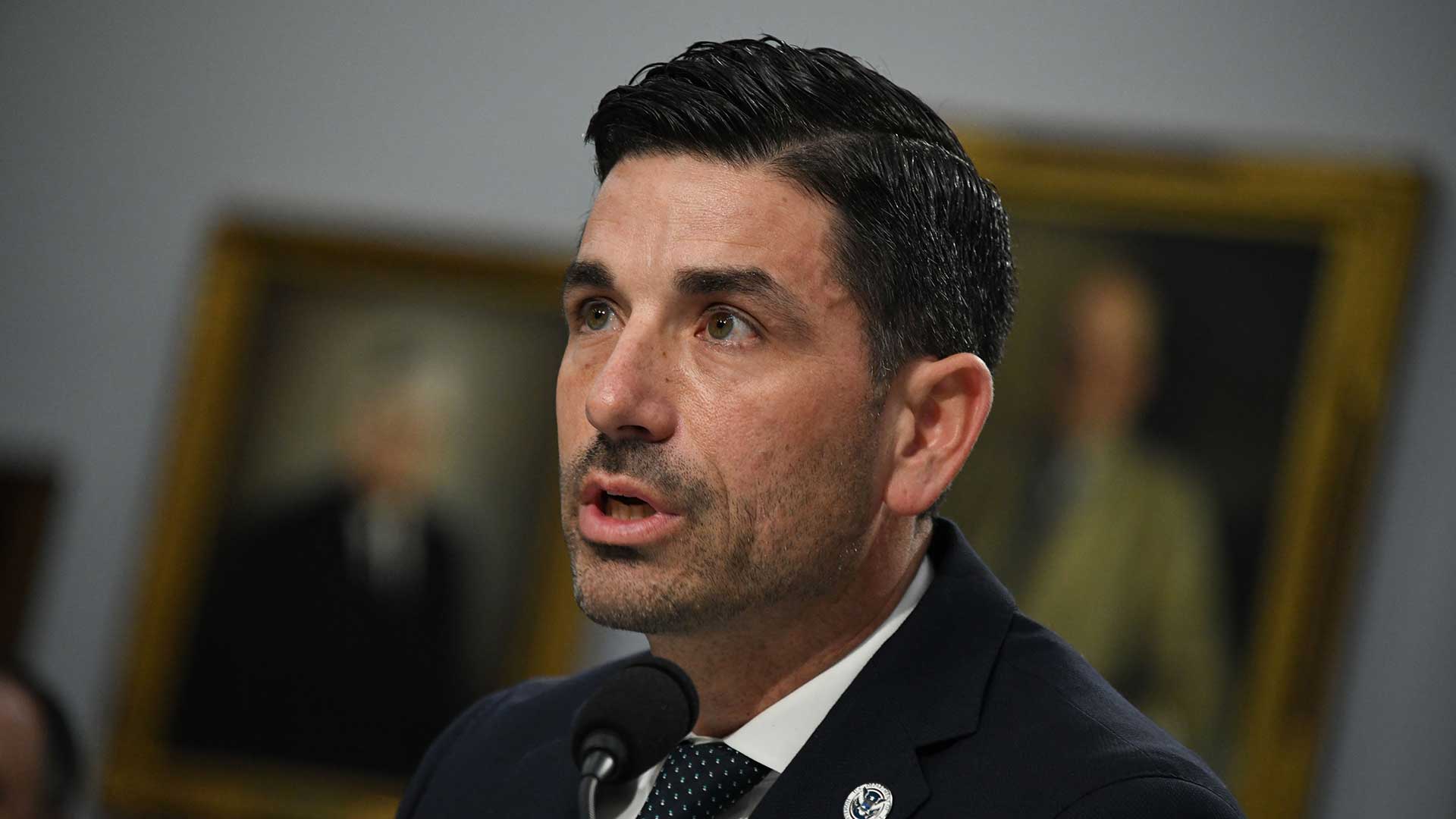 Acting DHS Secretary Chad Wolf, Feb. 26, 2020.
Tara A. Molle/DHS
A new memo from the Trump administration says it won't accept new applications for the Deferred Action for Childhood Arrivals program, or DACA, despite a Supreme Court ruling in June to uphold the policy.
At its height, the Obama-era program gave temporary legal status and work permits to some 800,000 undocumented immigrants brought to the U.S. as children. Advocates and recipients celebrated the Supreme Court ruling last month, but questions have lingered about how, and if, new applications would be considered by U.S. Citizenship and Immigration Services (USCIS).
In the memo issued Tuesday, acting Secretary Chad Wolf said the Department of Homeland Security will "thoughtfully consider the future of the DACA policy," and, in the meantime, introduce some immediate changes.
Those include barring first-time DACA status and work-permit applicants as well as tight restrictions on international travel requests within the program, called advanced parole requests. Existing DACA recipients will also see changes: Instead of having to apply for renewals every two years, the process will now happen annually.
USCIS stopped accepting first-time DACA applications when the Trump administration first moved to end DACA in 2017. Last month's Supreme Court ruled against those efforts and ordered the policy to be fully restored. This month, a federal court in Maryland explicitly mandated the Trump administration to start accepting those applications again.
John Sandweg, who worked as acting general counsel at DHS under former President Barack Obama, said this week's memo shows the the administration is trying to bypass those rulings using a legal gray area left by the high court.
"What the administration is gambling here is that the Supreme Court left a little wiggle room for the department to consider alternative ways of handling DACA," he said. "I think what they're trying to do is take advantage of that by implementing some immediate changes."
Sandweg said he believes the new restrictions outlined in Wolf's memo are a few first steps in the Trump administration's ongoing effort to end DACA. He expects legal challenges from a number of fronts will follow.
Legislators are also responding. Southern Arizona Democrat Raúl Grijalva said the memo drove home the need for a legislative solution.
"Once again, the Trump administration is flouting the law and defying the courts to continue enacting their xenophobic agenda—regardless of how many hard-working young people and their families are caught in the crosshairs," the House representative said in an email. "It's time for the Senate to vote of the Dream and Promise Act that the House passed last year and give Dreamers the permanent pathway to citizenship they deserve."
Jose Patiño is a 31-year old DACA recipient and policy director for an immigrant advocacy group in Mesa called Aliento. He said this legal limbo is nothing new.

"You can't really take it to the bank that something is going to be true because they can come out and do another change and then you're going back into the courts," said Patiño, whose family came to Phoenix when he was 6 years old.
Patiño said DACA recipients spent $495 for a renewed status and work permit every two years. Some speculate that fee could increase soon, but Patiño said even if it doesn't, the amount will be a strain for families impacted by the coronavirus pandemic. He said growing up, his family used to tell him stories about problems with corruption they witnessed back home in Mexico. Watching how the Trump administration is responding to the DACA ruling, he said he's reminded of those stories.
"I was sometimes told stories where the judges don't matter, the people with the guns do," he said. "It feels like this is how the administration is going. Little by little, it's like, 'Hey, the Supreme Court decided this, a federal judge decided this.' And the administration saying, 'I have the power, I have the guns, I don't care."