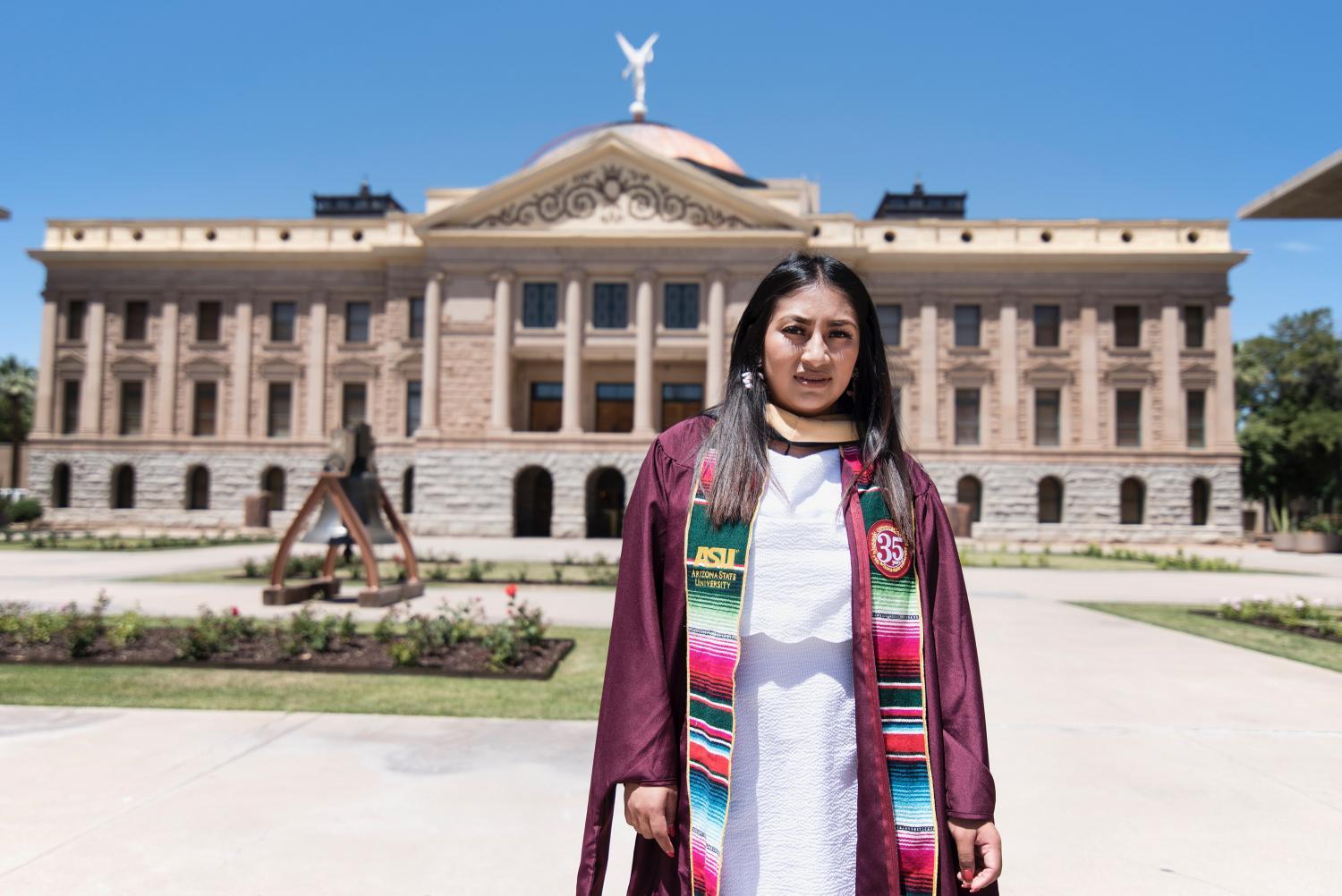 VIEW LARGER Blanca Sierra Reyes, 27, applied for DACA eight years ago and has renewed every two years since. She graduated with a master's degree in social work from ASU in spring 2019, an achievement she said would not have been possible without DACA.

Alisa Reznick/AZPM
The US Supreme Court ruling to uphold the Obama-era Deferred Action for Childhood Arrivals program, or DACA, went into effect Monday. The policy gave some 800,000 immigrants brought to the U.S. as children work permits and temporary protection from deportation.
Last month's ruling should allow new people to start applying for it again, but so far that's not what's happening.
The Trump administration first moved to end the program in 2017, prompting U.S. Citizenship and Immigration Services, which oversees the program, to stop accepting new applications from first-time applicants.
The high court's mandate should have overturned that, but as of July 13, the agency's website still says new applicants are not accepted.
Tucson immigration lawyer Mo Goldman said the court's ruling mandated the government restore DACA in full and start allowing people who became eligible for the program over the last two years to start the process. He said first-time applicants still can — and will — send in materials and see what happens. But he expects further legal action may be needed if the agency refuses to comply with the court.
Individuals who are willing to do this are going to have to probably consider the litigation route," he said. "That may be something they don't want to do."
He said in the meantime, the agency could delay processing even as more applications arrive.
"The government has an upper hand in this situation in that they could be forced to accept it," he said. "But then the next step is, how long are they going to take to adjudicate it?"
In order to be eligible for the policy, recipients must have arrived in the U.S. before turning 16, lived continuously in the country since June 2007 and under the age of 31 before June 2012. Applicants also undergo an extensive background check and could lose their legal status if arrested. Prompted by another court order, the agency has continued to accept renewal applications. In June, current recipients celebrated the Supreme Court decision, but warned long-term solutions would need to happen legislatively.
The Center for American Progress estimates more than 55,000 people are now DACA-eligible for the first time, including 1,600 in Arizona.