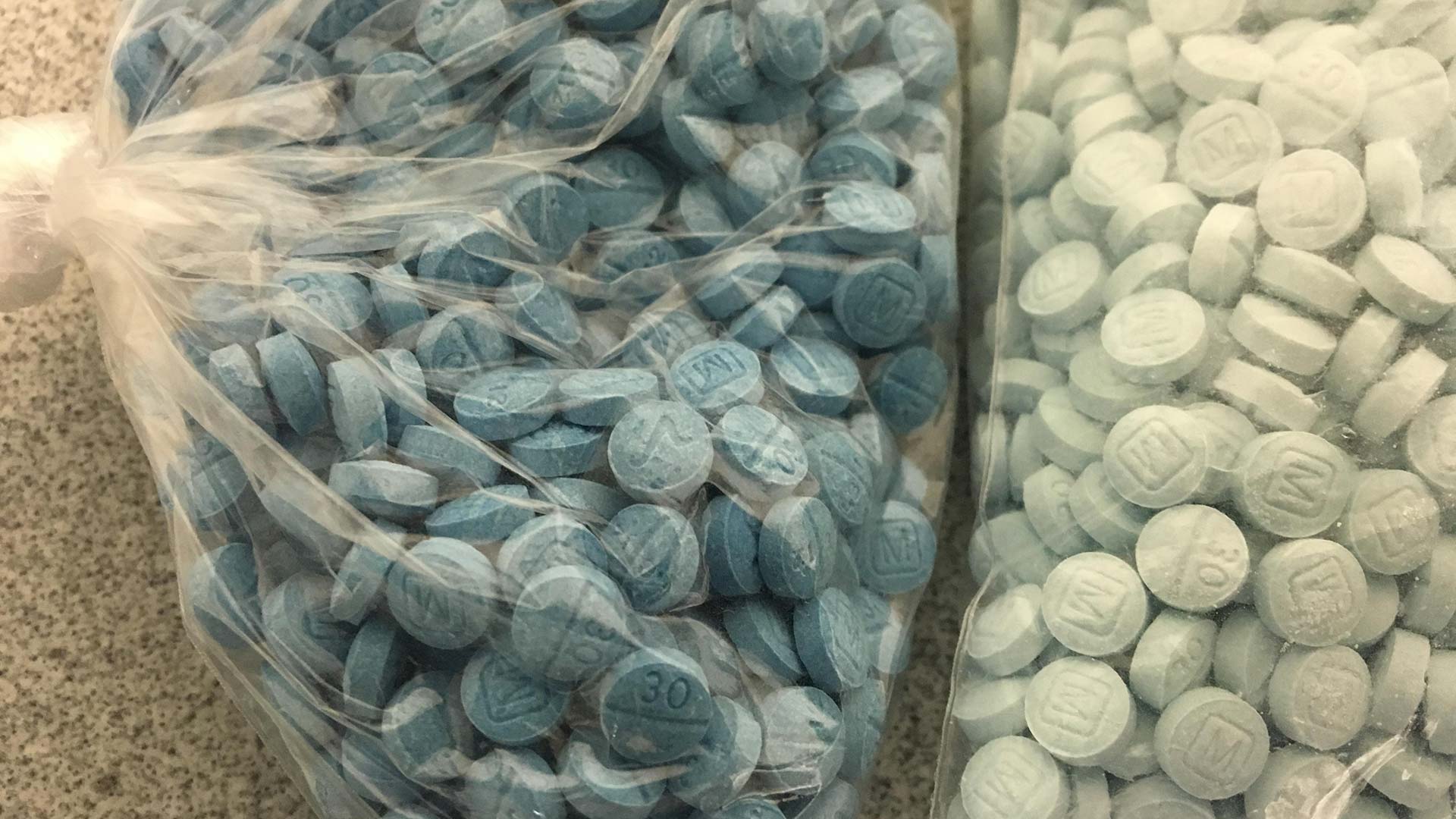 Image released by the DEA in September 2018 of blue pills the agency says are fentanyl disguised as oxycodone.
University of Arizona campus health officials held a workshop for students on substance abuse this week.

The title of the Campus Health Department's workshop was "Drug Survival 102." Not drug prevention or drug avoidance but drug survival. That's important, because while about half the 90 minute program had various police and medical representatives explaining the history of the opioid epidemic, the second half was loaded with practical, judgement-free advice, from a survivor.
"I am the overdose prevention coordinator with Sonoran Prevention Works. I am also a survivor of the war on drugs at least up to this point and I also identify as a person in long-term recovery and I just tell you that it's not about me but just understand what a lot of this information that I'm about to give you, I lived it," Christopher Thomas told about 100 students.
If anyone in the audience came expecting to hear the usual anti-drug message from Thomas, they were in for a surprise. "I'm going to talk to you like you are people who use drugs and I'm sure that there are people in this room that use drugs," Thomas said
The Campus Health Department says fewer incoming University of Arizona students report taking unprescribed pain medication compared to past years, even as opioid abuse has skyrocketed off campus. The risk students face is from accidental opioid exposure. Tucson Police Lieutenant Chris Wildblood says many so-called party pills are actually counterfeit pharmaceuticals made by Mexican drug cartels.

"People think they're safe it's a pharmaceutical product, I can take it. Well they don't know what has fentanyl in it because the cartels put it in there," Wildblood told the gathering.
Police say the concentration of fentanyl can vary from a trace amount in one black-market pill to a lethal dose in the next.

Thomas says students who choose to use drugs can do three things to lower their risk, starting with always having the overdose medications Narcan or naloxone handy, in case someone overdoses. "For the rest of this presentation understand that you are a person who is using drugs and I'm trying to keep you safe," he said.
He underscored this by handing out kits containing a syringe and three naloxone vials to anyone who wanted one, Several dozen people took them. He demonstrated how to uncap the needle, open a vial, and fill the syringe. "...then you're going to inject it into the side of the thigh where there's the most blood flow and push the button. Don't hesitate. I'm overdosed. I'm not feeling any pain," he said.
Thomas' second pointer is that users test their drugs for opioid content. He suggested, tongue in cheek, that they should try to make friends with a chemistry major, but if one isn't handy, he recommends a do-it-yourself opioid testing kit from a website called DanceSafe. "You uncap the reagent kit, drop one drop onto the substance, and then...you observe the color change. Okay? See what happens to the color, and then you compare to this chart that Dancesafe provides," Thomas said, as he showed students the chart on a projection screen.
His third tip is the simplest, but also the most personal. Don't use alone. Always have a buddy with you. "A co-worker and two friends of mine died in last year. Every single one of them alone. And I so wish that they just would have given me a call, you know, given me a FaceTime, shot me a text, and said hey I'm getting ready to use can you check on me in 10 or 15 minutes? And if I don't respond call 911 or if i don't respond to come get me Naloxone. I just so wish that they had done that."
Thomas added that a volunteer group called Never Use Alone offers a telephone connection for users who don't have a partner available to observe them while they use. Thomas explained that a person begins the process by calling a toll-free number, (800) 484-3731. "They connect you to a volunteer, and they will stay on the phone with you while you use, and make sure you're okay. And if you don't respond after a certain amount of time they will call the 911 in your area and send emergency responders," he said.
Afterwards, as the audience filed out, Thomas explained that his goal, and the goal of Sonoran Prevention Works, is harm reduction, an approach that takes it for granted that some people will choose to use drugs.
"Despite the best efforts of the war on drugs, drugs are more powerful, cheaper, and more readily available than I've ever been in the history of this country, so I would say that we have demonstratively 40 or 50 years of solid evidence that shows us that the just say no approach and the punitive approach in the war on drugs not only don't work but that they caused a lot more damage than they do help folks," Thomas said.
He says in the end, his message is all about empowering people: empowering them to use drugs safely, and ultimately, empowering them to be able to stop when the time is right. To do that, first you have to survive.