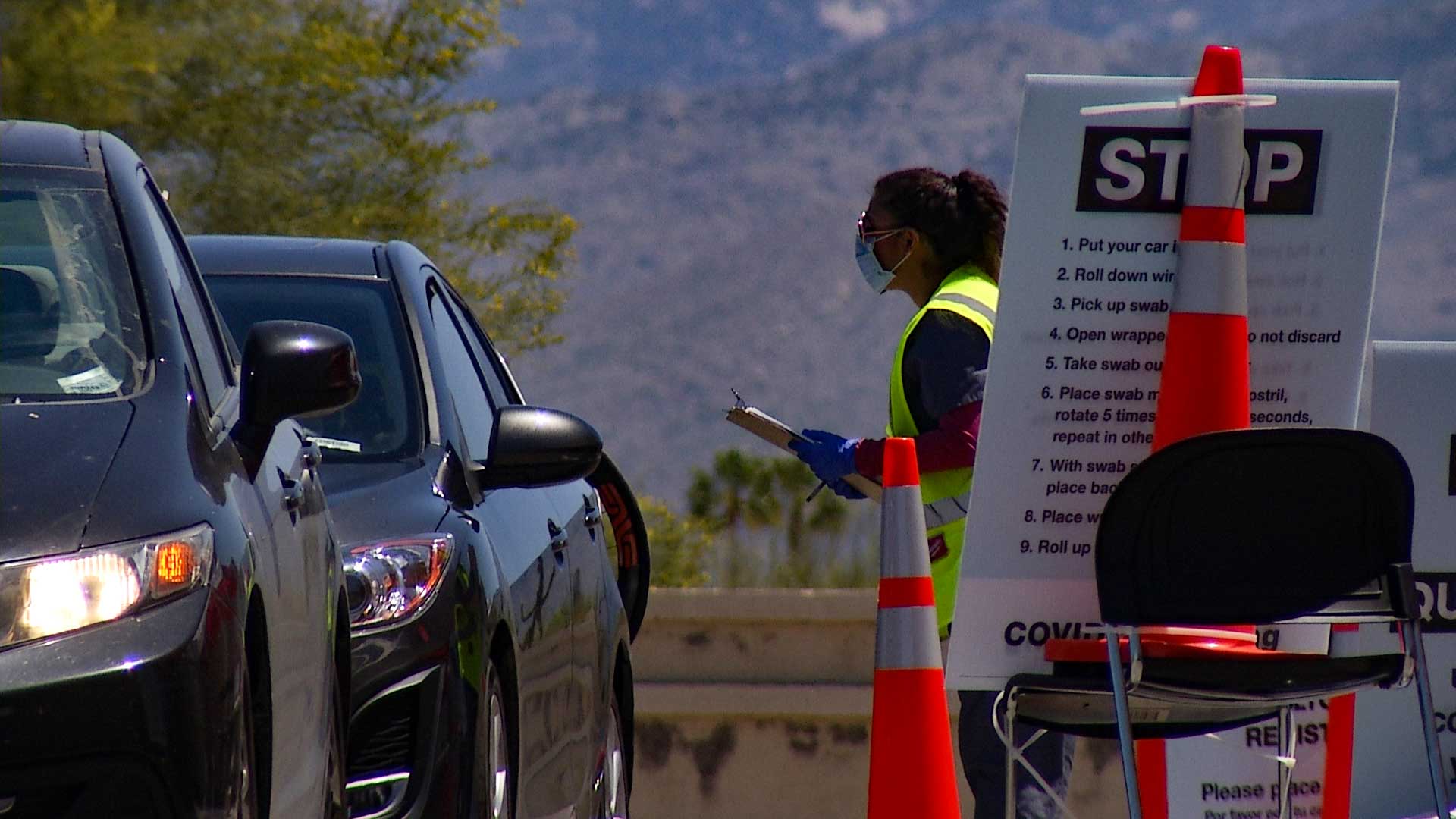 Drivers are screened at a Walgreens COVID-19 testing site in Tucson, April 21. Tucson was chosen as one of 15 locations nationwide for the expansion of drive-thru testing sites by Walgreens.
Martín Rubio/AZPM
Arizona has become a leading hot spot for COVID-19 cases. Health professionals, elected officials and the public are carefully watching various metrics to track the spread of the disease. In the last few weeks, Arizona's rate of percent positivity has been rapidly increasing. It's currently around 25%, meaning about one out of four people tested has the disease.
Ariana Brocious talked with UA infectious disease epidemiologist Kate Ellingson about what that rate means for controlling the spread of COVID-19.
---
ELLINGSON: The percent positivity is the number of positive diagnostic viral tests over the total number of people tested. As we see that increase over time, it's an indication that we have more widespread community transmission. So having this high percent positivity is cause for concern because it not only indicates we have a high percentage of people who are getting the testing who are getting infected but it also indicates that we don't have broad enough testing capacity and that we really don't have this virus contained. In regions that have really contained the virus we see these percent positivity rates under 5%.
AZPM: Why does that matter for testing and contact tracing to control the spread?
ELLINGSON: When we have a really high percent positivity and we have the volume of cases being reported to the health department that we're seeing currently, it simply overwhelms the system and it's impossible to be able to follow up fast enough with each one of those positive cases to track contacts and to recommend isolation or quarantine and to get those people tested. So when we see a high percent positivity, it usually indicates that we're not doing enough testing that we would really need to do to contain the virus and to track and test everybody that needs to be tracked and tested.
AZPM: Recently a UA professor said we may be seeing a small benefit, presumably due to the mask wearing ordinances, because while the case rates are still very high, averaging thousands per day across the state, they haven't been rising as fast or dramatically in just the last week as they were before that. Do you agree?
ELLINGSON: I do. So while we're still seeing increasing case counts per day, the rate of acceleration of those new cases is slowing. And that's really important. And it does suggest that there's a potential effect of us dialing back of the reopening — restrictions on bars, restaurants, theaters and also local mask ordinances.
Despite inadequate testing — as evidenced by the high percent positive and the excessive delays in returning results — this state still has one highest rates of cases per 100,000 population in the world. This is highly concerning and indicates that we are nowhere near having this under control.
AZPM: Do you think we still have a chance to contain the virus and bring it back down to a manageable level?
ELLINGSON: We have to try. There's no doubt about it that right now the virus is uncontained, as evidenced by this high percent positivity, by just the sheer volume of cases that are being reported every single day, but we have to try to mitigate the transmission so we can get it back down to a manageable level where we can do contact tracing, follow-up and isolation and quarantine of those contacts.
AZPM: What happens if we don't manage to get control of the spread through increased testing and contact tracing?
ELLINGSON: Right now we're really at the brink. Our ICU capacity is shrinking, and we're seeing exhaustion in our health care workforce. Our health care and public health infrastructure are at their breaking points. The slowing rate of acceleration of new cases is promising, but we really need to keep at it if we're to avoid that situation where our health care systems are completely overwhelmed.
We have no choice but to try as hard as we can with broad community mitigation measures — including social distancing, mask wearing and hand-washing — or else this crisis will rapidly accelerate beyond its current and dire levels. Things are going to get worse in terms of hospitalizations and deaths before they get better, which means we must do all we can now to reverse the trend as soon as possible. We cannot give up. Lives literally depend on it.