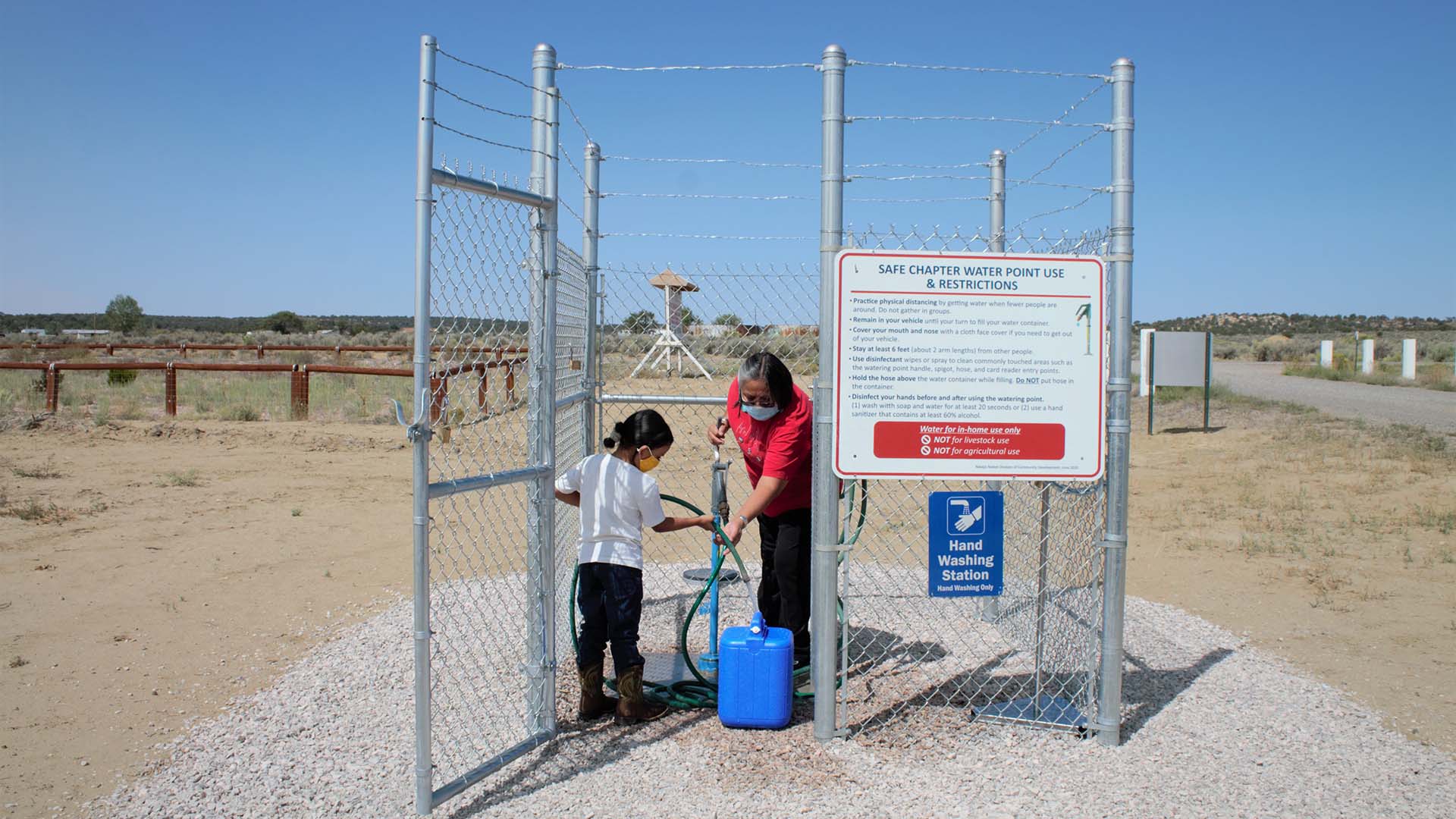 Navajo Nation family getting clean, drinking water at the local well during the COVID-19 pandemic.
Courtesy of Nikki Tulley via the Water & Tribes Initiative
A recent report looked into why Indigenous communities within the Colorado River Basin are struggling to get clean, reliable running water.
A Native American household is 19 times more likely than a white household to not have indoor plumbing, and during the pandemic this had catastrophic effects on some Indigenous communities. According a 2019 report outlining the action plan for closing the water access gap throughout the United States, "race is the strongest predictor of water and sanitation access," and it's Indigenous people who face this problem most. This report published out of the independent Water & Tribes Initiative Wednesday looks into what's causing the deficiency, the federal government's responsibility to provide clean water to tribes, and how some federal agencies are trying to fix the problem. It also explains the barriers currently in place and suggests ways to get water to tribes.
"At its heart, this report and the issues it identifies are about racial equity and environmental justice issues that Indigenous people have been facing for decades," said Heather Tanana, an assistant law professor at the University of Utah and is the lead author on the report.
The first of the barriers to getting clean water in tribal homes is a lack of piped water services. It says residents of the Navajo Nation are 67 times more likely to live without running water than other Americans, resulting in one in three homes not having running water.
Many people fill an assortment of bottles, jugs and tanks at communal wells and haul it back home, which Tanana said has forced many people to leave their homes to get more water during the pandemic and interact with high-touch surfaces.
She said another barrier is the quality of accessible water due to contamination. About 75% of people living within the Hopi tribal lands drink water contaminated by naturally occurring arsenic, which can lead to diabetes, cancer, blindness and more.
"In some communities, you can have water that maybe the odor is off or it has a little discoloration, but it's still fairly safe. In our tribal communities, the vast majority of the time, that water is actually unsafe to consume," Tanana said.
When water infrastructure is present it can be old and deteriorating or simply unable to meet the needs of the growing populations. The Colorado River Indian Tribes is a federally recognized tribe that's water infrastructure was first installed in the 1870s.
Tribes also need the training and funds to operate and maintain water systems.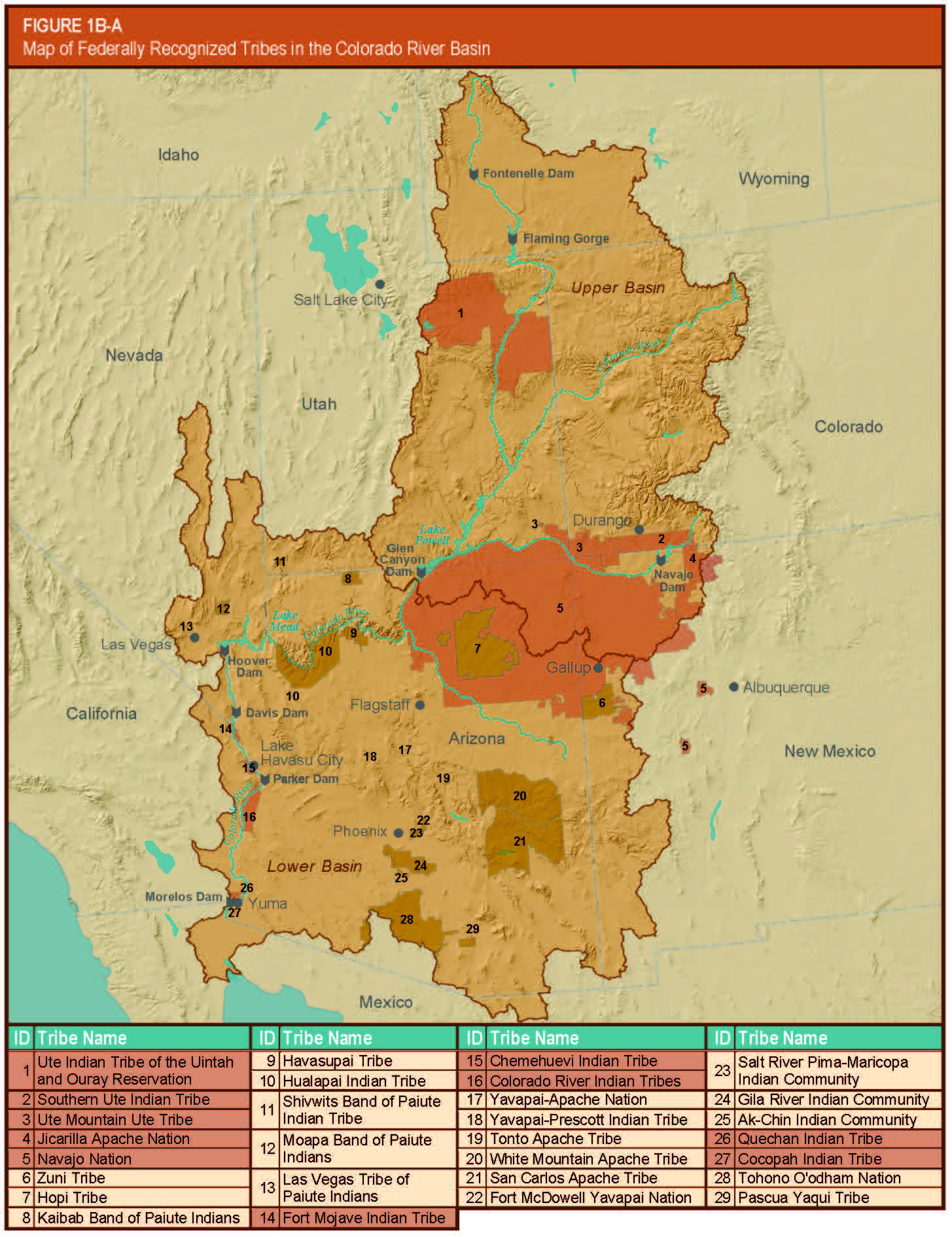 VIEW LARGER Map of the federally recognized tribes within the Colorado River Basin.

U.S. Bureau of Reclamation, Colorado River Basin Ten Tribes Partnership Tribal Water Study (2018)
The report breaks down how water insecurity leads to a public health issue, and it states this is an example of the federal government largely failing tribal nations by breaking its treaty obligations to provide "true homelands" to tribes via clean, reliable water.
The main federal agencies responsible for water projects are Indian Health Services, the Environmental Protection Agency, the U.S. Department of Agriculture's Rural Development program, and the U.S. Bureau of Reclamation.
It recommends the federal government implement a "whole of government" approach and break down silos between the seven agencies and at least 23 programs working towards potable water or sanitation funding for tribes. It supports more consultations with tribes, since tribal leaders are the experts of their own communities, which promotes self-governance.
Tanana estimated it would take the federal agencies responsible for providing clean water to tribes anywhere from $6 -10 billion to address these and other barriers.
"It is a problem that we are not, as a country, investing in infrastructure, but for tribal communities its even worse, because the government in some cases they came in and helped them install a system, but then just seemed to have ignored it," Tanana said.