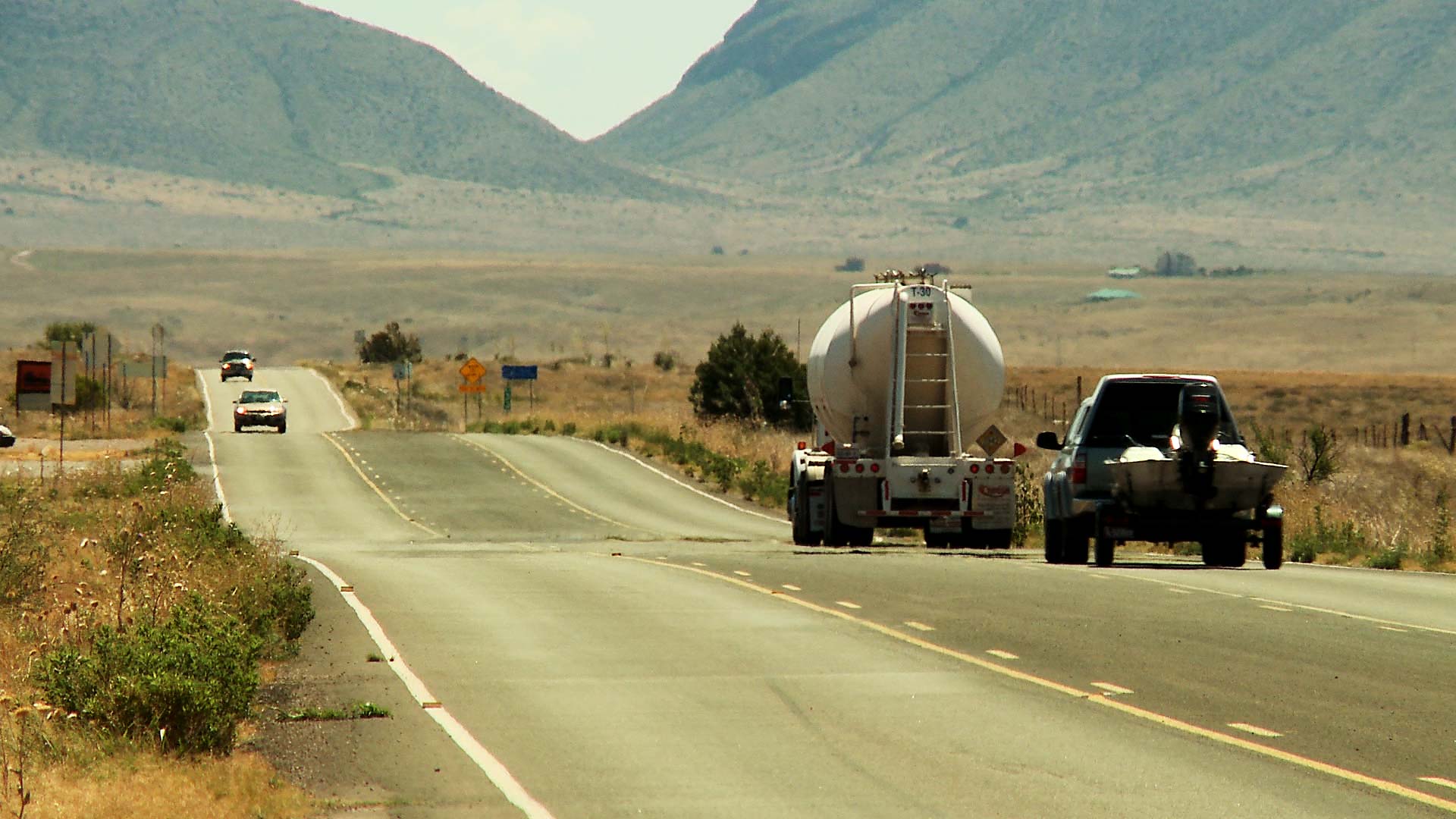 Vehicles travel along a highway near Sonoita, Ariz.
AZPM Staff
As border crossing open up for nonessential travel into the United States, ports of entry in San Luis and Douglas are in line to get hundreds of millions of dollars for expansion project.
These projects account for just a piece of the billions of dollars that Arizona is set to receive in the sweeping $1 trillion infrastructure bill passed by the U.S. House of Representatives on Friday.
Here are a few other major items in the legislation:
Arizona stands to receive at least $5 billion for highways and $225 million for bridge replacement and repair;
Public transit systems around the state stand to get $884 million. That includes $118 million for SunTran and $6.5 million for Vista Transit in Sierra Vista;
About $100 million will go to expanding broadband service around Arizona;
About $76 million will go to developing a network of electric vehicle charging stations around the state;
Arizona is set to get $619 million over five years to improve water infrastructure;
Arizona's airports will receive about $348 million;
About $300 million will go towards water reclamation operations under the Colorado River Drought Contingency Plan.

Sen. Kyrsten Sinema, a Democrat from Arizona and key sponsor of the bill, called it her generation's biggest investment in infrastructure.
"We all know infrastructure has been crumbling for decades across our country," she told reporters on Monday. "This piece of legislation will mean a new investment in roads, in broadband, historic investment for Western water storage — importantly for us in the Southwest — historic investment in preventing and dealing with wildfire, investments in our tribal communities from broadband to traditional infrastructure and finally settling some of the water settlements that have been outstanding in our country for quite some time."
The state could get other funds, too, that will be awarded to particular projects based on competitive processes.
The bill passed with bipartisan support, but not from Arizona's delegation. Republican House members from the state voted against the bill, with some citing the cost.
Funding for these projects comes from a range of sources, including hundreds of billions of dollars worth of unspent COVID-19 relief funds and money raised by auctioning off electromagnetic spectrum.
The measure would still add $256 billion to projected deficits by 2031, according to the Congressional Budget Office.
"The spending in this bill is not paid for and will add to our national debt, plus only a low percentage of the bill is actually spent on real infrastructure needs," U.S. Rep. Debbie Lesko, R-Arizona.
Correction: A previous version of this story inaccurately quoted Sen. Sinema describing infrastructure as "grumbling," rather than "crumbling."