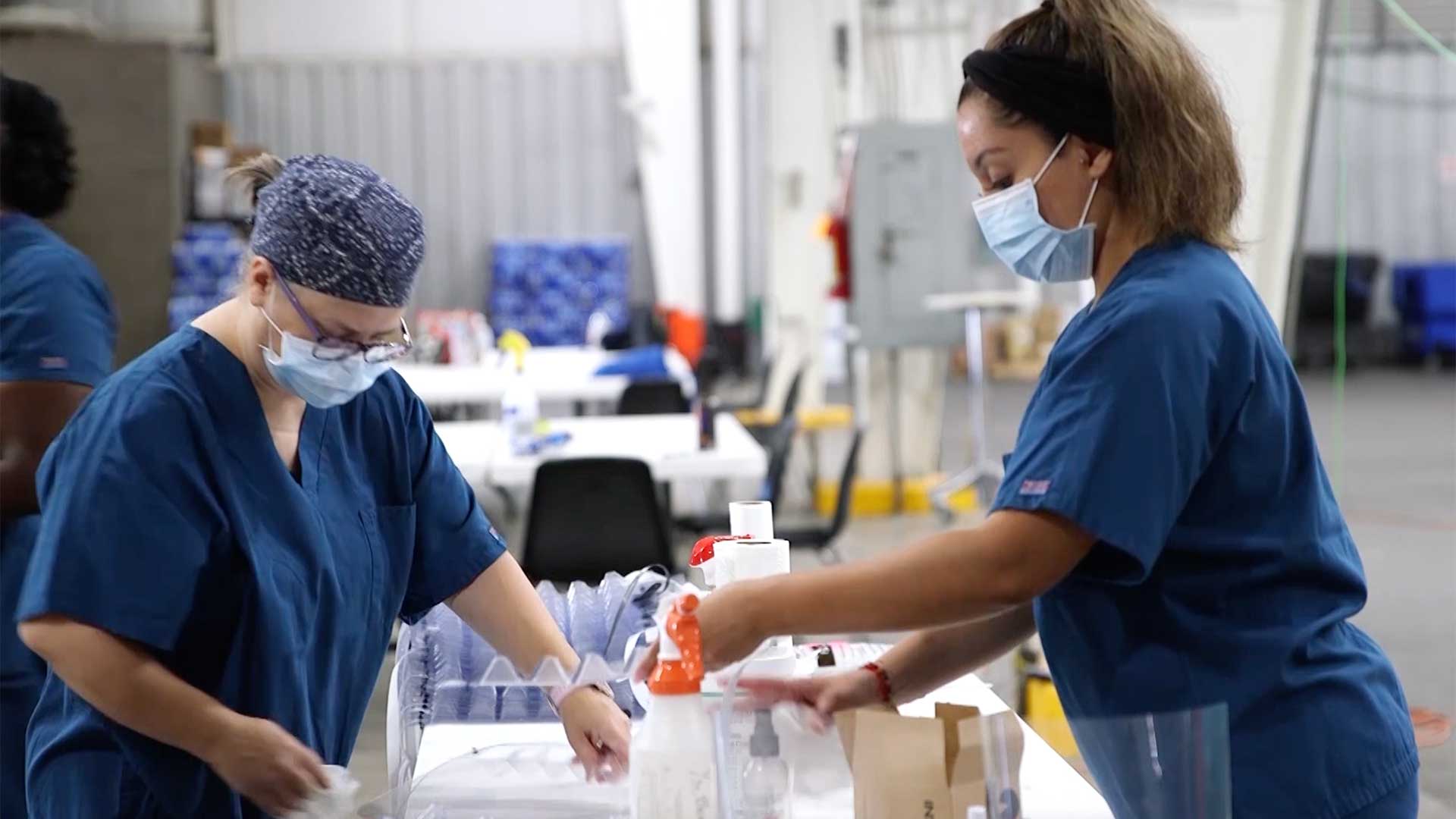 Front-line health care workers will be the first to receive the vaccine.
Courtesy Banner Health
This week The Arizona Department of Health Services opened its 24/7 mass vaccination site at State Farm Stadium in Glendale, and gave out 11,000 doses in just the first few days.
On Thursday, state officials announced they will open a second stadium mass vaccination site.
Since vaccinations began in Pima County in mid-December, the county has already distributed more than 41,000 doses. This week, Pima County announced an accelerated vaccination plan for COVID-19.
In a Wednesday news conference, Pima County Health Department Director Theresa Cullen and Pima County Chief Medical Officer Francisco Garcia laid out the plan, which includes an expected goal of more than 300,000 immunizations administered by the end of March.
"The issue of delivering vaccine on this scale is an absolutely complicated logistical lift with a lot of elements that are not directly in our control," Garcia said. "The first and most important element that is not directly under our control is a supply of vaccine delivered to the state and therefore sent to the counties vaccinators for their allocation."
Pima County's population is around 1.1 million people, but county officials estimate that about 720,000 people need the vaccine to achieve herd immunity. Because the two currently-approved vaccines each require two shots, double that amount of doses is needed.
If there is sufficient vaccine, the county hopes to have roughly half of those done by the end of March, and as a result Garcia said the county could achieve full community protection by June or July.
Currently, the county is hoping to get about 12,000 doses each week for the next several weeks. If the ramp up program goes as hoped, at maximum performance the county would have the capacity to vaccinate 12,000 people per day. That could possibly expand to as many as 16,000 doses a day, but only if those vaccines are available.
In order to distribute all those vaccines, the county and its partners are opening four distribution sites in addition to the two that have already been operating.
"As we move forward, we anticipate to accelerate our vaccination distribution points, resulting in an increased ability to provide immunizations," Cullen said.
Starting Friday, the county will move into phase priority 1B, which targets those 75 years and older, teachers and childcare workers, and protective services workers. After those groups follow other essential workers and adults in congregate living settings. The county has created a website to register to get vaccinated. Officials also say they are working to solve mobility and transportation issues for those in the 75 and older group.
On Thursday, Arizona announced that adults above the age of 65 would be added to Phase 1B, in accordance with recent recommendations from the Centers for Disease Control and Prevention. These folks will be behind the current priority group of educators, essential workers and those 75 and up.
Those registering for priority 1B may be asked to provide identification to prove they are actually eligible, such as proof of employment by a school district or university. But Garcia says lack of an Arizona driver's license, for example, will not be a barrier to getting a vaccine.
"Because at the end of the day, people all live in the same community," Garcia said. "And it is in everybody's best interest that we reach a level of community immunity just as soon as we can."
Pima County submitted its vaccination plan to the state this week and says that should help ensure the county gets a regular, reliable amount of vaccine to meet its objectives.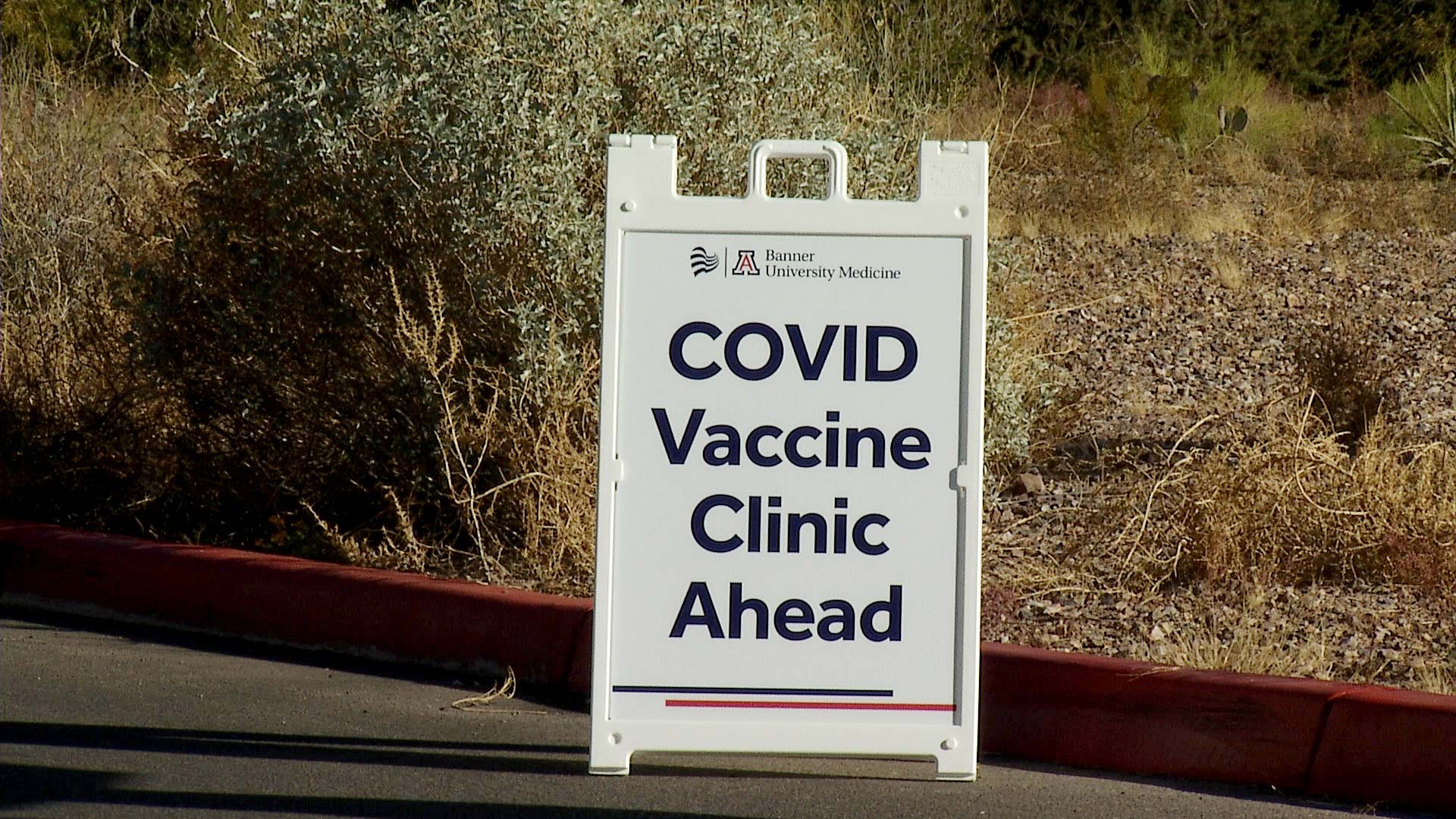 A sign outside Banner - University Medicine North in Tucson for the hospital's COVID-19 vaccine distribution site. Dec. 17, 2020.
Tony DiRusso/AZPM Staff
Alicia Thompson is the director of Cochise County Health and Social Services. She said vaccine rollout is complicated in a more rural county such as hers.
"We've got Douglas, Bisbee, Benson, Sierra Vista, Willcox, Tombstone and Portal," Thompson said. "So being able to logistically get testing services and vaccine distribution out to all of our community in an equitable manner is a challenge."
Cochise County is only using the Moderna vaccine because of its more moderate temperature requirements. Thompson said currently they can only order 500 doses a week, but the short vaccine supply is a worldwide problem.
Cochise County has a lot of prison guards and border patrol employees, which are included in Phase 1B. The county also has a large number of farm workers, some of whom are undocumented. Thompson said a person's immigration status will not matter when it comes to receiving a vaccine.
---
So what does it feel like to get the vaccine? Alex is a progressive care nurse in Tucson who asked us not to use her last name because she worries speaking to the media could put her job in jeopardy. She shared her first-hand experience.
"I got the first dose of the Pfizer vaccine on Monday and it was as smooth as anything I could have expected," Alex said. "I received the first dose in my left deltoid and it was really sore for a day, I took some ibuprofen and then forgot I had gotten the vaccine."
COVID-19 hospitalizations in the state remain at their highest levels yet, and the state has recorded more than 11,000 total deaths.
Alex said hospitals are maxed out, stressing staff like herself, especially following the winter holidays. She's excited about the vaccine rollout being expanded but is concerned about people complying with the two-dose regimen and continuing safe practices, like mask-wearing.
---
Earlier this year, the Trump administration promised to have as many as 300 million doses of vaccine distributed as early as October. That figure was later dropped to 20 million by the end of 2020. As of this week, the U.S. has so far distributed about 10 million doses of vaccine.
Felicia Goodrum is virologist and professor of immunobiology at the University of Arizona. She said one of the reasons the vaccine rollout has seen so many snags is because it was left up to individuals states, who do not have experience with mobilizations efforts of this scale.
Still, with the pandemic still raging across the country, Goodrum said the vaccine is the best hope for getting the situation under control.
"We need to get as many people vaccinated as possible as quickly as possible and still keep up our mitigation measures of distancing and masking to make sure that we are really going to see numbers fall and a safer return to a more normal life," Goodrum said.
Another key question raised during this vaccine rollout is whether employers can — and will — require staff to get the vaccine.
Kirin Goff, a University of Arizona law professor, said that employers can require vaccinations, but there are exceptions. Federal laws allow for exemptions to be made based on disability or religion.