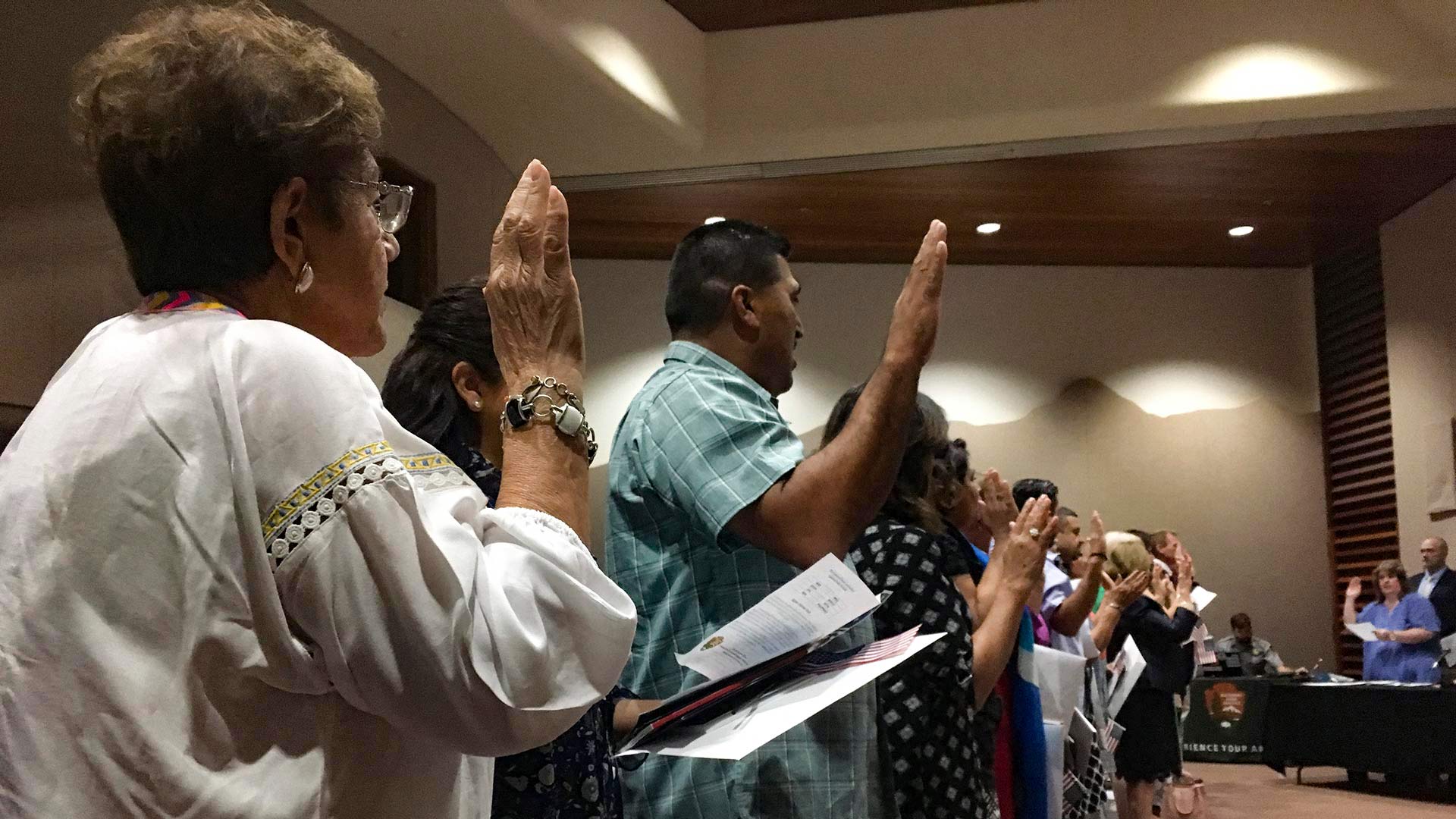 New citizens take the oath of allegiance at Saguaro National Park at the annual Independence Day citizenship ceremony, July 4, 2018.
Christopher Conover, AZPM
A series of agency-wide staff furloughs slated to start Aug. 30 at U.S. Citizenship and Immigration Services (USCIS) will no longer take place as planned.
In a press release this week, the agency said it had averted furloughs for over 13,000 employees — almost two-thirds of its staff — with aggressive spending cutbacks.
Unlike other federal agencies, USCIS is largely supported by the fees it charges for various immigration procedures. The furloughs were in response to what the agency says is a $1.2 billion funding shortfall caused by a drastic slowdown of those procedures amid the COVID-19 pandemic.
In the release, USCIS Deputy Director for Policy Joseph Edlow said furloughs were offset through the end of the agency's fiscal year on September 30, but it still needed additional support.

"Averting this furlough comes at a severe operational cost that will increase backlogs and wait times across the board, with no guarantee we can avoid future furloughs. A return to normal operating procedures requires congressional intervention to sustain the agency through fiscal year 2021," Edlow said in the statement.
In May, the agency asked Congress to help fill the funding gap. Ron Barber, who serves as the district director for Arizona Rep. Ann Kirkpatrick, said lawmakers have been pressing the agency on budget specifics.
"They have miraculously found money which will allow them to postpone the planned furloughs until the end of the fiscal year," he said.

On Saturday, House representatives unanimously passed an emergency funding bill to keep the agency afloat. Barber said the bill also has a good chance in the Senate.
USCIS is already raising the fee it charges for naturalization and other immigration procedures.
The release said to avoid furloughs, the agency had to scale back on federal contracts that help with processing, preparing case files and answering questions. As a result, an already-backlogged immigration system would face further delays. The agency said that's why Congress would need to help find a long-term funding solution.