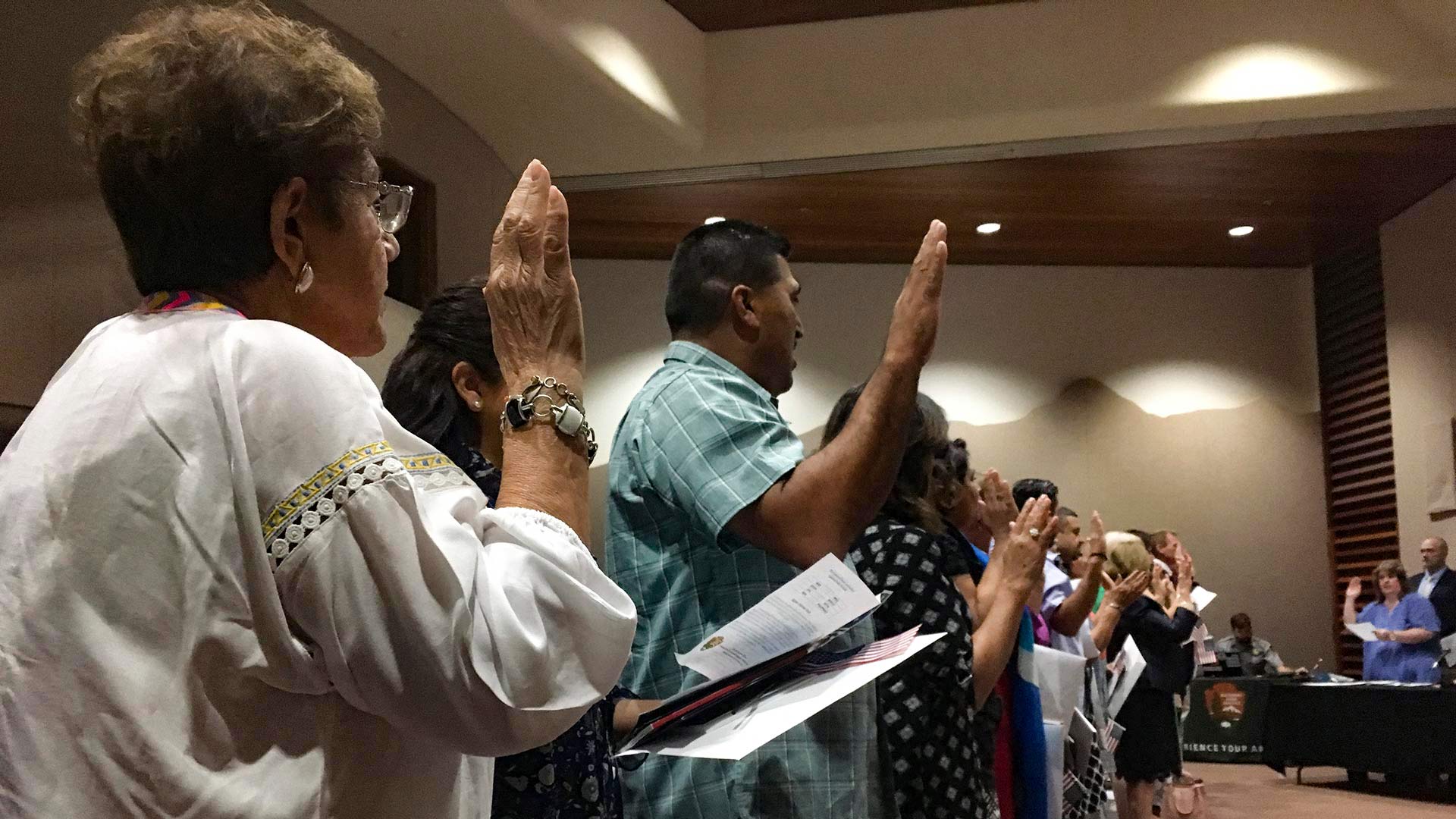 New citizens take the oath of allegiance at Saguaro National Park at the annual Independence Day citizenship ceremony, July 4, 2018.
Christopher Conover, AZPM
Immigration services like applying to become a citizen will become more expensive thanks to a new policy by U.S. Citizenship and Immigration Services (USCIS).
When the new fee system takes effect Oct. 2, those applying for citizenship will pay a fee of $1,160, up from $640. And for the first time, asylum seekers will have to pay a $50 fee to apply, making the U.S. one of just four countries worldwide to require payment from that process.
USCIS is funded almost entirely by the fees it collects for things like naturalization, green cards and work visas. But the coronavirus pandemic and sweeping policy changes have brought migration of all kinds to a screeching halt.
The agency has asked Congress to provide more than a billion dollars in emergency funding to make up for the budget shortfall. The Department of Homeland Security says adjusting USCIS fees by a weighted average increase of 20% is another measure to full the gap.
Nathan Smith is a software engineer in Tucson who came from Australia on a skilled work visa almost a decade ago. He's married to an U.S. citizen and in the final stages of becoming one himself.
"As far as immigration goes, I'm on top of the list, in theory. I'm meant to be the easy case, and even for me it's been a saga," he said.
Smith completed his paperwork earlier this year and won't be affected by the fee increase. But especially for those in more complex immigration situations, he said the new charges will be one more hurdle in an already years-long process.