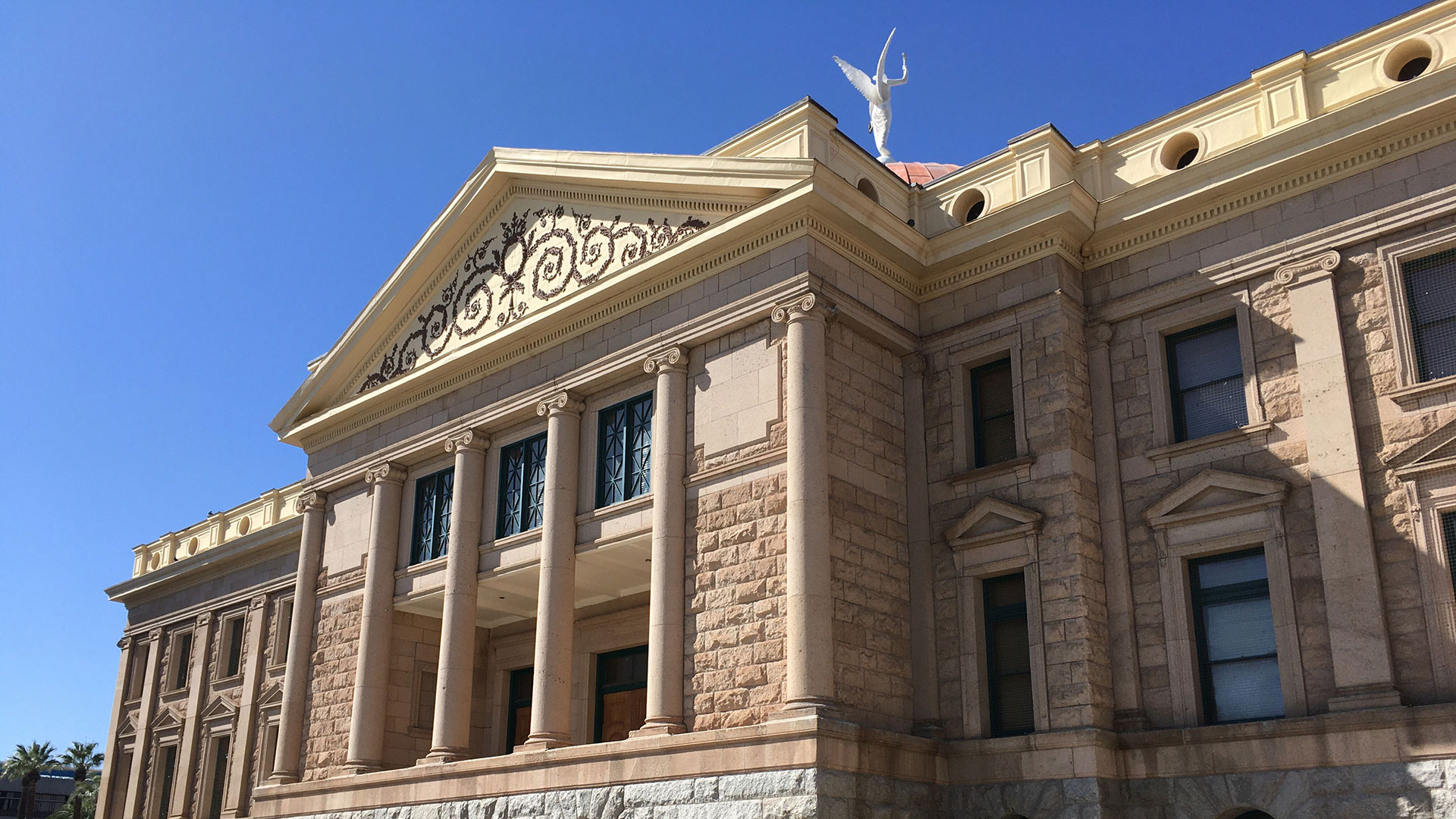 The Arizona state Capitol on March 3, 2020.
Ariana Brocious/AZPM
UPDATE: The original story was updated Wednesday afternoon to reflect a significant change in the situation.
---
Arizona legislative leaders wanted to adjourn their session on Friday, May 1 and made that announcement Tuesday, only to take it back the next day.
Rank-and-file members in the House opposed the move, which would have effectively killed hundreds of bills left unheard when state lawmakers left the Capitol in March due to the coronavirus.
In order for the Legislature to return, both chambers need to agree on a plan. House Speaker Rusty Bowers has told Senate President Karen Fann that a "substantive majority" of Republicans want to reopen the session to hear bills.
"In the Senate we are continuing discussions with our Members, to determine the best way forward for the Senate and the citizens of Arizona," Fann wrote in a statement.
No timetable is set for the Legislature's return.
---
ORIGINAL STORY
State lawmakers will return to the Capitol Friday, May 1 to adjourn their annual session. There are no plans to vote on any bills, so that means anything left unfinished dies.
Some members are crying foul because their bills, which were left pending when the Legislature quickly left the Capitol last month due to the coronavirus outbreak, will go unheard.
Legislative leaders said that is the plan and there are reasons for ending the session with no more work.
"While individual members have a whole variety of topics, you know everybody's issue is the most important, and the notion was, I think, was just get away from that and say, 'Hey, let's deal with the reality of the virus,'" said Sen. David Bradley, Senate minority leader.
The Legislature will not be out of the Capitol for long. They expect to return in June to deal with the projected billion-dollar budget shortfall caused by the coronavirus economic slowdown.
When they do return, the budget will be the topic and not much else.
"The special sessions are usually very orchestrated. The call is made as specific as it can be made, and we usually do it sometimes three days but often times we do it in two days. We suspend the rules — because here is the issue, here is the solution, take it or leave it — and then we're gone," explained Bradley.
The amount of the revenue shortfall is only a prediction at this point, budget analysts said they could be off by as much as $500 million in either direction.
The April sales tax collections will be sent to the state at the end of May, so lawmakers won't begin to get a look at the depth of the financial hit until then.