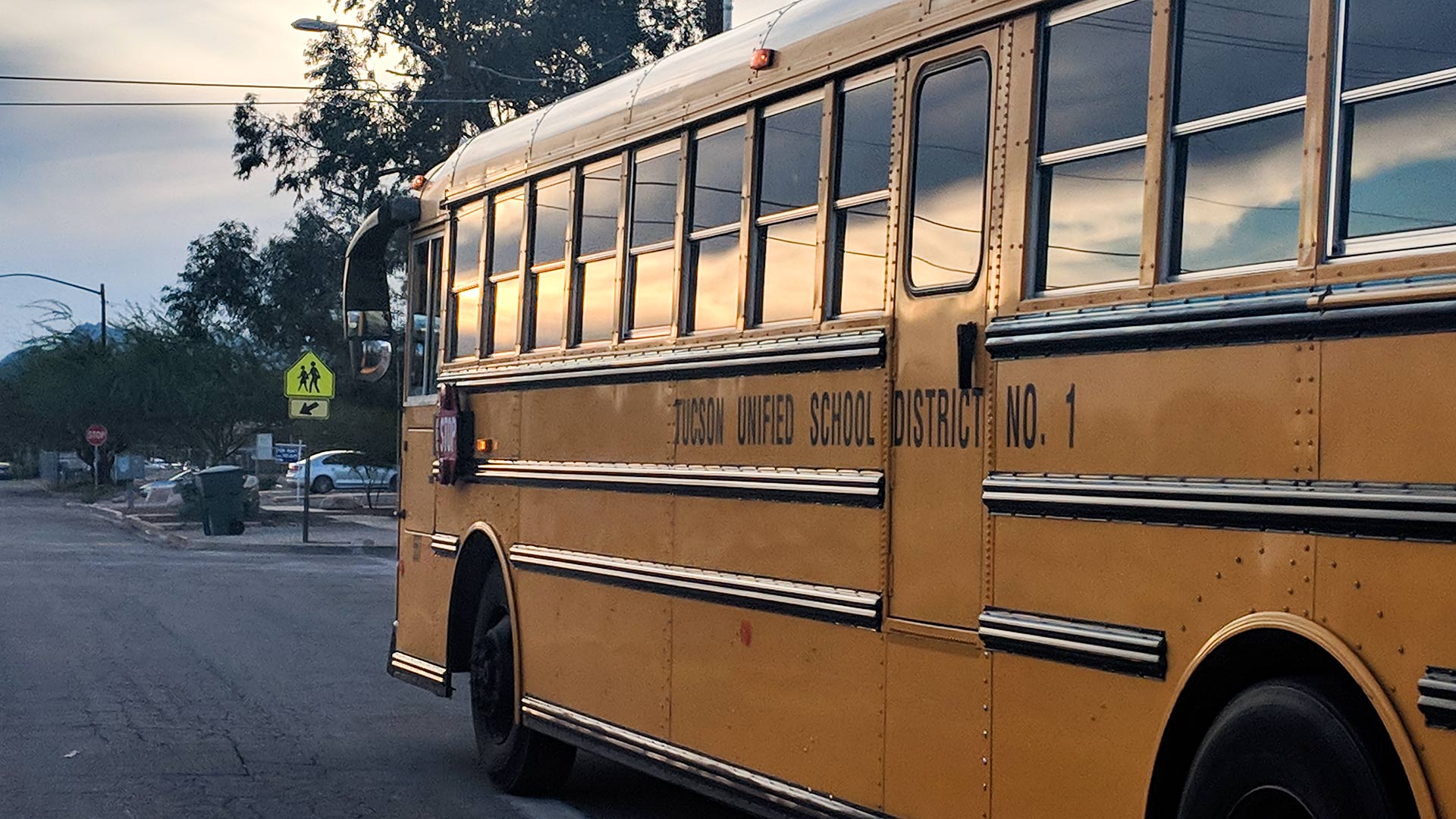 A Tucson Unified School District Bus.
AZPM
The Tucson Unified School District will begin hybrid-learning classes Nov. 12. The TUSD Governing Board approved the start date in a 3-2 vote during its meeting Tuesday night.
Under the plan, students enrolled in the hybrid model will attend morning classes on campus four days a week, with time in the afternoon for independent work online. For students who remain remote, mornings are for independent online work and afternoons will feature real-time instruction from teachers.
The board initially approved the hybrid plan without a set start date during its Oct. 6 meeting.
Board members Kristel Ann Foster, Leila Counts and Bruce Burke voted in favor of the start date. Foster said that entering the hybrid model could help with the issue of students leaving the district.
Counts said she believes the safety practices in place to reduce the spread of the virus are effective and that students and teachers will follow them.
"I do believe that mitigation works, that masks work and that we can do this," Counts said.
Board members Adelita Grijalva and Rachael Sedgwick voted against the start date. Grijalva raised concerns about transportation and the upcoming flu season.
"If I don't feel it's safe enough for my children, and I'm not going to send my children to school. I can't in good conscience vote to say, 'It's not safe enough for my kids, but it's okay for other people,'" Grijalva said during the meeting.
Sedgwick, who was the sole board member who voted against the hybrid plan during the Oct. 26 meeting, said that ensuring teacher and staff safety was of the utmost importance.
The governing board also voted 5-0 to allow the superintendent to close hybrid classes in individual schools or districtwide if such action is necessary to reduce the spread of COVID-19.
"My intent here is to have a motion that gives the superintendent the authority to respond quickly to COVID developments, while always following the advice from the Pima County Health Department," said board member Burke, who introduced the motion.
During the meeting, Superintendent Gabriel Trujillo also briefed the board members on a few updates to the plan. In-person class sizes will have a maximum between 10 to 14 students.
For classes where the demand for hybrid instruction exceeds the classroom capacity, parents will have a choice between having the student remain with their same teacher and take remote classes or to start hybrid classes with a new teacher, Trujillo said.
"That way, in those types of situations, we're not going to have the same level of parent frustration and anger because they'll be freely choosing a change of teacher," Trujillo said during the meeting.
A survey taken by over 20,000 district parents found that about 45% of respondents wanted their children in hybrid classes.
Keeping most students with their current teachers means that nearly all teachers will be expected to come back to the classroom to teach hybrid classes.
"Any health condition, either short-term or long-term, that prohibits them from teaching in person — now that that is going to be a core job duty as the model has changed — that would require now a medical leave of absence," Trujillo said during the meeting.
Teachers will also be expected to teach remote learning sessions from their classrooms, rather than going home to teach. District officials said this was to avoid losing instructional time.
One of the other updates to the hybrid plan includes addressing child care options for TUSD employees who have children enrolled in the district.
If a TUSD employee has a child who goes to the same school that the teacher is employed at, the child can be in the classroom with the employee during afternoon remote learning sessions. If an employee has a child enrolled at a different TUSD school, then that employee can also choose to enroll the child in a school program at one of the district's programs or in an off-site program. Trujillo said that transportation arrangements for these programs are still pending.
After-school care, for both the children of TUSD employees and other students, will not be available at all campuses. Instead, the district will use a "hub model" based on region. These sites will be open during the afternoons and on Wednesdays, when no in-person classes are scheduled.
Hubs will be chosen based on available space and schools with lower enrollments, assistant superintendent of curriculum and instruction Flori Huitt said during the meeting. These spaces will be staffed by substitute teachers.
Trujillo said that the district is still reviewing transportation options to bring the children of non-TUSD employees to after-school sites, but that transportation capacity is already stretched thin.
Prior to the vote on the start date, the board received a presentation from Pima County Health Department Director Theresa Cullen.
She walked the board members through the state criteria for entering a hybrid-learning model, which Pima County meets, and the local criteria her department developed.
Citing other districts that have begun hybrid classes, Cullen said that no K-12 school district has launched a spike in cases, similar to the one the University of Arizona experienced.
"There's not an epidemiological model that indicates that we have had in a high school that has reopened had the kind of accelerated transmission that we saw on a college campus," Cullen said.