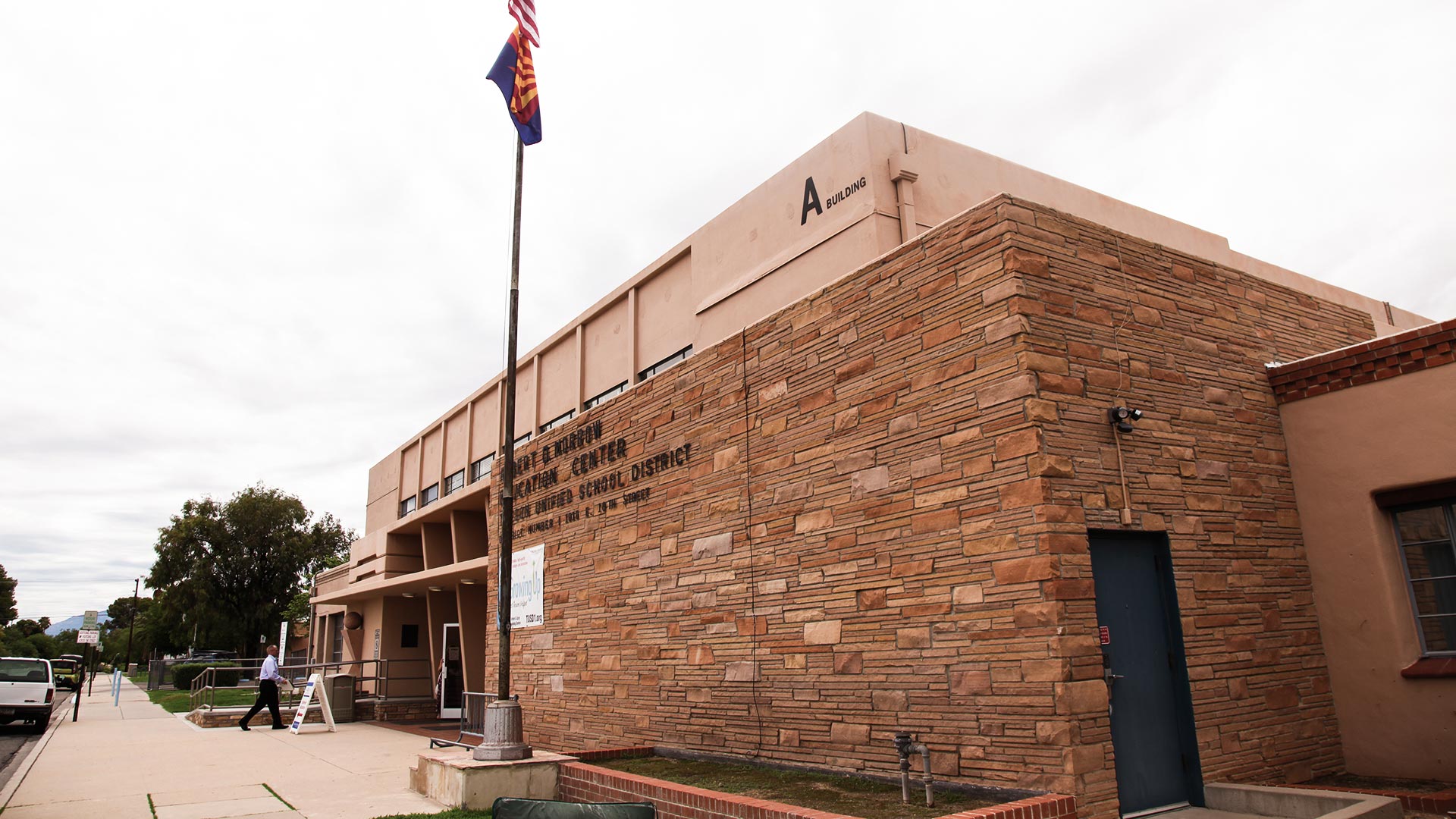 The Tucson Unified School District office, 1010 E. 10th St., Tucson, Arizona.
Nick O'Gara/AZPM
The Tucson Unified School District has 89 schools and thousands of students. Administrators now are figuring out how to reopen the schools in the fall.
Earlier this week, the state issued nearly 40 pages of guidance for opening schools in the fall, covering everything from lunchrooms, to classrooms, to school buses. TUSD Superintendent Gabriel Trujillo said the document is comprehensive but is missing one important element.
"It's great, they are great recommendations, great messaging. We see nowhere in this document where a new funding source is offered, or they are proposing a new mechanism to pay for the very, very costly recommendations that are being recommended in this roadmap," said Trujillo.
TUSD is expecting to get $18.6 million from the state to help with reopening schools. That money is the district's share of federal CARES Act money that was sent to the state for the purpose of helping out the schools. Trujillo said, after conversations with Gov. Doug Ducey, he is confident that the district will get all of its money and none will be held back by the state.

Trujillo said $18.6 million may seem like a great deal of money but it won't go so far as people might think.
"Let's just say we want to provide masks to every student in TUSD, just not even every day, but give a student a fresh mask once a week to have for the week, like Monday morning, to do that for every student in TUSD and to do it across the 36-week, 180 day school year, [that] would cost us $1.25 million just in masks," he explained.
Trujillo said that does not begin to cover additional janitorial costs of keeping schools clean at a much higher level during a pandemic.
The district is still working on its reopening plan. On June 16 it will hold a public study session to talk about the plan. Then a week later, June 23, it will release its plan. Many ideas are still on the table, including split sessions.
"That is under serious consideration, especially at places like Tucson High and Cholla and some of the larger schools. Absolutely — split schedules where there is a morning shift and an afternoon shift, or split-day schedules, where there are portions of the student body that are on site two days a week and then they are doing remote three days a week — all of that is under consideration," said Trujillo.
A split day means more school buses and costs because the students will have to be socially distanced on the buses as well as moving students to school twice a day, instead of once, and back home again.
The school funding model used by the Legislature is also causing problems because the state pays only 95% when a student is learning online and not in a classroom.
Five percent may not sound like much of a loss, but Trujillo said as many as 25% of families in the district have indicated they don't feel comfortable coming back to in-person classes.
"If 25% of our student body opts to remain in online learning and the district has to take a 5% hit for each kid, for each $4,800 that we collect on each kid, if we have to take 5% less of that for 25% of the whole student body, we're looking at losing $3 million," said Trujillo.
Trujillo is hoping when state lawmakers go back to the Capitol for a special session on the budget later this summer, they will keep all of that in mind and help school districts across the state.