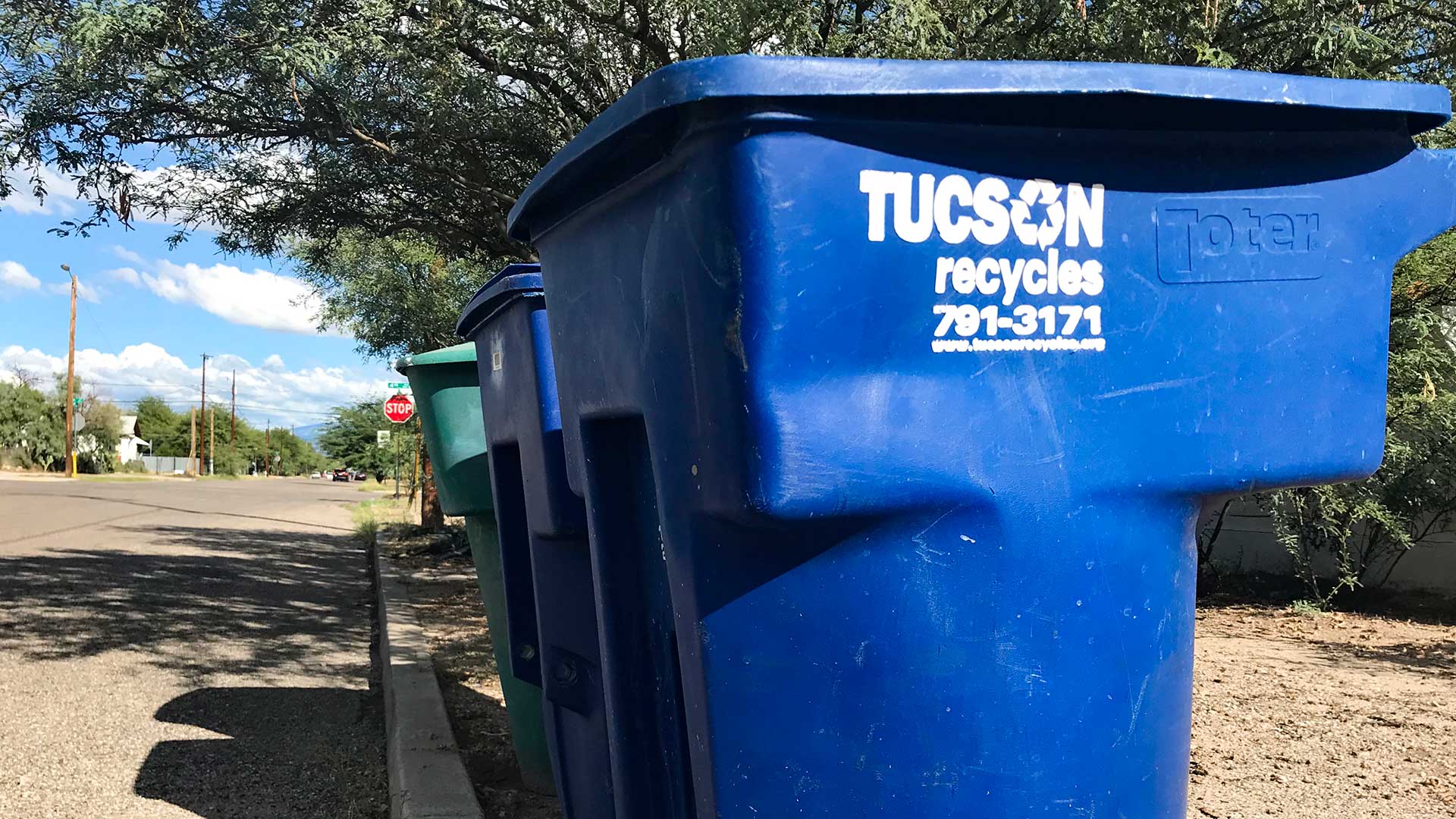 The city is reducing curbside recycling pickup in an effort to save money and adapt to global shifts in the industry.
Sasha Hartzell/AZPM
A collapsing recycling industry has cities around the country scrambling for solutions, and Tucson is taking its first steps in adapting to the global shift by scaling back collection.
The city is cutting curbside recycling pickup in half beginning Monday, Sept. 30. Previously a weekly service, the city will now empty bins every other week, a move that is projected to save $1.4 million annually.
The city has been divided into two sections, A and B, each to be serviced on alternating weeks. The day of the week for recycling pickup will remain the same, and trash pickup will be unaffected.
Carlos de la Torre, the director of Tucson's environmental and general services department, anticipates that the service reduction won't actually affect the public, as long as people recycle correctly.
De la Torre's team found that most recycling bins would be less than half full every week if it weren't for trash. Diapers, plastic bags and contaminated items, such as greasy pizza boxes, are the main offenders. Approximately one-third of all items placed in the bins ends up in Los Reales Landfill, and the detour through the recycling facility is costly.
Traditionally, the bins have been picked up weekly, processed locally, shipped to California, and finally sold and transported overseas, primarily to China. That was until last year, when China effectively stopped taking recyclables from the United States and their value plummeted.
Tucson is still selling most of its plastic, glass and paper overseas — to Taiwan, Indonesia, India and still some to China — but at a significantly reduced price. Stripped of its revenue-generating potential, the city's recycling program costs $300,000 per month and has a high environmental impact.
De la Torre said the recycling program we know may no longer be valid. "We essentially need to collapse our program, stand it back up, and create a program that really reflects the city of Tucson in its sustainability efforts," he said, envisioning a sort of "dirty" recycling program based around composting. The future program will be designed for positive impact on both the economy and the environment.
For now, the money saved from cutting curbside pickup will buy the city time to figure out just what its future recycling program will be.
"Obviously we still have a long ways to go, but this will be a strategy to help us get going," said de la Torre. Faced with the same crisis, nearby cities such as Casa Grande, Sierra Vista and Surprise have all essentially shut down their recycling programs.
Residents' refuse bill will remain the same. The new pickup schedule and information on how to recycle can be found online.
---
Sasha Hartzell is a University of Arizona Journalism student and an Arizona Public Media intern.