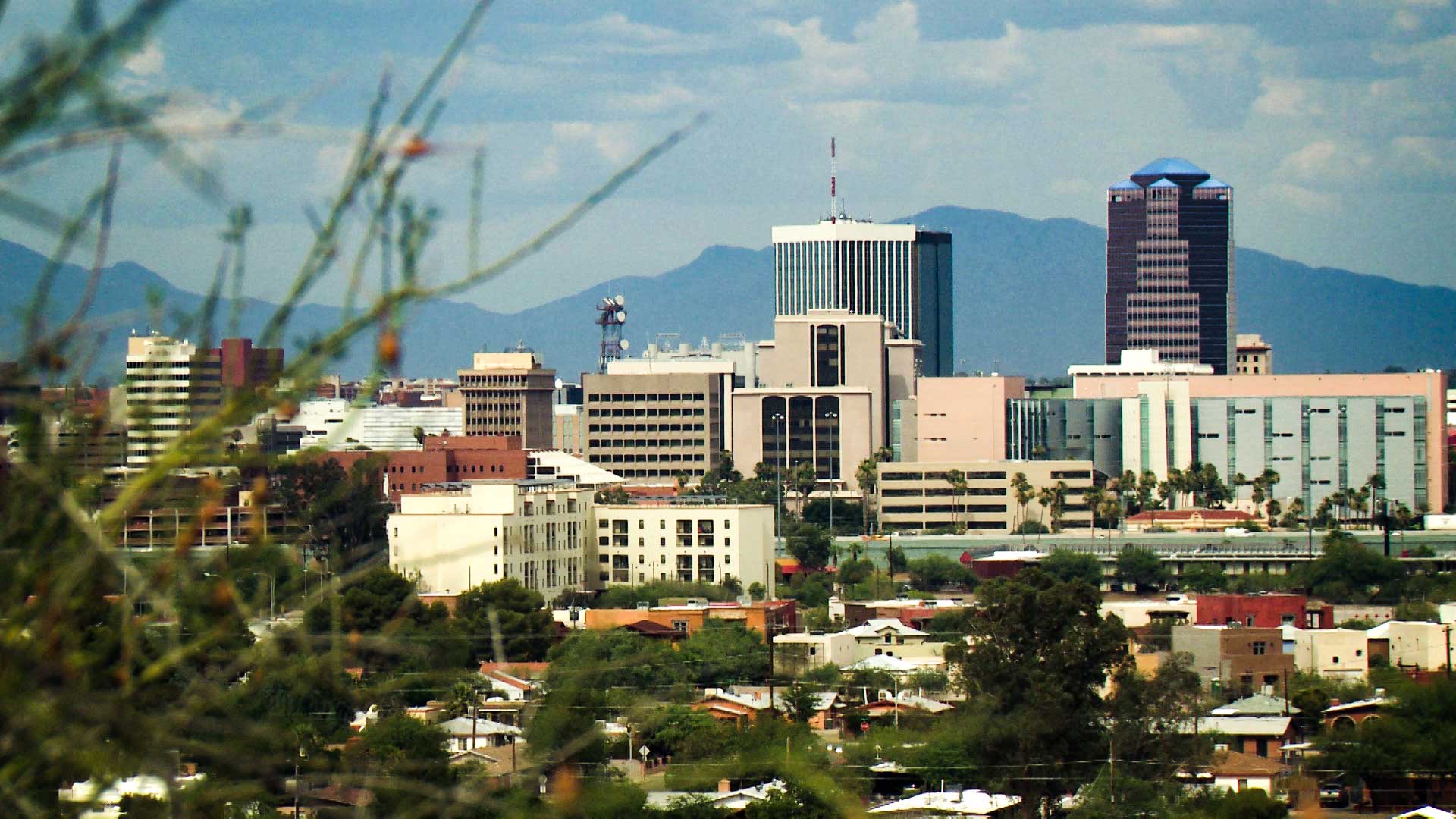 A view of downtown Tucson.
AZPM
Prop 205 - Tucson Sanctuary City initiative Updated Nov 12, 2019 2:51 P.M.
| Response | % | Votes | |
| --- | --- | --- | --- |
| Yes | 30.22% | 29,285 | |
| No | 69.78% | 67,631 | |
Initial election results Tuesday night showed more than 70% of voters rejected an initiative to make Tucson a sanctuary city.
Proposition 205, the work of the People's Defense Initiative, was aimed at prohibiting racial profiling by law enforcement and limiting when police officers could inquire about a person's immigration status. It additionally would have barred police officers from participating in federal investigations that are centered on immigration.
Zaira Livier lead the citizens' group behind Prop. 205 and called the effort a movement that went against the grain.
"As far as sanctuary policies are concerned, I think we have two options: The city either works with us on passing the protections we demand, or we do this all over again," Livier said at an election event.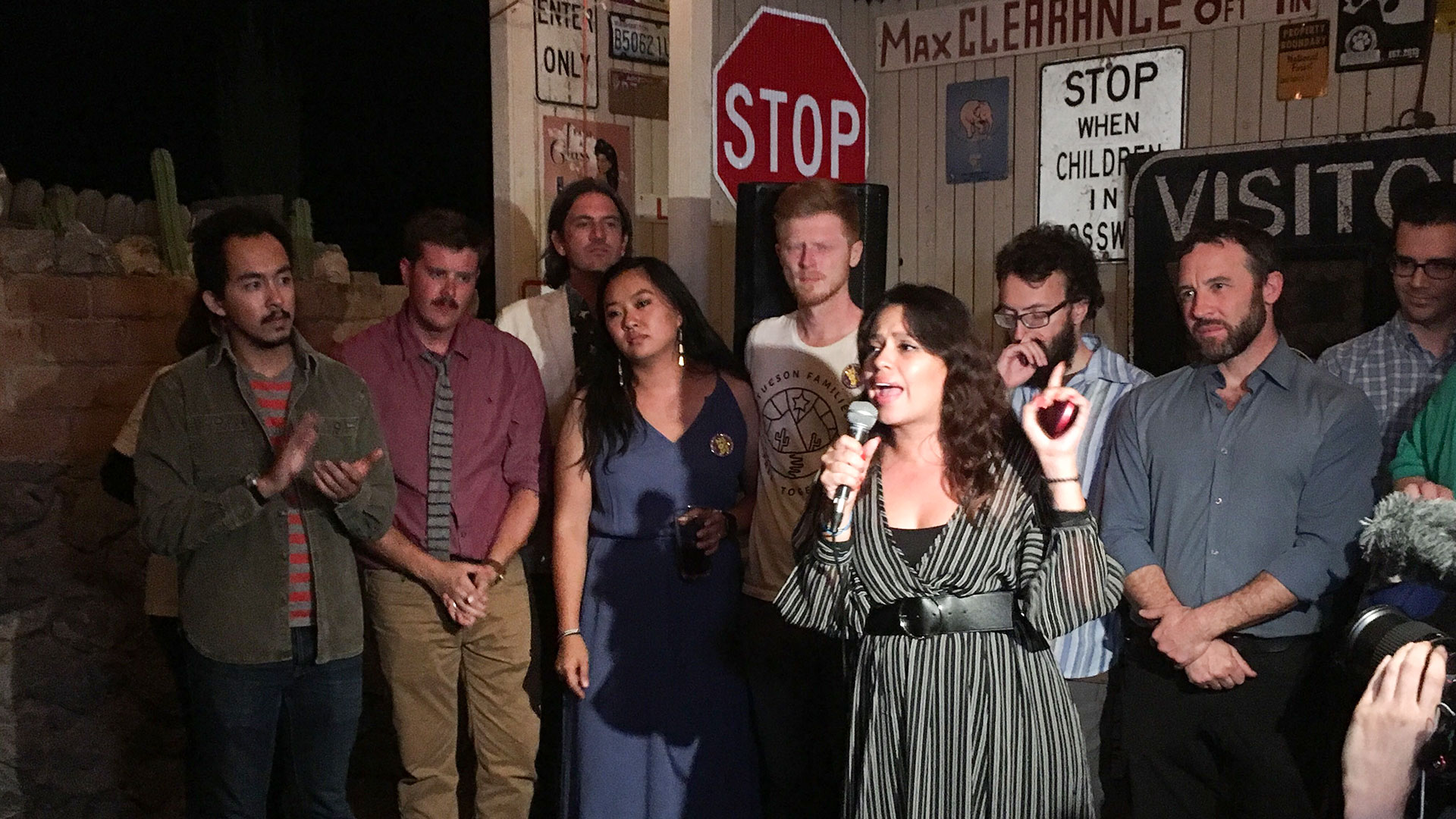 VIEW LARGER Zaira Livier speaks at a gathering to watch the results of the Nov. 5, 2019 Tucson election that saw voters reject an initiative to make Tucson a sanctuary city.

Ariana Brocious/AZPM
Pima County Republicans chair David Eppihimer said Tucson voted sensibly.
"I think the message got out, effectively, that it would be bad for the city. Bad economically, bad safety-wise, and bad PR," Eppihimer told AZPM.
If it had passed, it would likely have faced legal challenges based on potential conflicts with SB 1070, according to a memo from city attorney Mike Rankin. Tucson's mayor and City Council members opposed the proposition because they were concerned about unintended consequences and the potential for losing millions of dollars in state and federal funding.
Organizers disputed the assessment that the initiative threatened state funding, saying Prop. 205 was voter-based initiative and not in conflict with Arizona law.
The city voted to elect Regina Romero as the new mayor. She had opposed Prop. 205, but on election night offered to work with backers of the initiative, saying she agreed with the inclusive message of its supporters.
"The root of the problem is SB 1070, and we've got to demand in a unified front with a unified voice that Governor [Doug] Ducey and the state Legislature repeal SB 1070," Romero said on election night.
The majority of the votes cast in the election were expected to be counted in the first round of results. With mail-in elections, the bulk of the votes are typically counted on election night.
See more of AZPM's coverage of Prop. 205 and the election
The Buzz: Should Tucson become a sanctuary city?
Sanctuary city initiative organizer on the movement's goals
TPD Chief Magnus on sanctuary city initiative on ballot
Lawmakers prepping punishment for Tucson if voters approve sanctuary city law
Top issues for Tucson voters ahead of the primary
Where do candidates stand on the issues? Check out our election guide.
---
The Associated Press contributed to this report.