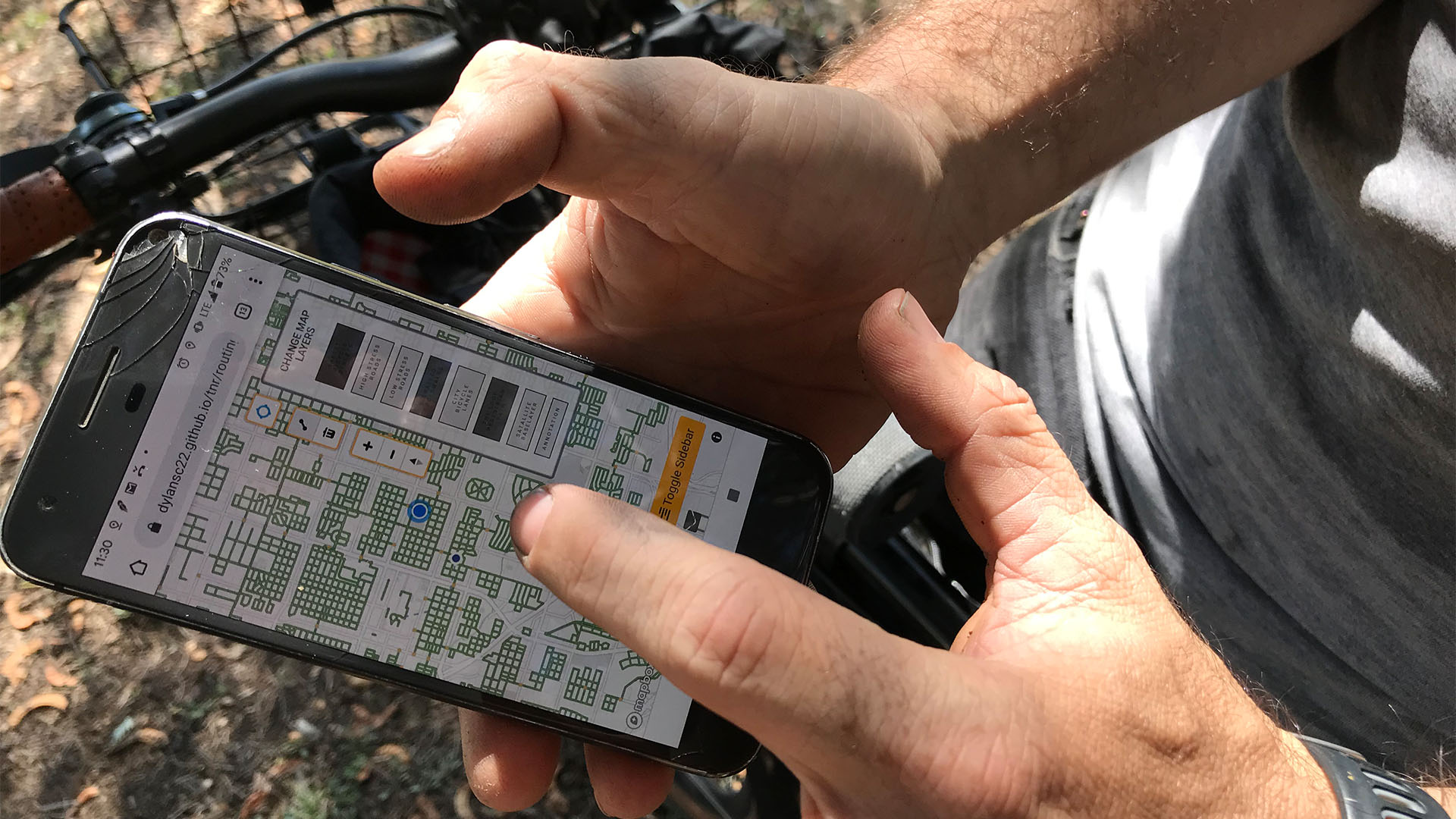 A local bicyclist created an interactive map to guide cyclists to streets with less traffic that feel safer than large roadways.
Sasha Hartzell/AZPM
A local bicycle mechanic has created an interactive map re-envisioning Tucson's cycling infrastructure. Instead of major roads, it reveals a network of low-stress residential streets connected by signaled pedestrian crosswalks.
Many of the 1000-plus miles of bike infrastructure in Tucson are unprotected lanes along major roadways with high-speed traffic. Dylan Cobean said he found these were stressful at best, and stopped some people from riding at all.
"You really need to just become accustomed to the risk of riding alongside these huge metal machines that can just kill you," said Cobean. He, like many cyclists, just got used to it. For years, he commuted daily along major roads until he had the idea to make a map offering an alternative approach for cyclists.
The motivation came from the sudden death last October of Collin Forbes, a longtime Tucson cyclist who designed routes for the popular Tuesday Night Bike Ride. Every week, Forbes created a different route that would allow over 100 cyclists to safely pedal through miles of Tucson streets. When he died, so did his knowledge of how to navigate the city.
Cobean recognized a void. His initial vision for the map was as a tool to design safe routes for the weekly ride.
"There's a better way to do this," he said, "where any one of those 100 cyclists could make a route and post it, and anyone could lead."
What started as a simple project quickly became a nearly year-long process. After months of coding, Cobean has shared his map with the public, and he believes it has the potential to turn Tucson's bicycle infrastructure on its head. Much more than just a tool for planning a weekly group ride, the map is designed to help any cyclist feel more comfortable navigating the city.
Using a GPS locator and simple point-and-click functionality, the app creates routes through residential streets and signaled crosswalks. "It's so much more quiet, it's so much more safe, it's so much more scenic, and it's just a more fun ride," Cobean said.
Though the app isn't completely finished, it's available to the public. Cobean is now working on documenting the condition of the city's streets, adding an additional layer to his map.
---
Sasha Hartzell is a University of Arizona journalism student and an Arizona Public Media intern.