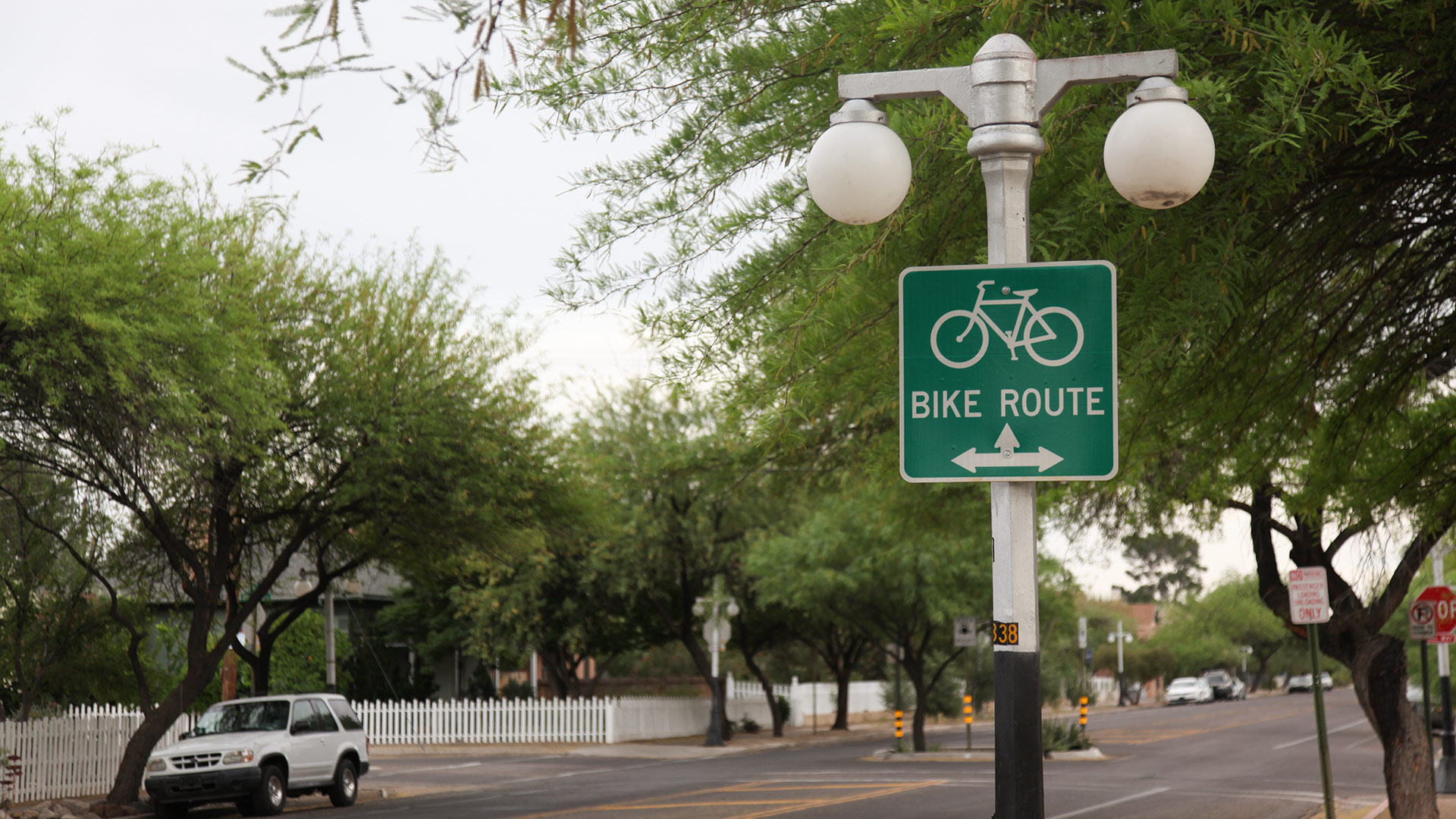 A bike lane in the Armory Park neighborhood
Nick O'Gara/AZPM
Community members across Tucson can voice their ideas about how the city should redesign some of its bicycle boulevards as part of the changes funded by Proposition 407.
This week there will be three community input events calling bikers and drivers to tell staff from the city's Department of Transportation how to improve streets like Third Street, and Treat and Cherry avenues. Portions of these roads are designed to slow down traffic and decrease stress for bikers who don't want to commute next to busy traffic.
Voters passed the $225 million bond package in November 2018. Prop. 407 improves parks, bike boulevards, protected bike lanes, greenways and pedestrian safety.
"Tucson has lots of areas that are highly bikeable," said Ryan Fagan, the project manager for the transportation initiatives under Prop. 407. "Unfortunately, not all of it is necessarily connected — not all of it reaches every single person in Tucson. We're really trying to expand the reach of the low-stress bike network that we already have."
He said some of the design features that are common on bike boulevards are roundabouts, speed bumps, and high-intensity activated crosswalk (HAWK) lights that flash red in Tucson.
Fagan said the city hasn't started looking at the community feedback yet, but Department of Transportation will put it to use as it designs the upgrades in late October. Construction will begin the summer of 2020 and is projected to end in early 2021.
The public can also submit online surveys for the projects on Third Street and Treat Avenue, and those on Michigan and Fair streets, Cherry Avenue, Greenway Drive and Bantam Road.
Fagan said out of the $225 million designated for Prop. 407, approximately $90 million will improve bike boulevards, protected bike lanes, greenways and shared-use paths. After factoring in design and public outreach, he said they've budgeted about $850,000 for the Third Street project and $1.4 million for Treat Avenue.
"It's a really high bang for the buck as far as getting a low-stress network of as soon as we can," said Fagan. "Compared to a lot of other types of projects, bicycle boulevards are relatively economical for what you get."