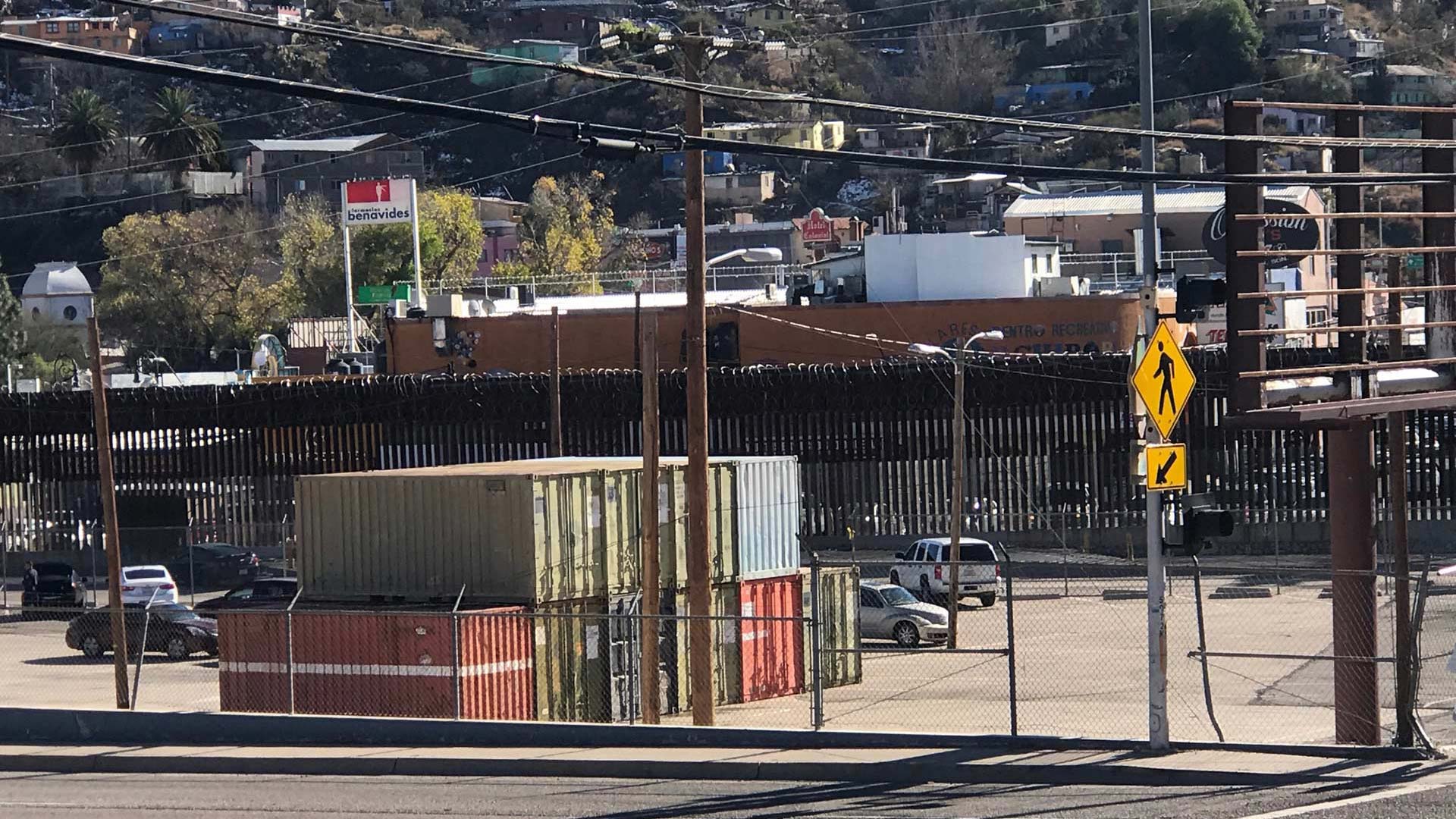 Containers owned by the U.S. Government parked in the middle of a former public parking lot near the Nogales border crossing, Jan. 4, 2019.
Kirt Ijams for AZPM
Community border groups are questioning the $1.24 million dollar sale to the federal government of a public parking lot at the Nogales border.
Military vehicles and large metal containers have been moved into the parking lot located right at the border fence.
Border communities are concerned that the current level of militarization of the border is not temporary. In past public notifications, Customs and Border Patrol has stated that the use of the National Guard and active duty military at the border was temporary.
Nogales, Arizona, resident Pablo Lujan, who lives close to the parking lot, asked, "If the militarization of the border is temporary, why did the government buy the parking lot and is quietly moving in equipment?"

VIEW LARGER A sign at what was once Ed's Border Parking Lot warns the public to stay out, Jan. 4, 2019.

Kirt Ijams for AZPM
The sale of Ed's Border Parking Lot also means fewer parking places for U.S. border crossers like the family of seven we talked with, who asked we not use their last name. The mother Mindy says the family crosses the border once a month to maintain braces for family.
"Yeah it is a bit of a pain," says the mother. "You have to do a bit of walking, but we always have our little spot that we park at and it works out ok."
While border activists see the purchase of the parking lot as a sign that the military presence is here to stay, the other parking lot attendants like Ramon Escodido say its good for his business.
Asked how its working for him, he replies in Spanish that it is very good. He adds that it forces more cars to his parking lot, which is further from the border.
What will the military use the lot for — so far, no one official, is willing to say. For now, there are several large metal containers parked, with guards and security cameras nearby.