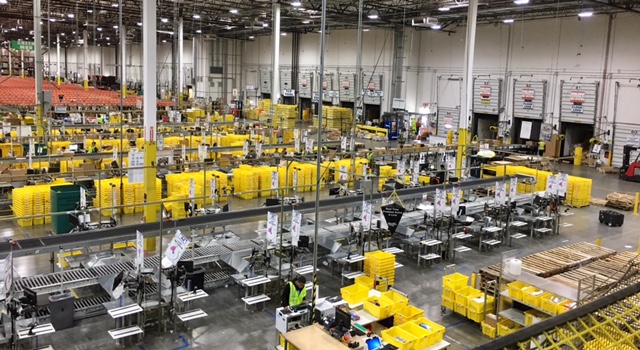 An Amazon facility in Phoenix.

Christina Estes, KJZZ
The online retailer Amazon is bringing a fulfillment center with 1,500 jobs to Tucson. A news release Wednesday afternoon confirmed reports circulating in Tucson for the last two months that Amazon was considering a center on South Kolb Road, as part of the Port of Tucson.
The Port of Tucson location was a key to attracting the company, said Laura Shaw of the local development group Sun Corridor. The organization helped negotiate the deal.
"It's a great strategic location but in addition to that it's a multi-modal facility. They have rail access, a lot of trucks going in and out of there, so it's really a natural spot for Amazon," Shaw said.
Tucson is already home to similar fulfillment centers for Target and Home Goods. Shaw said Amazon's decision may increase momentum for other retailers to locate here.
"When you've got three big, big names you start to have critical mass, and that's just going to help us to talk to more and more companies like Amazon," Shaw said.
Amazon's Tucson warehouse will be the retail giant's fifth in Arizona, when it opens in a little over a year.
The company's news release credited Pima County and Sun Corridor with playing a role in its decision.