The Santa Rosa Canal ferries Central Arizona Project water to farmland within the Maricopa Stanfield Irrigation and Drainage District, Oct. 23, 2018.
Mike Christy, Arizona Daily Star
AZPM's Vanessa Barchfield teamed up with the Arizona Daily Star's Tony Davis to explore the Colorado River drought plan as part of To the Last Drop, a series looking at the future of water in Arizona.
The gap between Pinal County farmers and the Gila River Indians over how to protect the Colorado River and Lake Mead is far wider than the interstate highway separating their communities.
Farmers Dan Thelander and Cindi Pearson grow cotton, alfalfa, grains, melons and other crops on fields amidst a bevy of dairies, cattle feedlots and small towns west of Interstate 10 and south of Casa Grande.
They're worried that one version of a plan to stave off a catastrophe at Lake Mead is unfair and will threaten their long-term livelihood, along with the entire agriculture economy that has thrived in Pinal County since World War II.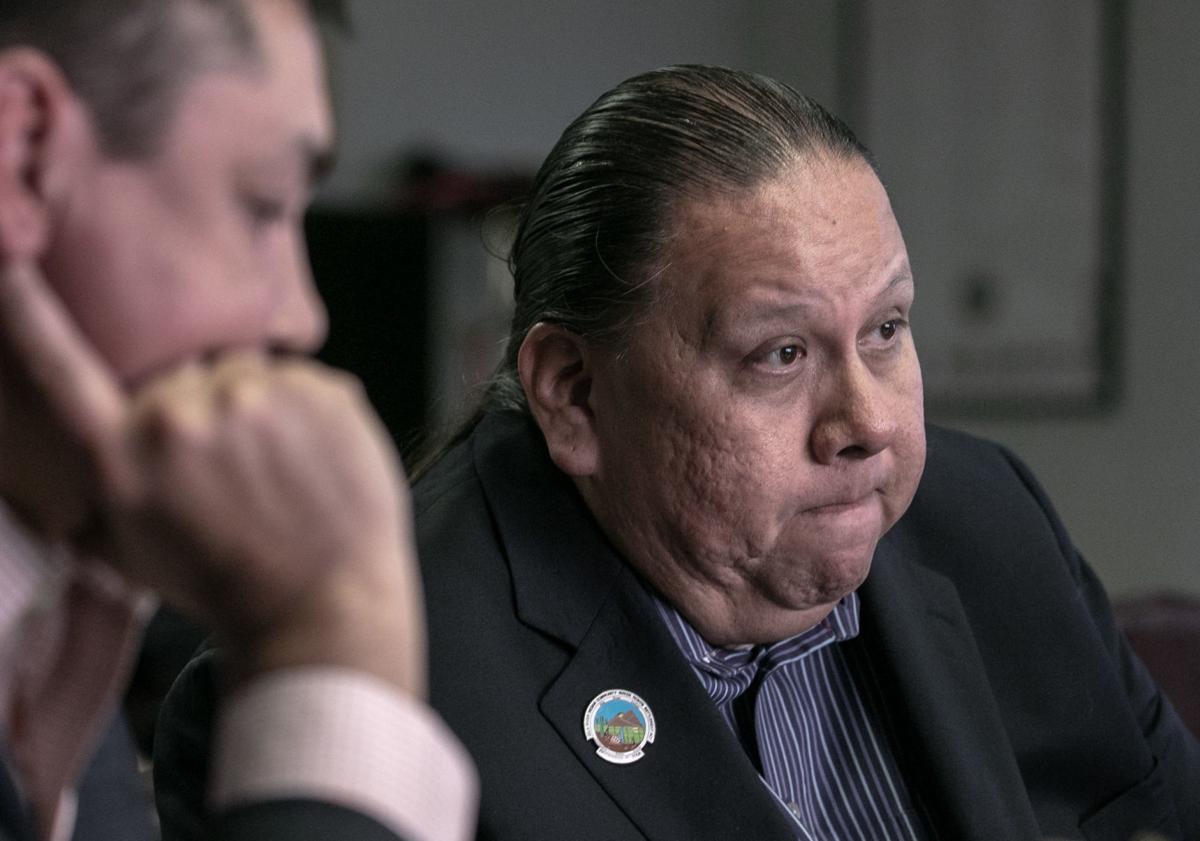 "All we are asking for is to be treated fairly and equitably at the table," says Gov. Stephen Roe Lewis of the Gila River Indian Community, right, with tribal attorney Jason Hauter.

Ron Medvescek / Arizona Daily Star
Gila River Tribal Gov. Stephen Roe Lewis runs the Indian nation from his office in Sacaton, just east of Interstate 10 and a 50-minute drive from the non-Indian farmers.
He says a version of the water-saving plan favored by Pinal farmers is not only unfair, but will cost the tribe close to $200 million. Plus, it will slow the tribe's efforts to heal its own agriculture economy, one wiped out 150 years ago when its water was "stolen" by non-Indian farmers living upstream, Lewis said.
These conflicting views are part of a broader controversy that has created an impasse among water interest groups. It's jeopardizing the odds of Arizona approving a three-state plan to prevent imperiled Lake Mead from dropping to catastrophically low levels.
The Drought Contingency Plan's goal is to reduce Arizona, Nevada and California's take from the Colorado River over the next decade or so. Its goal is also to cut Central Arizona Project deliveries more than originally planned during early shortages of the river's water.
That would delay more severe cuts that could slash supplies belonging to Arizona's highest-priority users of Colorado River water through the CAP: Phoenix, Tucson and their suburbs, and the Gilas, the Tohono O'Odham and other tribes.
Grading machines pass beside a CAP canal serving the Gila River Indian Community, Oct. 29, 2018, near Sacaton. The canal is being replaced.
Ron Medvescek, Arizona Daily Star
But non-Indian farmers, tribal leaders, cities, developers and other interest groups can't agree on what to cut.
All are represented on a 41-member steering committee that's trying to settle on a plan by November's end and to get it approved next year by the Arizona Legislature.
The U.S. Bureau of Reclamation has told the states that at least the outlines of drought plans for the river's Lower and Upper basins should be in place by the end of 2018.
"EVERYONE TRYING TO PROTECT THEIR OWN"
The drought plan would replace guidelines approved in 2007 for how to share river water shortages among all seven river basin states.
Under the guidelines, when Lake Mead first falls below 1,075 feet at the end of a calendar year, the CAP would lose 320,000 acre-feet of water. That's equivalent to a little more than two years' worth of Tucson's CAP supply.
Under the drought plan, the cut would grow to 512,000 acre-feet, nearly one-third of the CAP's total supply and approaching four years' worth of Tucson's share.
Pinal farmers would lose nearly half their CAP supplies under the 2007 guidelines, but all of them under early versions of the drought plan. The Pinal farmers, numbering about 200 in four irrigation districts that get CAP water, are fighting to get the cuts reduced by the committee.
The most recent plan would grant Pinal farmers 595,000 acre-feet over seven years, ending in 2026. But at the Oct. 10 committee meeting, the Gilas argued it would give the farmers more water than they would get during shortages under the 2007 guidelines.
That view was based on new CAP water orders for 2019. Those orders show a continuing trend of increases in CAP orders by cities in recent years and a resulting decline in water going to farmers and other, lower-priority CAP users.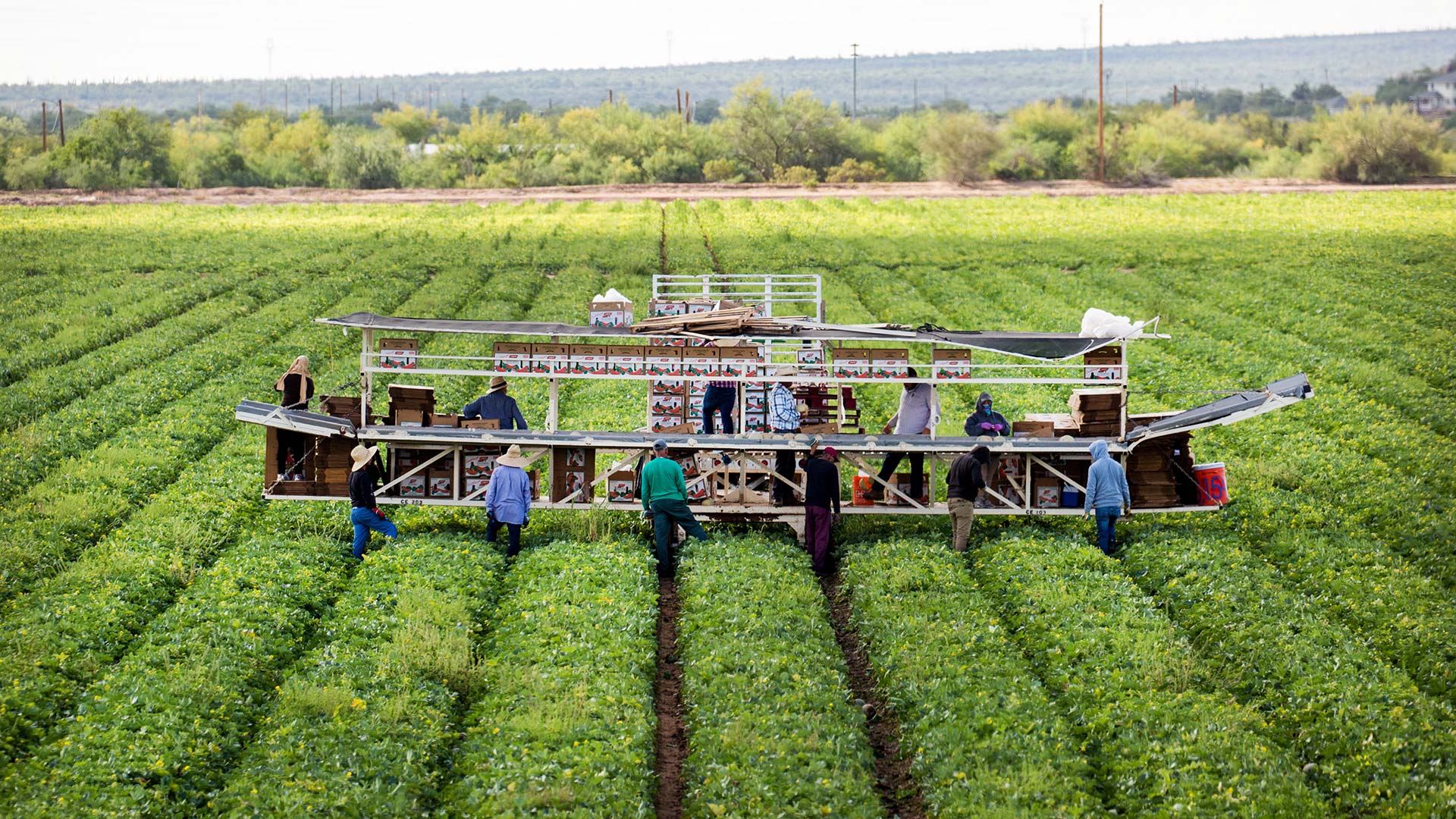 Field workers harvest cantaloupes in a field irrigated with CAP water on Oct. 23, 2018, in Maricopa, Arizona.
Mike Christy, Arizona Daily Star
The tribe calculated that fair mitigation for Pinal farms would be less than half of what the farmers want. Farmers trashed that idea, saying it's based on just one year of new orders. They said longer-term trends justify a higher number, and they are suspicious about the cities' motives.
"Everyone is trying to protect their own interest by increasing their water orders now," Thelan der said. "I don't believe that there's enough population growth where they need the extra water they've ordered."
On Oct. 19, Lewis wrote to the Arizona Department of Water Resources and CAP leaders, rejecting the farm-backed proposal as inequitable. The water agencies then canceled an Oct. 25 steering committee meeting while the parties try to settle their differences behind closed doors.
That day, the Arizona Municipal Water Users Association, representing 10 Phoenix-area cities, also wrote to the CAP and the state water department, vowing to fight a drought plan that would "restrict or undermine" the cities' ability to use their river water or store it for future use.
"They told us several years ago (shortages were) going to happen. And cities have done the prudent thing of storing water that's available for the future," said Cynthia Campbell, Phoenix's water-planning manager. Pinal farmers are holding firm to 595,000 acre-feet.
It's "the bare minimum to keep us in any meaningful business in Pinal County," said Paul Orme, attorney for the four irrigation districts involved. "My guys are scratching their heads to figure out if we could even manage that."
"AG IS A $23B INDUSTRY"
Thelander's two farms total 5,000 acres, south of the towns of Maricopa and Stanfield, while Pearson farms 4,000 to 5,000 acres nearby. Both came to the area in the 1990s.
If CAP deliveries are cut to 80,000 acre-feet a year — as the Gila tribe proposes — Pearson estimates she'll have to reduce her fields to 1,800 acres.
"I'd have to change my way of farming. I'd have to lay off a lot of people and sell a lot of equipment. I rent a lot of my land from other people. I'd have to give it back," said Pearson, who has a "Born to be a farmer" sign in her office.
"What is everybody going to do when people run out of water?" she added. "You need to eat fruits and vegetables."
Pearson's Santa Rosa Produce farm has long-term contracts to sell melons to Walmart, Costco, Aldi's and Kroger, grosses $30 million to $40 million annually and employs up to 1,200 people during peak harvest seasons, her state representative, David Cook, recently wrote to Gov. Doug Ducey. The melons are shipped across the western U.S. and to Canada, Cook wrote.
"These long-term contracts will be in jeopardy" if the 595,000 acre-foot plan isn't approved, Cook wrote. So will Pearson's purchase of a $900,000 cotton picker. "This would be a huge loss to the local dealership from which it was ordered," and sales of seed, fertilizer and other items would also be lost, he said.
Thelander noted that the farms have known for a long time that their days on CAP water are numbered. The Pinal farmers signed an agreement with the U.S. in 2004 to get a discounted rate for CAP water. In return, they agreed to give up their CAP supplies entirely by 2030. This was in a federal water-rights settlement law that provided CAP rights to the Gila and Tohono O'Odham tribes.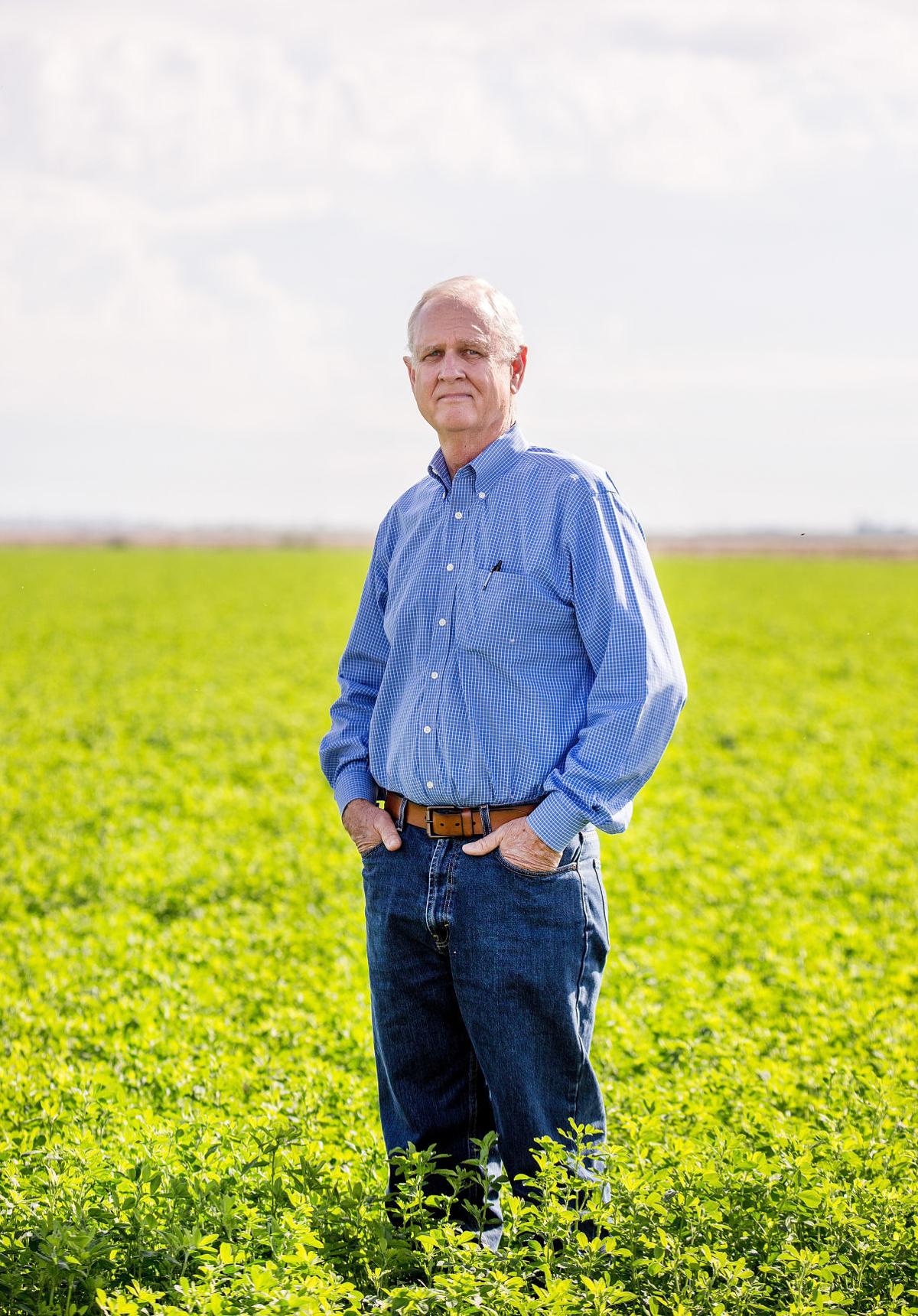 Farmer Dan Thelander says if his CAP supplies go away in 2020 — when the Colorado River's first shortage could be declared — he would likely have to reduce the acres he farms and go out of business.

Mike Christy / Arizona Daily Star
Until now, Thelander planned to gradually switch to groundwater pumping, assuming he and his irrigation district could get some new wells online by then. While he'll most likely be retired by 2030, his son is 31 and Thelander, 63, says his farm could continue "for the rest of my lifetime" if the CAP water holds out. But if his CAP supplies went away in 2020 — when the Colorado River's first shortage could be declared — his Maricopa-area farm would drop from 1,700 to 775 acres, reducing crop yields 45 percent, he said. The other farm would drop to 350 acres.
"That size of farm would not be economically viable — I don't think we would keep farming it," he said. Thelander said that under the 595,000 acre-foot plan, farms would get 35 percent of their current supplies over the next seven years. Cities and tribes would get 78 to 96 percent of their current supplies at various times. When Mead drops to 1,025 feet, under any plan, cities and tribes would still get water while non-Indian farms would get none.
Since the cities will benefit most from the drought plan that will protect their high-priority supplies longer, it's only fair for them to be willing to mitigate farm water losses for seven years, Thelander said.
At the October steering committee meeting, Stephanie Smallhouse, president of the Arizona Farm Bureau, invoked history to back the farms' proposal. "I find it ironic that in 2018 we are exactly 150 years from the first farmer starting with a settlement in the Phoenix area," Smallhouse said.
"It's very easy to dismiss agriculture in a day when you have the food you want and it's less expensive than anywhere else in world. But ag is a $23 billion industry in Arizona.
"Arizona wouldn't exist as it does today without the contributions of farmers for 150 years. Farmers have provided certainty to this state. Yet when the tables have been turned, the rug has been pulled out from under us."
TRIBE: WE'VE SEEN WATER TAKEN AWAY FOR GENERATIONS
In reply, Gila Gov. Lewis invoked an earlier history: His tribe and its forebears have farmed for more than 1,000 years and have canal systems of that era that were engineered almost on a par with those of ancient Egypt.
The tribe welcomed a succession of other people to the area, from Spaniards to Mexicans to Mormons and later American settlers, he added. But there "are some sad chapters to this history as well. ... When our water was taken away from us 150 years ago, when we had to mobilize our resources to fight for our water back," he said.
He referred first to the historical diversions of the Gila River carried out by non-Indian farmers upstream, in the late 1800s and early 1900s, that stripped the tribe of the river's water and its agricultural heritage, and second, to the 2004 water-settlements act.
Today, the Gilas see the water fight not only as an economic issue but as a moral issue, Lewis said in an interview at tribal offices.
"We can't divorce ourselves from history. We are in a defensive posture," he said. "All we are asking for is to be treated fairly and equitably at the table."
The Gilas are not exactly water paupers, since their entire CAP supply of 311,000 acre-feet a year gives them by far the single biggest share of project water.
But in his Oct. 19 letter, Lewis wrote that the current mitigation proposal not only gives the farms a better deal than before, it fails to compensate for the harm to tribes.
Under the current plan, tribes and some Phoenix-area cities would lose more than half of another pool of CAP water known as non-Indian agriculture water when Mead falls below 1,075 feet. That pool used to belong to farms, but was turned over to tribes and cities in 2004.
The shrinking shoreline of Lake Mead, 2000-2018.
Once Mead drops to 1,045 feet, water deliveries in that category would be axed.
These cuts amount to a nearly $200 million loss to the tribe over seven years, said tribal attorney Jason Hauter.
"What concerns our community is that there's been no discussion for any mitigation for the non-Indian ag pool," Lewis said. "What was discussed was a bailout for Central Arizona agriculture. If non-Indian ag is going to get more than they otherwise would get under the guidelines, then everyone else has to be mitigated. It's only fair."
Mesa Republican Rep. Rusty Bowers, a steering committee member who chairs a key House committee handling water issues, said he doesn't like the conditions the Gilas are setting for accepting a drought plan: "Is this their version of vengeance?"
Lewis said tribal leaders are only trying to protect "what is rightfully ours" — water gained in the 2004 settlement.
Loss of the non-Indian agricultural water will prevent the tribe from storing as much underground as it would like and will slow the growth of tribal farms, Lewis said.
The Gila community now stores much of its CAP water in farms and artificial recharge basins in Central Arizona. In return, the tribe gets credits it can sell to developers, cities and businesses, which use the credits to pump out water elsewhere.
Today, about 60 tribal farmers grow cotton, alfalfa and traditional Gila crops such as tepary beans on nearly 36,000 acres, said David DeJong, director of the tribe's Pima-Maricopa Irrigation Project. The tribe's goal is to boost that to 77,000 acres by 2030.
Lewis and Hauter emphasized they're not necessarily against CAP mitigation for non-Indian farmers. The tribe has proposed another plan to the state, the CAP and the U.S. and is looking for other potential water supplies, said Hauter.
"We see ourselves as a moral conscience in this overall discussion," Lewis said. "For generations, we've seen water taken away from us. We see the devastation it brings to the people. It's one thing we don't want to be visited on anyone."
---
This story has been updated from its original published version.

Part of an ongoing series in collaboration with the Arizona Daily Star on Arizona's water future. More from this series
here
.