University of Arizona President Ann Weaver Hart said the three universities knew they would see budget cuts this year because the Legislature had few other areas from which to cut.
The cut is about $30 million for the University of Arizona. The figure includes state general funds, state research infrastructure funds and performance-based funding, according to the Arizona Board of Regents.
In the 2007-2008 budget year, the state's higher education budget was more than $1 billion. This year, it will be about $667 million, according to the Arizona Board of Regents.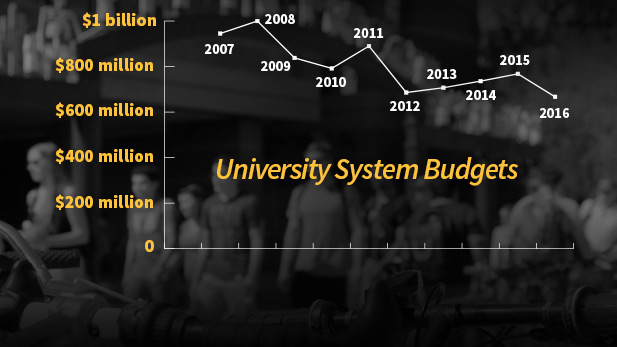 Robert Jaime, AZPM
Arizona State University will see a $58 million cut and Northern Arizona University will see a cut of $18 million.
For UA, that's a 14 percent reduction of the funding it can use to educate students, Hart said in an interview this week. Not all funding for the school is what's known as discretionary, or flexible, she said. Some of the state money for the U of A is designated for specific purposes, such as athletics or research. That means the student education portion of the budget is taking a hit with the budget cut, she said.
"We're going to have to look very, very carefully on how we move forward for the University and implement the vision that has been so strong here," she said.
The conservative philosophy of the state legislature meant it was unlikely lawmakers would look for ways to increase revenue, she said.
"It wasn't a surprise that leadership chose to reject every option for increasing revenue and to make the adjustments that it saw as necessary to balance the budget from a reduction in expenditures," she said.
Higher education is one portion of the state budget that is not protected from cuts, she said.
"Lawmakers saw us as the only option," she said. "We need a long-range plan for the role of higher education in the state of Arizona."
The university will focus on what she calls its core mission, which includes land grant activities such as cooperative extension, and student services. Hart also prioritizes the medical school because the University of Arizona is the only medical school in the state.
"When we make tough decisions, we have to look to the core," she said.
Secondary, community activities will become less of a priority for funding, she said.
Still, Hart did not describe the relationship between the U of A and the Arizona Legislature as hostile, and she said she thinks there is a way to align state needs with university goals.
"With a dialogue free of the immediate budget, we can stick to the conservative philosophy and commitments to education," she said.