A new road on Tucson's south side will give Raytheon Missile Systems more space, allow Tucson International Airport room for a second full-size runway, and attract other aerospace companies, local officials say.
Pima County is moving Hughes Access Road one-half mile to the south, and calling the new road Aerospace Parkway, because county and Tucson city officials hope it helps draw aerospace and defense contractors to create an industry hub.
Hughes Access Road skirts the southern boundary of Raytheon, near the Tucson airport. Metro-area government officials worried in 2012 that Raytheon's decision to open a manufacturing facility in Alabama was a sign the company was dissatisfied with Tucson.
They began serious discussions with the company about what it needed, for fear of losing the thousands of jobs at the company if it left. The groundbreaking this week for a new road near the company's headquarters on Tucson's south side is the result of those conversations.
But the concept is broader than just preserving Raytheon jobs in the Tucson area, said Pima County Supervisor Ramón Valadez.
"This discussion probably began in about 2008 when we started talking with our major local employers at all levels, small medium and large," he said.
The county asked, how it could encourage economic growth, he said.
"The things that came out really prevalent in those discussions was that we needed an aerospace and defense park like the one we're talking about, like the one that's going to be served on this road, that's going to be here joining Raytheon," Valadez said.
Raytheon agrees the road project helps the company by giving it a larger buffer between its operations and traffic, said Taylor Lawrence, the president of Raytheon Missile Systems.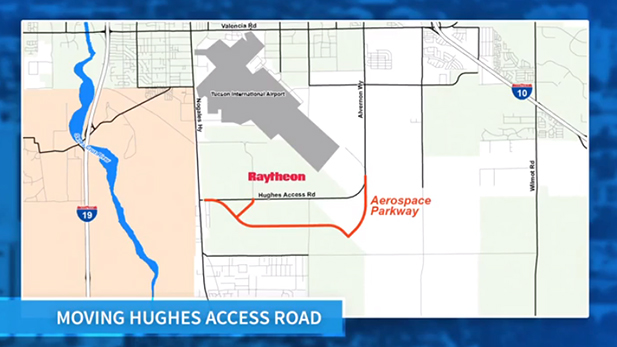 "No. 1, it allows us to grow. We have grown significantly in the decades that we've been here in the Tucson region and we would like to to grow in the future," he said.
The buffer allows the company space for future expansions.
"It also gives us a corridor between our plant here and up at the science and technology park at Rita Road," Lawrence said. "That's very important for connectivity and hopefully other industries will then come and create a very vibrant corridor of aerospace industry."
Local governments can make a difference in a company's location choices, Lawrence said.
"Anything that they can do to attract other high-technology industries is good for the region. That builds up an infrastructure that then promotes our educational infrastructure," he said.
It also helps in training, Lawrence said.
"Clearly we need a vibrant and healthy university system, a research system that specializes in key areas that we need. We're a technical industry, we need highly trained and technical workforce and so all the things that our local leaders can do to help promote that is good for us and good for the region," Lawrence said.
Is the road project enough to keep Raytheon jobs in Tucson?
Lawrence said as long as there is a need for the missiles Raytheon makes, it is meeting a demand.
"We see a lot of opportunity to innovate our products to bring better products to all of our customers, our U.S. war fighting customers, their allies. There's a lot of real good opportunity to increase the volume of capabilities that we provide to all of our customers worldwide. Because right now it's a very, very dangerous world, and our products are needed," he said.
Airport runway project Tucson International Airport has two runways, but only one of them can handle the large commercial aircraft and National Guard flights, said Bonnie Allin, CEO of the Tucson Airport Authority.
"We have one full-service runway, and when something happens with that runway, maintenance or an airplane incident, then it shuts us down with those aircraft. So the master plan calls for the moving of what today is the general aviation runway and reconstructing as a full service runway that can be used by all aircraft," she said.
Moving Hughes Access Road gives the airport the opportunity to enlarge its second runway, she said.
"The road project protects Raytheon, the area's private largest employer, and it also provides us the ability to exchange land to give us the extra land we need for the safety buffer for the runway, in exchange for the safety buffer for Raytheon," she said. "It's a win, win, win."
Regional benefit Ensuring Raytheon's continued presence in Tucson and expanding the airport's capability matter to the entire metro area, said Valadez, the county supervisor for the area that includes both properties.
The road project, and a focus on the transportation hub developing on the south side have potential to propel Tucson to a freight transfer point, he said.
"The airport's getting ready to do their second major runway, the Port of Tucson just got a $5 million grant two years ago and today it provides a very unique opportunity for air freight, for rail traffic, for port traffic. As an inland port they can place a container on a train and take it directly to a port and it goes right on the ship," he said. "It's a very unique opportunity for our major employers and I think it creates a new vision a new nexus for our economic future."
The work is long-term. First, do what was necessary to retain Raytheon, he said.
"Step two is to further create the Sonoran Corridor which not only is going to link I-19 to I-10, but also link our major employment centers in our region, as well as create a nexus to become the next logistics center for our region," he said. "This project is the first step in a vision. And that vision is not just a south side, not just a city of Tucson, it is a regional vision that will benefit our region."