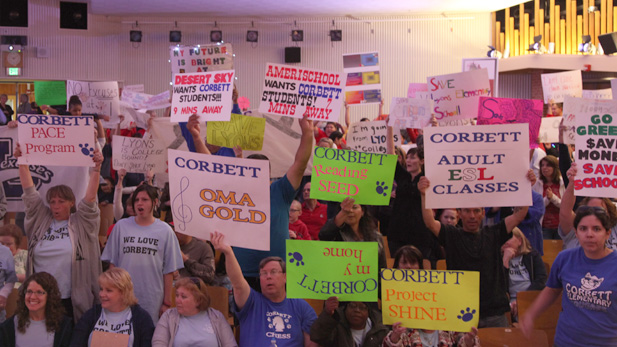 Hundreds protest the closure of schools in the Tucson Unified School District.

Fernanda Echavarri
A federal judge Friday gave the Tucson Unified School District approval to close 11 schools, TUSD announced on its website.
The district plans to close the schools at the end of the current school year to save $4.2 million. That is part way toward a projected $17 million budget deficit TUSD faces next school year.
Court approval was required for the closure because the district is under a federal desegregation order being overseen by a court-appointed official, known as a "special master."
"The closures are subject to court-adopted conditions that were put forth by the special master appointed by the court to oversee the desegregation order known as the Unitary Status Plan," the TUSD announcement said. The plan is the governing document for the desegregation case, which dates to the 1970s.
Changing attendance boundaries to accommodate the schools' students still requires court approval, officials said. TUSD has held public meetings in the last month to explain the proposed boundary changes in affected areas.
Schools scheduled for closure when classes recess for the summer are Brichta Elementary School, Carson Middle School, Corbett Elementary School, Fort Lowell-Townsend K-8, Hohokam Middle School, Howenstine High School, Lyons Elementary School, Maxwell Middle School, Menlo Park Elementary, Schumaker Elementary School and Wakefield Middle School.
Maxwell, now housing sixth, seventh and eighth graders, will reopen in the fall as a K-8 school, according to TUSD.
The Mexican American Legal Defense and Educational Fund filed a federal court objection to the proposed closures last month. The objection said Tucson Unified "is causing disruption to thousands of students" and the criteria used to chose which schools to close was flawed, according to court documents.
"Any type of change to the number of schools or the location of school impacts the demographics and the racial concentration of the various schools," said Nancy Ramirez with MALDEF. The organization is representing the Latino plaintiffs in the desegregation case.
TUSD filed a response to the objection in late January saying allegations about purposely keeping schools non-racially diverse are untrue. TUSD students are assigned to a school within an attendance boundary but have the opportunity to enroll in any other school in TUSD or any other school district, according to court documents.
Shutting down 11 schools will cut less than a third of TUSD's deficit, the district's board approved a modification of school site funding formulas a couple weeks ago that will result in $4 million more in budget reductions.
Despite a previous vote to explore outsourcing jobs, the TUSD Governing Board has pulled back from a plan to outsource janitorial, grounds maintenance and other jobs as another way to save money. Officials have said they are seeking savings in reductions in central administration, salary cuts, furlough days and medical insurance contribution levels, among other options.
Board members have voted to revisit outsourcing at the next public meeting.