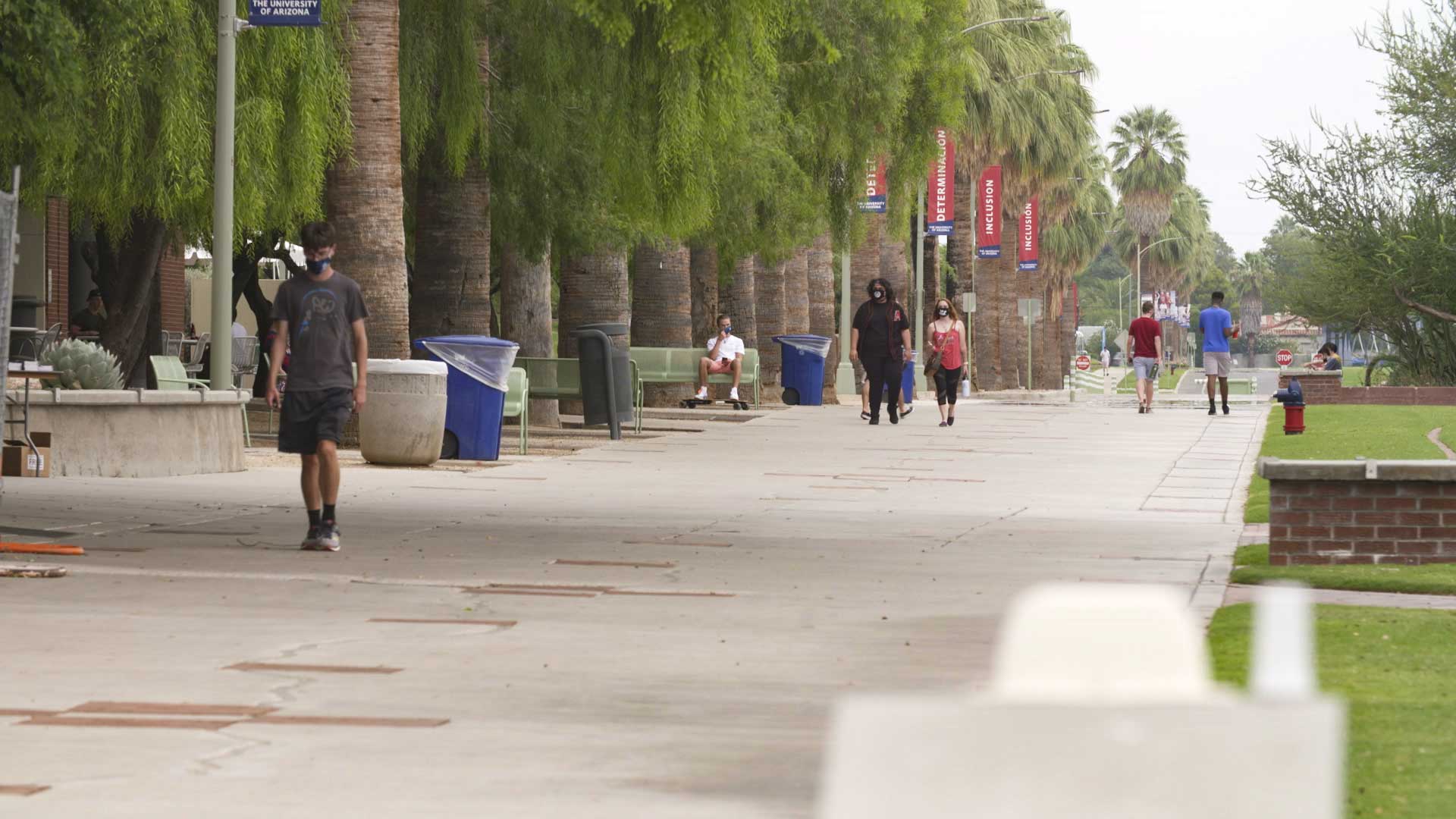 VIEW LARGER Students on the University of Arizona campus, Aug. 25, 2020.

Gage Judd/AZPM
Wastewater testing at University of Arizona dorms caught two cases of COVID-19 early, but it was what happened next that officials say made sure a potential outbreak was stopped before it started.
The 300 residents of Likins Hall, where wastewater tests alerted to the virus, were tested, and a special UA cleaning crew was brought into to disinfect the dorm, according to university officials.
The two students who tested positive were isolated in another residence hall and the next day the wastewater was tested again.
"Brilliantly, the day after the individuals were removed from the location the sewage sample, wastewater sample again turned negative," said Ian Pepper, the researcher in charge of the wastewater testing program.
The wastewater testing is extremely sensitive. The two students in question were asymptomatic, something UA President Robert Robbins calls a good thing.
"Wastewater epidemiology can be a leading indicator of COVID-19 outbreaks with the potential to protect the presence of the virus in a community up to one week in advance of individuals having symptoms," said Robbins.
Pepper called those seven days "precious" when it comes to preventing a widespread outbreak.
Before wastewater testing began at close to two dozen buildings on the UA campus, Pepper and his team were looking at wastewater at a Pima County sewage treatment plant.

"We could see the effects of the stay-at-home, we could see the effects of the reopening. Concentrations of the virus in the wastewater about six weeks ago when Arizona was making the headlines for having about 800 cases the concentrations were sky high," Pepper said.
The team is continuing to monitor the wastewater in Pima County. Pepper said for the past two weeks the virus has been nearly undetectable, which corresponds to a drop in cases.
At the UA, the wastewater tests are conducted every morning with results available by the end of the day so officials can quickly react if the virus is found again.